My carpets are dreadful, I mean really really dreadful. When we moved into this house, I took one look at the gorgeous LIGHT colored carpet and imagined it all brown and filth ridden in a few months. Sigh. My thoughts became a reality and man these poor carpets have taken a toll from my kids, spills and mud being tracked in, despite my efforts to remind my kids no shoes in the house or drinks on the carpet!!! Hoover has a new carpet cleaner out, the Hoover Platinum Collection Carpet Cleaner, and I NEEDED this.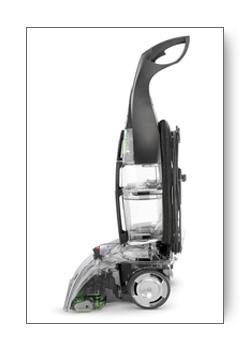 I did some research on Hoover products, I have reviewed a few things from Hoover before so I already knew I liked their products. I researched the carpet cleaners and knew I needed the Platinum Collection Carpet Cleaner, if my carpets were going to be anywhere near clean!
I had the chance, thank heavens, to review this wonderful machine. I was overly excited, probably looked like a child when this came in the mail! I could not wait to open it up, put it together and use it immediately! I received it last Saturday. I had Father-in-law put it together for me. It was not hard to put together, but he said he wanted to and why would I say no to that? It came in a few pieces and needed to be put together, but it only took him about 20 minutes and then it was all done. Not much sooner was he done, than I was filling it up and adding the carpet cleaner to get my carpets cleaned!
My Stained Carpet Before: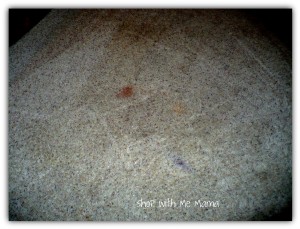 The Hoover Platinum Collection Carpet Cleaner comes with two bottles of Carpet Cleaners. It also comes with an extra little filter. It has attachments so that you can use this carpet cleaner on your stairs or couches. It can also clean the tiniest areas, thanks to a really narrow hose/tube attachment. Oh and you can do your car carpets too

I am already loving this machine! It is so easy to fill up the tank with hot water and put it back into the machine with just a push and click. The place to put the carpet cleaner is separate from the water container. You just add the carpet cleaner and the machine will automatically mix the water and cleaner together when you start cleaning! When the dirty water container gets full, the light on the machine will light up letting you know it needs to be emptied. I love this feature because, I won't overfill the dirty water container and I know when it needs to be emptied. It will also tell me when I need to add more carpet cleaner or clean hot water! When cleaning, you can press a button to clean carpets or rugs. Just push the button and press the spray button on the handle and there ya go, simple and easy to clean your carpets!
My Carpet After!: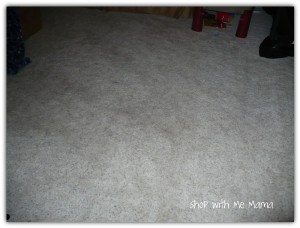 I cleaned my living room and hallway in about 1 hour. My living room was filthy. So many stains, I could not believe the dirty water that was sucked from my carpets, wow. I am actually embarrassed! But wow, the carpet is so clean and fluffy now. It feels so good under my bare feet. Like it is new! My hallway was very bad too. There was a certain area in the hallway that was just so stained. Using this machine, it was all picked up, every last stain. Without me having to get on my hands and knees and scrub it, the machine picked up ALL the stains. The only stain that did not come up, was one in the living room. But that was an ink stain, SIGH. Other than that, all stains were lifted and my carpet looks so pretty and light again!!!
Gross Water: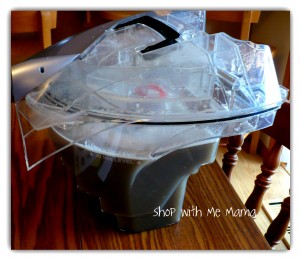 Yuck!!!
I am so happy with this machine, I mean no machine other than a rented store carpet cleaner, maybe not even that, has cleaned my carpets so well and without any extra scrubbing or pretreating areas. This machine is so worth it and I already have my parents looking into buying one.

About the Hoover Platinum Collection Carpet Cleaner:
The Hoover Platinum Collection™ Carpet Cleaner uses MaxExtract Technology™ to remove more dirt from carpet than other leading brands of carpet cleaners.* Includes Hoover's best-in-class six-year limited warranty.
Removes More Dirt
* The Hoover Platinum Collection™ Carpet Cleaner uses MaxExtract Technology™ to remove more dirt from carpet than other leading brands of carpet cleaners.*
* Removes more dirt with less detergent than leading competitor based on FCT-0024p and FCT-0284.
MaxExtract Technology
* MaxExtract Technology™ features the most advanced combination of multi-action agitation, carpet washing, dirt removal and direct heat drying – to provide the look of professionally groomed carpet that you can live on within hours of cleaning.
* Dual scrubbing, multi-directional brushes have been specifically engineered to surround carpet fibers, removing dirt at every angle.
* High velocity suction removes the dirty water from the carpet while applying forced heat to speed up dry time.
Integrated Spot Cleaning
* High intensity LED spotlight illuminates problem areas.
* Two spot cleaning settings: Stream setting for smaller spots and stains and the Spray setting to attack heavy traffic areas.
Computerized Cleaning Modes
* Choose between Carpet or Rug settings.
* Wash with AutoRinse: Patented technology that automatically rinses your carpet with fresh water, leaving less soap residue behind for a cleaner carpet longer.
* Illuminating wash and rinse lights give you instant feedback and confidence you are cleaning properly.
* Tank indicator lights alert you when a tank needs to be filled or emptied.
Convenient Cleaning Tools
* Clean stairs and other hard to reach areas with the SpinScrub powered hand tool, upholstery tool, or crevice tool attached to a super stretch hose.

Buy It!
You can purchase the Hoover Platinum Collection Carpet Cleaner online at http://www.hoover.com/
Disclosure:
I received the product to review. These are my own honest opinions of the Hoover Platinum Collection Carpet Cleaner, thanks!