If you are in search of a great family holiday movie, I suggest "All I Want Is Christmas". It is super hilarious and cute! It comes to VOD, tomorrow, November 1st! OMG, I can't believe tomorrow is NOVEMBER 1st…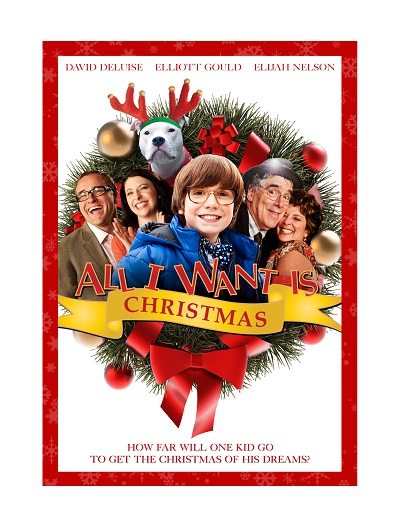 This cute family movie is about a young boy who  is obsessed with Christmas. He's seen every Christmas movie ever made and his dreams are filled with reindeer, sleigh rides and SNOW. The problem? Ira (the young boy) is Jewish  and at 11 years old, Christmas is passing him by. When Ira's hopes for a holiday vacation in Aspen are dashed, he hatches a plan to finally get the Christmas of his dreams. Flying unaccompanied to visit his grandparents in Florida , he swaps tickets with Mikey, another 11-year-old on his way to Christmastown , WA . Ira gets more than he bargained for when he experiences his first "White Christmas".
Totally fun movie and will be sure to get you into the holiday spirit one way or another! Me and my kids liked this movie and we were giggling throughout it.
Cast:
Max Finkelstein – David DeLuise (Wizards of Waverly Place, Jesse, Stargate)
Sam Finkelstein – Elliott Gould (Contagion, Oceans 13, Mash)
Libby Wilson – Cynthia Geary (Northern Exposure)
Ira Finkelstein – Elijah Nelson (Trainmaster)
Mikey Amato – Justin Howell
Clare Wilson – Shaye Hodgins
VOD Providers carrying "All I Want Is Christmas":
Amazon
Brighthouse
Charter
Comcast
Cox
Dish
iTunes – CAN & US
Microsoft – CAN & US
Vudu
Verizon Fios
Time Warner
Youtube
Disclosure:
I received product to check out. All opinions are mine, thanks!