My kids can be super messy when it comes with tiny toys being strewn across my floors! Stepping on those toys can be even more annoying! OUCH.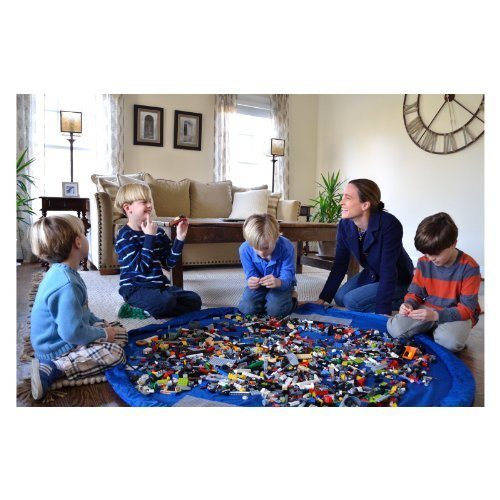 The LayNGo Activity Mat can help with stuff like this. The LayNGo Activity Mat is a great mat that is 5 feet in diameter and converts into an easily transportable shoulder satchel that allows for a super quick and effortless toy cleanup! The small toys are easily laid out on the LayNGo Mat and it is big enough for your kids to play on it, or you can have them play on the floor next to it. When they are done playing with all their tiny toys, you can then scoop up the toys onto the mat and pull the drawstring on the mat and it is instantly   converted back into a completely sealed soft storage bag. Lay-n-Go is a smart and easy activity mat, cleanup, storage and carry-all solution in one! Oh and a parents best friend!!
Mat Details:
Shell: 420 Denier Poly to last for generations
Lining: 100% Nylon which is comfortable to play on for hours yet provides a tough and water-repellent wipeable surface
Available in blue, green or pink nylon
Four mesh 7"x 6" pockets on the playside surface provide a great way to stash and organize the most valued mini-figures or extra special pieces.
Connect with PishPosh Baby on Twitter and Facebook!
 Buy
You can purchase the LayNGo Activity Mat online at PishPosh Baby! It retails for $64.95.
Disclosure:
I received product to check out. All opinions are mine. Thanks!