CONTEST OVER! CONGRATS TO
Crystal #190!!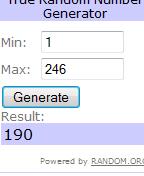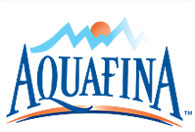 Who says Aquafina is just to drink? Now your body can drink it up through the Aquafina Skincare products that are out! Summer is here and what better a way to drench your body in moisture, then with Aquafina!
I have tried out the Aquafina Lip Balms before and really liked them. I am particular on my lip balms and always stick with one brand only, so me liking the Aquafina Lip Balm and being able to use it, was big for me. It is comparable to Chapstik lip balms, if you are wondering…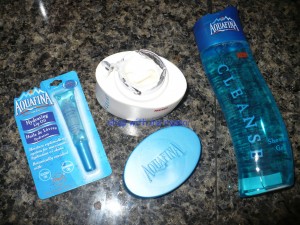 I received a few products from the Aquafina Skincare line that included:
*Hydrating Lip Oil
*Shower Gel
*Body Butter
Since I love beauty and skincare products, this was a nice little package to open up and try out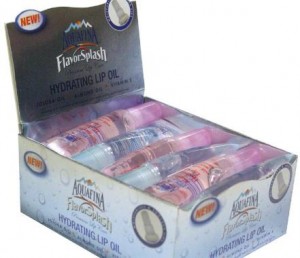 First I will talk about the Hydrating Lip Oil. It is in a tube, and when I put it on my lips, it glided very nicely onto them. It was kind of minty or cool feeling on my lips (a must for me), and it was very slick feeling, but NOT sticky, which I really liked. Can't stand sticky on my lips. Thick hairs and crumbs always find my lips some how, when I have sticky lip balm on, YUCK.

The Aquafina Shower Gel, came in a cool, wiggly looking bottle. The shower gel was very sudsy when put on a loofah. It smells pleasant and I also used this in the bath for LOTS of fun bubbles!! Left my skin feeling soft and clean.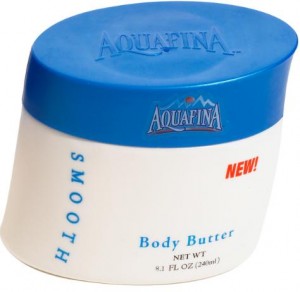 The Aquafina Body Butter has the scent of the Vaseline Intensive Care Lotions, if you are familiar with that scent, and is a very light lotion, despite the moisture it drenches your skin in. I love how dewy and soft my skin looks and feels when I use this body butter. It does not irritate my skin, after I shave and put it on my legs, which is nice. Just a great lotion and perfect for the hot summer months, keeping your skin hydrated and soft.

About Aquafina Skincare (taken from their site):
Aquafina™, the number one brand of bottled water, brings the same level of hydration to Skincare and Bath & Body.  Quality products at affordable prices, the Aquafina Skincare and Bath & Body lines offer superior hydration benefits that help keep skin soft and hydrated. The Aquafina Skincare line features groundbreaking, anti-aging products with a patented, breakthrough delivery system enabling all of the ingredients to work better, faster and longer.  Packed with variations of moisture replenishing botanicals and vitamins, rich shea butters, essential oils as well as alpha hydroxy the Aquafina Bath & Body line will soothe and soften even the driest skin.
Aquafina brings the same refreshing feeling to Lip Balm and Hydrating Lip Oils.  The line is made with the purest water and natural botanicals specially formulated to deliver optimal hydration, protection and rejuvenation at affordable prices.

Buy It!
You can purchase the Aquafina Skincare products online at http://www.aquafinaskincare.com/
Win!
One person will win the following:
Aquafina Lip Oil
Aquafina Body Butter
Aquafina Shower Gel
How?
Easy! Tell me how you keep your skin moisturized during the hot, Summer months!
Extra Entries!
Sign up for Aquafina's Newsletter to receive offers and special promotions! See bottom of their page here
Tweet My Father's Day Gift Guide (can be done ONCE daily) come back with tweet links!
Follow my blog publicly on GFC, see sidebar, and let me know you are!
Tweet this giveaway, can be done 3 times a day, come back with tweet links. Can use tweet button above!
Follow Shop with Me Mama on Twitter
Like Shop with Me Mama on Facebook
Leave a NEW Comment on a NON giveaway post and let me know which one for 2 extra entries! If you are entering other giveaways, you MUST choose a different NON giveaway post to comment on each giveaway or it will not count.
Interact on my Facebook Page and let me know you did!
Grab my site button, found in my sidebar, and proudly display it in your sidebar, towards the top if you can! Let me know where I can find it! 2 Extra Entries!
Blog about this giveaway and link back to this post. Let me know the link for 3 extra entries!
Subscribe to my blog, see sidebar at top, let me know you are and what email address you used (you can put the email address in the private section when you fill out form). 2 Entries!!
*Lots of ways to enter, so use them all! Contest is open to US  and will end on June 23rd, 10PM, PST. 1 person will be chosen using random.org to win the Aquafina Skincare goodies stated above!!! Winner will have only 48 hours to confirm their win or a new person will be chosen. Good luck!*
disclosure:
I received products to review. These are my own honest opinions, thanks!