If you are not interested in watching football this Sunday (I am NOT interested!), then join me and tune into the HSN! They are featuring the awesome limited-edition no!no! Hair devices! I have always wanted one of these and really want to check them out. These special-edition colors will be sold for ONE day only on HSN, so totally worth checking them out with me!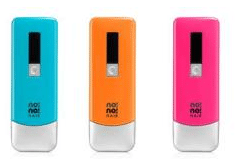 Tuning into HSN is a most everyday occurrence around here! My mother-in-law shops HSN a lot, especially around the holidays. I have to admit, I have found some great deals and products on HSN too!
So, don't forget to tune into the HSN on Sunday, February 3rd to check out the no! no! Limited Edition devices! Can't wait! Do you watch the HSN? If you do, what have you purchased?
Don't forget to enter my giveaway to win one of three $10 HSN Gift Cards!!!!