CONTEST OVER! CONGRATS TO
Jenny M Kelley Larson #1802!
When I first saw the previews for Mirror Mirror, I knew I would love this movie. I already love the Snow White Story, so I knew I would love this movie too.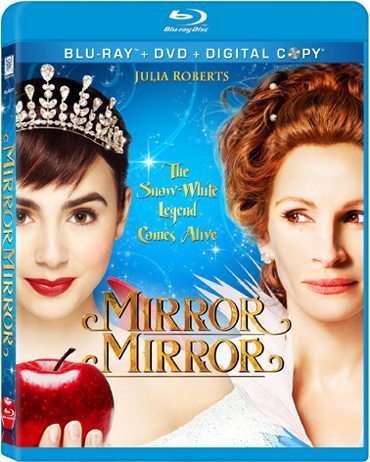 There is still the poisoned apple,  magic mirror, a houseful of dwarfs living in the woods and of course, the wicked queen (played by Julia Roberts). I just love the cast that includes: Julia Roberts, Lily Collins, Sean Bean, Armie Hammer, Nathan Lane and more!
Me and the kids favorite part of this movie is when Snow White uses the "Puppy Love Dog Potion" on the prince. It is a very hilarious part of the story seeing the prince act just  like a dog, running around and panting! My kids got a kick out of that!
The Blue-ray copy that we received has some fantastic extras on it like a behind-the-scenes featurette, a toe-tapping dance-along to the reworked Nina Hart song "I Believe in Love" performed by the film's Collins that plays over the end credits, interactive digital storybook, deleted scenes and much more (see below!):
• "I Believe in Love" Dance-along
• Mirror Mirror Interactive Storybook
• Deleted Scenes
• "Alternate Opening"
• "So You Are From Valencia?"
• "I Need Meat"
• "Snow White is Dead"
• "Thank You For Coming"
• Digital Copy of the film
My son is 6 years old and my daughter is 4. My son sat through the WHOLE movie and loved it. My daughter, with the shorter attention span, was up and playing every 20 minutes or so, but always came back to see what the wicked witch was up to! This came out on DVD and Blu-Ray on June 26th!
 Some Fun Stuff!!
Click Here to download Fun Queenly Beauty Tips!
Click Here to download a really fun Mirror Mirror Maze!
 About the Movie Taken From the Press Release:
MIRROR MIRROR tells the story of Snow White (Collins), a princess in exile and the evil Queen (Roberts) who ruthlessly rules her captured kingdom. Seven courageous rebel dwarfs join forces with Snow White as she fights to reclaim her birthright and win her Prince in this magical comedy filled with jealousy, romance, and betrayal that will capture the hearts and imaginations of audiences the world over. The film is produced by Bernie Goldmann (300), Relativity's Ryan Kavanaugh (The Fighter) and Brett Ratner (Rush Hour franchise). MIRROR MIRROR'S screen story was written by Melisa Wallack, and the screenplay was written by Marc Klein and Jason Keller.
Buy
You can purchase this movie online at Amazon.com!
Win!
One lucky person is going to win a Blu-ray copy of Mirror Mirror!
How?
Easy! Just use Rafflecopter below!
Disclosure:
I was sent a copy of Mirror Mirror to review. All opinions are my own. The above Amazon.com link is my personal affiliate link thanks!
a Rafflecopter giveaway