CONTEST OVER! CONGRATS TO
Laura Proctor Unger #1982!!

Ya, I love Dreamfields Pasta, I just do. It has been a favorite of mine for a while and my family really loves it too! So, it is only natural that I really wanted to share with you a contest Dreamfields Pasta is having on their Facebook page!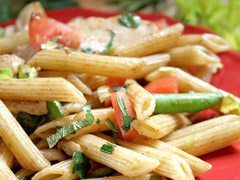 click image for its source and for recipe!!!
It is the Dreamfields Healthy Pasta Pastapalooze Contest and it ends on AUGUST 31st, so please, head on over and ENTER!!! The winner gets to take home a case of Dreamfields Healthy Pasta!! Woot!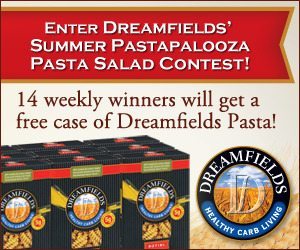 You can enter by visiting Dreamfields Pasta's Facebook page and Simply share your favorite summer pasta salad recipe for a chance to win a free case of Dreamfields pasta! (14 winners in all will be chosen). Got a picture of the dish? Attach that too and you can share it on Facebook or Pinterest! When you're done, check out other entries and get inspired to whip up a summer's worth of tasty pasta salads. Sounds too fun! If you don't have a Facebook page, no prob, you can still enter going HERE!
Don't forget to grab up your coupon for $1.00 on any box of Dreamfields Pasta! 
You can find some delicious winning recipes from last year, by just clicking on that link! Oh my goodness they all look sooo good!!
Win
As a bonus, I am offering one of my readers some yummy Dreamfields Pasta, too!
How?
Easy! Just enter using the Rafflecopter form below!
Disclosure:
I am a part of the Dreamfields Pasta Dream Team. I was compensated for this post, however, me and my family are long time fans of Dreamfields Pasta and eat it a lot. All opinions are my own, thanks.