*Product received. Opinions are my own. This post includes my affiliate links.
I work from home, so I own a lot of yoga pants 😉 My yoga pants HAVE to be comfortable, be the right length and they MUST make me look good. I don't go for cheap yoga pants, I go for the well-made, body-enhancing yoga pants.
Marika makes some really nice fitness clothes that make you look good. I have a lot of pairs of Marika yoga pants in my drawers. Why? Because they not only feel really comfortable, but they make my butt look nice too 🙂 Hey, that is important, right? To me it is!
Marika yoga pants come in different styles. I like the ones that conceal my tummy and enhance my butt. Those yoga pants are my BFF's. Of course, I want to wear fitness clothes that make me look good.
Marika makes more than yoga pants, though. They make awesome, form-fitting and comfortable shirts, tanks, hoodies and more. I recently ordered four things from Marika and I want to share with you the comfort and wonderful fit they each give me.
4 Fitness Clothes That Make You Look Good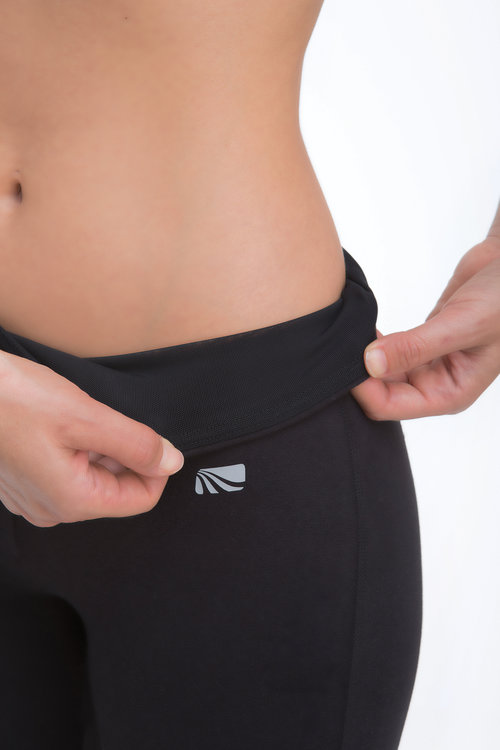 1.Audrey Tummy Control 34″ Pants. These yoga pants are amazingly soft and the length is perfect for me. I like my yoga pants a bit longer. The tummy control part really helps keep my tummy bulge in check (until I can get rid of it..) and these fit me really nicely. I ordered a size small and they are true to size.  I do have to move my hips side to side to pull down the yoga pants to go to the bathroom, but that is because of the tummy control band on them. I don't mind and it is not hard to do.
These flattering workout pants have a Power Mesh-lined curved waistband for extra tummy control. These pants are semi-fitted with a bootcut leg opening.
If you are looking for a great, tummy control yoga pant these are the ones you will want to buy, hands down. They are awesome. They come in XS, S, M, L, and XL. They retail for $36.99. They are on sale RIGHT NOW from $55.00!! Grab them here!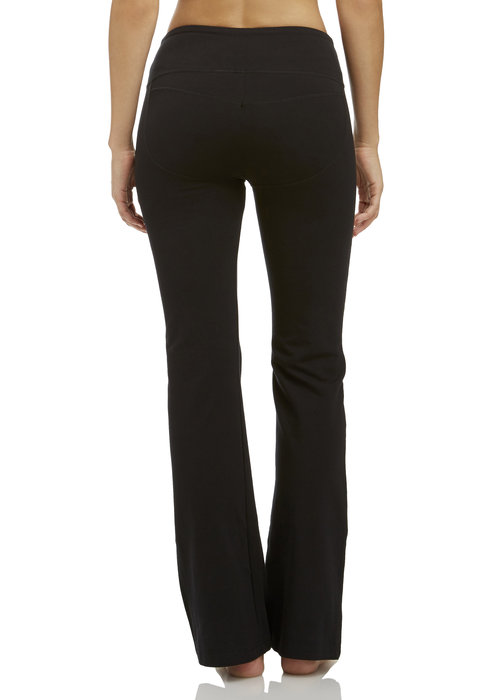 2. Audrey Butt Booster Pants. Yes, please! These pants are super cute and fit perfectly. They are very comfortable, the length is nice and they fit really well. They have two 'support' lines in the back of them that are to help support your bottom. They really don't do a whole lot (I wish the support lines were a bit stronger), but needless to say, my bottom does look good in these yoga pants.
The Audrey Butt Booster Pants are semi-fitted with a straight leg and contouring seaming that enhances your curves. A Coolmax Gusset keeps you cool and dry as you exercise. These retail for $36.99 on sale from $55.00. Now is the time to grab them! I wear these pants, a lot! Grab them here!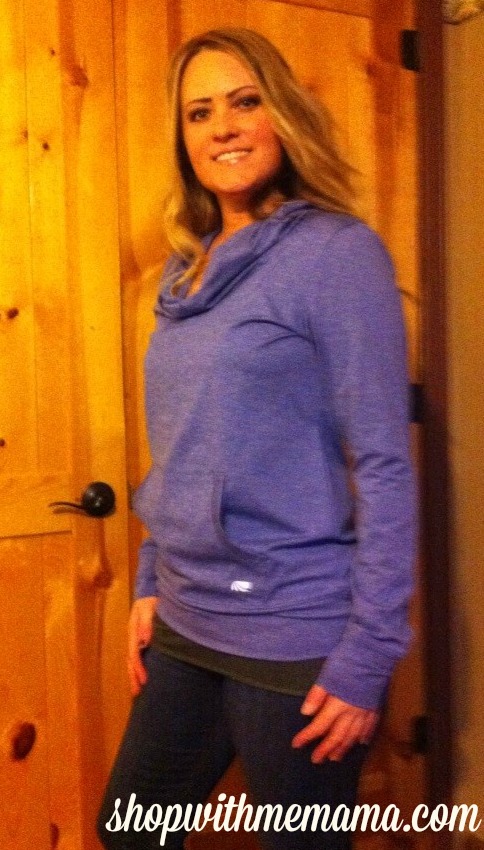 3. Pounce Hoody. Now I don't normally do hoodies, like at all. But, this hoodie looked comfortable and different because it has a bigger neck area, which I loved. I wanted to try it out. I got this and it is SO soft inside the hoodie! The neck is large enough to kind of open up and shows your neck, so not restricting at all. I got the Heather Cobalt Ink blue color and love the color, so pretty on me! It comes in two other colors Heathered Grey and Heather Diva Pink. All are really pretty.
This hoodie has the front pockets which I really like. It also has thumb holes and I love shirts that have thumb holes! This easy-to-wear hoodie is made with a semi-fitted silhouette, high-low hems, and thumbholes on the sleeves. Made from a Dry-Wik fabric, this workout hoodie will wick away sweat as you exercise. Perfect to throw on for weekend errands or during chilly workouts. Retails for $32.99 on sale from $45.00. Grab it here!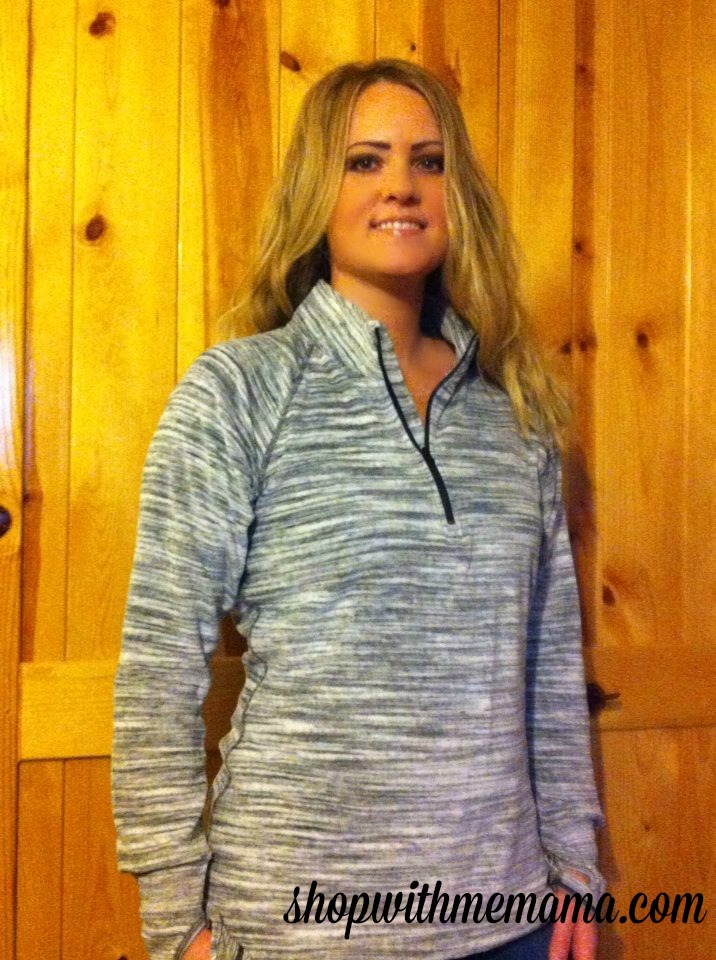 4. Balance Collection Velour 1/4 Pullover. This pullover is so soft and comfortable too! I love the feel of it and the zipper zips down nicely so you can pull it over your head easily. This also has thumb holes and the pullover fits true to size, which was nice. I like the length of it too. I can pull it down a bit to cover my hip area if I want or bunch it up and wear a longer tank under it.
The Velour 1/4 Zip pullover is constructed of a space-dyed velour fabric that is luxuriously soft. Thumbholes at the sleeve and a back pocket are perfect for keeping your hands warm when the weather dips. Throw this on after your workout or anytime you want added warmth. It retails for $60.00. Grab it here!
About Marika
Marika is the original women's activewear brand, founded in 1982 in California. We made a lot of brightly-colored leotards at the height of the aerobics boom, and we have carried that fun, colorful spirit of the present day!
Coupon Code Time!
15% Off Your Purchase! Use Code: 15OFF Fit for your body. Fit for your life. Fit for you. Leggings, Tops, Pants, Capris, Tanks & More
Shop
Shop Marika Apparel
 Today! New styles discounted! Save up to 60% at Marika.com!