Oh the dreaded cellulite areas, whoosh. What can I say, I have a few of those areas, sigh. I use anti-cellulite creams, that seem to work nicely, but now I have a wonderful Anti Cellulite Deep Tissue Massage to add to my routine! This is a home spa simple solution for those who would like to reduce the presence and visibility of cellulite.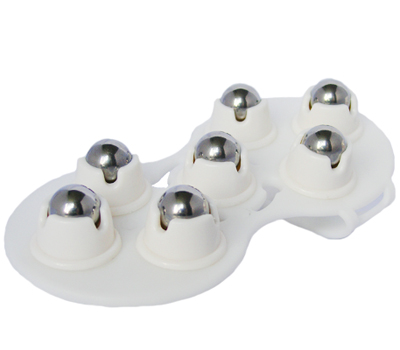 I received this about 2 weeks ago, and though I don't really see any visible signs of improvement, I do have very soft thighs and bum! Now, when you first use this, it kind of hurts. You don't want to massage too hard, or you can get little bruises on the area you are massaging.
After the first initial use, it gets easier, until you are used to it. The massager is a simple device that replaces a massage therapist and expensive laser treatments. It can be used by anyone on any part of the body.
How Does The Anti Cellulite Deep Tissue Massage Work?
This Anti Cellulite Deep Tissue Massage is a handheld device constructed with 7 deep set metal spheres that roll on your skin and provide deep tissue massage improving circulation and delivering oxygen to the stagnant cells.
It breaks down bulging and uneven fat cells "ironing" out the surface of the skin. So, go easy the first and second time around, you will get used to it. My legs feel instantly awake and flushed when I am done massaging them with the Anti Cellulite Deep Tissue Massage.
So, I know it is doing something! This massager is sold in a kit, and I think I want it! The kit is called Phat QR Solutions Anti Cellulite Collection and would make a great Christmas gift for someone special on your list. Just be SURE that person KNOWS you real well, LOL! You don't want to give an anti-cellulite kit to just anyone, they might slap you silly!
So, since cellulite affects nearly 90 percent of women and 10 percent of men, this is a safe bet to buy someone for Christmas 🙂
Her bum is sooo cute! Mine totally used to look like that! UGH..