Love coffee things, don't you? I especially love coffee things when you can use them on your body!! Woohoo! Barista Bath and Body lets you do just that. With their wonderful assortment of bath and body care products, you can find something for everyone (or just yourself :)).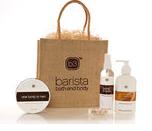 I have reviewed before, for Barista Bath and Body and just really like their products. So, when I was contacted again I was happy 🙂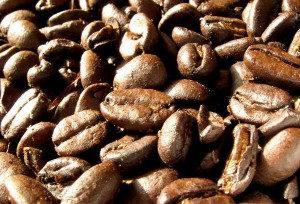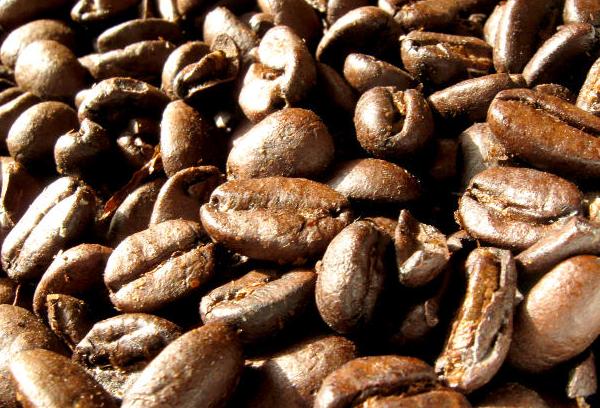 I received their Body Essential Gift Bag to review! Talk about spoiling yourself silly! This is one nice bath and body care package! It allows me to slip away, quietly, into the bath and indulge myself like I so need and deserve! Oh, did I mention that it comes with a 3oz. package of gourmet dark chocolate covered espresso beans? Ya, it does! And ya, they are GOOD!!
So, what exactly comes in this simply indulging package?
*8oz. of their signature Room For Cream exotic origins body cream
*8oz. of their One Lump or Two Coffee and Sea Salt Body Scrub
*4oz. of their Pump of Flavor refreshing body mist
*.15oz. of their Froth Indulgement Peppermint And Coffee Lip Balm
*3oz. package of Gourmet Dark Chocolate Covered Espresso Beans
Oh, yes, this is a VERY nice package!!! I love mine. The body cream is VERY moisturizing and leaves my skin silky soft. It kind of has a cocoa butter scent to it, not so much coffee, but it is very indulgent all the same. My body likes it. The coffee and sea salt scrub is excellent for sloughing away those rough areas due to the winter cold and weather, leaving your skin prepped for that wonderful body cream (and your spouses hands!!!). The body mist reminds me of a spicey/exotic scent. It is perfect for me or my husband! The lip balm goes with me EVERYWHERE. I kid you not, I love this stuff. I have it under my pillow when I sleep, so I know where to grab it at night and on the kitchen counter during the day. Yes, I am a bit addicted to lip balm, so this is something I always have to have around, but this one is exceptionally good!

Barista Bath and Body's Philosophy (taken from their site):
The vision and mission of b3 was to develop a line of bath and body products that were natural, safe, effective and promoted the body's natural ability to rejuvenate. When it came to determining formulations, we began by defining what we, as consumers, would expect from each of our products:
+ a shampoo should cleanse without drying, make the hair shine, and promote the hair's innate ability to regenerate
+ a conditioner should moisturize without weighing hair down, make the hair feel silky smooth, and help the hair to retain its inherent elasticity
+ a shower gel/soap should cleanse without stripping the skin of its natural moisture and leave the skin soft and glowing
+ a cream should return lost moisture to the skin and assist the body retain its natural suppleness
+ a scrub should effectively remove dead skin cells, promote circulation and leave the skin smooth and vibrant
+ a body mist should provide a refreshing hint of scent and be delivered in a pH balanced manner
+ a lip balm should provide therapeutic relief with a pleasing taste
When we set about identifying natural ingredients that would meet the above expectations and conducted research into their benefits, coffee and coffee extracts prevailed in almost every category.
barista bath and body believes our line of products brings the delight and bliss of coffee and all of its inherent benefits to the bath.
Buy It!
You can purchase these goodies online at http://www.b3products.com/
*Save 25% for Valentine's Day and receive a 3 oz. package of Gourmet Dark Chocolate Covered Espresso Beans just perfect to share on the most romantic of holidays!*
Disclosure:
I was sent product to review. These are my own honest opinions, thanks!