First off, I want to say how disappointed I was when I received these products. Not because the product was bad, but because I was sent sample sizes. Ridiculous, if I am supposed to review this.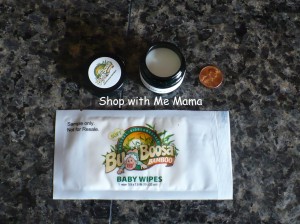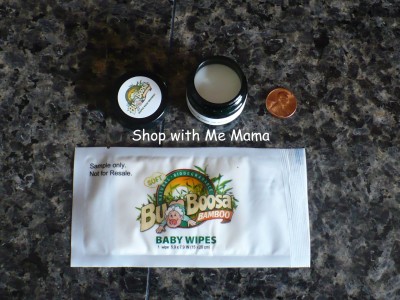 With that said, I did agree to a review, and will try my best at reviewing what I did receive, which was 5 individually wrapped Bum Boosa Bamboo baby wipes and a dollop of rash cream.
The baby wipes, since they were packaged individually, were great to throw into my purse for on the go messes. They smell like lavender and they are very soft and clean up messy hands and faces well. The rash cream smells like lavender too. And we totally could have used because my daughter still gets rashes on occasion, her skin is so sensitive, BUT I cannot tell you as I only received about a quarter size of it to try out, so I will not give my 2 cents on that. Sorry! I am sure it would have worked nicely and wish I could have tried it on my daughter 🙁 It does make your skin soft though, I tried it on my hand.
So my thoughts? I really liked the baby wipes. They cleaned up good and were strong too. They are gentle on my children's skin which is very nice because they have sensitive skin. I do recommend these wipes.
A Bit About Bum Boosa Products:
Offering High Quality, natural, bio-based baby wipes made with bamboo derived fibers. Gentle and safe ingredients including Lavender, Sweet Orange, Organic Aloe Vera, Vitamin E, Vegetable Glycerin. Food Grade preservative system. Alcohol, SLS, Paraben Free.

Also offering 100% natural zinc oxide diaper rash ointment with bamboo powder, high quality herbs and essential oils including chamomile, lavender, comfrey, shea butter, jojoba oil, calendula extract, rosehip oil, organic olive oil  grapeseed oil.

We plant a tree for every product we sell through Trees for the Future.
This just goes to show, that if a company wants someone to review their products and get the word out about them, it is important to send full sized samples so that we can get the feel for the product and give a full review of it! Since this was through Tomoson.com, it could have been a miscommunication, who knows. Either way, companies should already know this and if not, now you do 🙂 We put so much time into our reviews, our thoughts, pictures and ideas. Just a thought to ponder.. ( I am not being mean, just sayin!!!)
Disclosure:
I received itty bitty sample sizes to review and give my honest opinions. Thanks!