Carissa Rose is all about fitting the female form. Fit your bustline and flatter your waistline! No more frumpy shirts that is one size fits all. Every woman is different, and that should be celebrated, not hidden!
Carissa Rose Designs LLC, has just launched a new website with the goal in helping empower women with their body shape confidence! They have a great selection of button down shirts woven dresses, and tailored tops, the Carissa Rose website now categorizes merchandise into three silhouette categories: urban fit, semi-fitted and tailored fit.
Carissa Rose also has a new sizing widget on their website, where customers can figure out their body type and then shop by silhouette to find the perfect fit for their body shape. This is a great feature and easy to use. I have never seen this particular widget on a website, and I must say it is a breath of fresh air, to  know your body type and be able to find a piece of clothing that WILL fit your shape, without going to a store to try it on.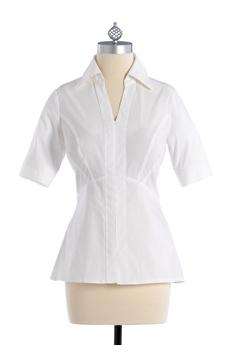 The body shape sizing widget, however, is not just about weight. but it also incorporates proportion and distribution of weight. This helps customers increase their knowledge of how to balance their body for each body shape! The website also has enhanced details/images of the products. Customers can also click on different color swatches to see what the product looks like in a variety of different colors. This is fun! I really enjoyed this part 🙂
Want to see other views of the product you want to buy? Me too! I absolutely hate it when I go to a website and I cannot see alternate views, especially when I am buying expensive jeans! I detest it! But, with Carissa Rose, you CAN see alternate views!! It is on a model/mannequin AND you can zoom in for more details! Love it!
Not sure about the product you want? Read real customer reviews and decide for yourself if it is for you. Bought an item from Carissa Rose and love it? Write a review of your own! I love it when I go to a site and can see what people liked and disliked about a product I am interested in. Nine times out of ten, if the reviews are good, I will get it. If there are SOME bad reviews, I likely will not. So it really helps when shopping!
And, if that were not enough, customers can now do the following:
*Join Carissa Rose online on Twitter or Facebook
*View video about the company, products and recent fashion trends
*Obtain useful fashion tips on the blog
*Add reviews of products they've purchased and browse customer's reviews
*Find insights from founder and expert Carissa Brown on the Pure Fashion, Personal Style and Fabulous Fit blog.
And, with the new website launch, Carissa Rose is offering FREE returns on ALL purchases!!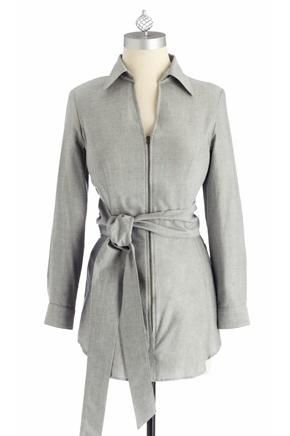 I received  the Norah Exposed Zip Tunic in Smoke, to review. It is very fashionable and trendy and is made with 100% cotton. It fits me perfectly and I love the tie at the waist, to show off my smaller middle, which I DO have! It is a great light tunic to wear during the summer evenings out. The zipper does not go all the way down, but just about. The tie around the tunic does come off if you don't want it, but you will! The collar is totally cute and chic and the color is a great color that will match just about all my clothing. I also LOVE the length of this tunic. I hate things to be short or show off my hips, and this covers my hips and totally slims me down. So I love my choice!
You can pair the tunic with knit leggings for day wear of black trousers for nighttime. I prefer to wear my designer jeans with this tunic. Cute huh?
This Tunic comes in Blueberry, Smoke and White. Bust runs a bit small, if between sizes consider ordering the bigger one. The approximate shoulder to bottom of shirt tail hem is 31.5 inches in size 12WE. It is a tailored fit silhouette type of tunic. For sizing help, you can contact Carissa Rose Fashion Advisors.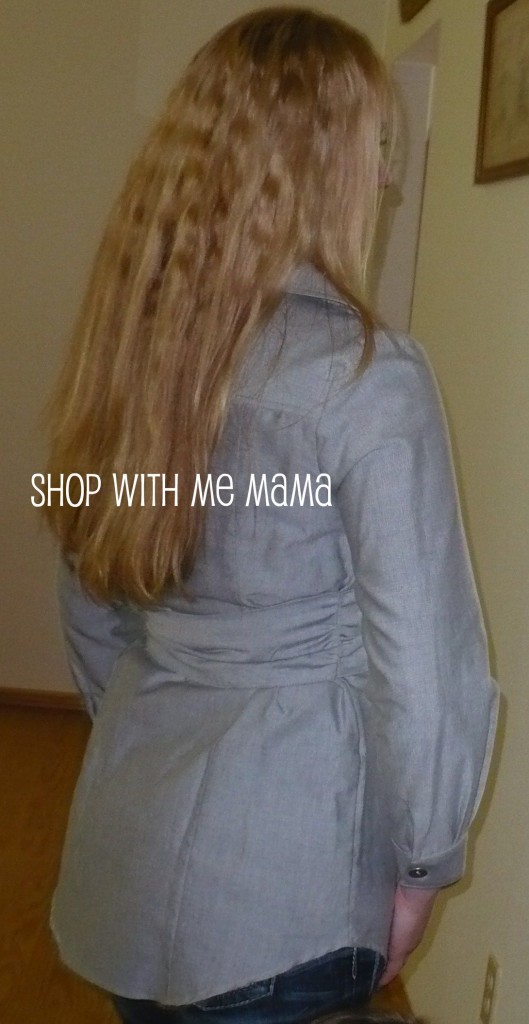 Buy!
You can purchase clothing from Carissa Rose by visiting them online at http://www.carissarose.com/

Disclosure:
I was sent product for this review. These are my own honest opinions, thanks!