*Sponsored post. Opinions are my own.
Now you never have to miss out on freebies or the latest giveaways, when you sign up for free at Daily Giveaway Alert! Get 100% Free Samples And The Latest Giveaways!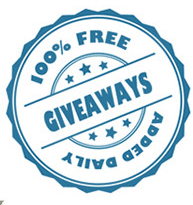 I know many of you all LOVE a good giveaway and you certainly love a good freebie too, am I right? I know you love my giveaways, I can see the traffic spikes when I host them! So, I knew you would all love to know more about Daily Giveaway Alert!
Sign up for Daily Giveaway Alert! Get an email alert each time their new list of freebies, sweepstakes and giveaways goes live. Never miss out again!!! Now grabbing those freebies and entering those new giveaways are SO much more easier to do!
Is Everything Really Free? Are The Giveaways Really The Latest??
Absolutely! They personally check every giveaway themselves, before it gets posted. So if you want to snag some samples, enter sweepstakes, play instant win games or just have some fun daily, sign up for their alert and never miss out again!! Simple!
Their new list of giveaways featured on their site, is updated every 24 hours, so no old giveaways posted. Just fresh giveaways and freebies for you!
Will You Be Signing Up?