*This post; DR-HO'S Pain Therapy System Pro, is brought to you by DR-HO'S. The product was received. This post includes my affiliate links.
My poor hubby was in a very bad car accident when he was in his late teens. It was a head-on crash in a snowstorm. It was horrible. I still remember it clearly. He broke his femur in his right leg. It was mush and he remembers it being so wiggly and odd looking, eww!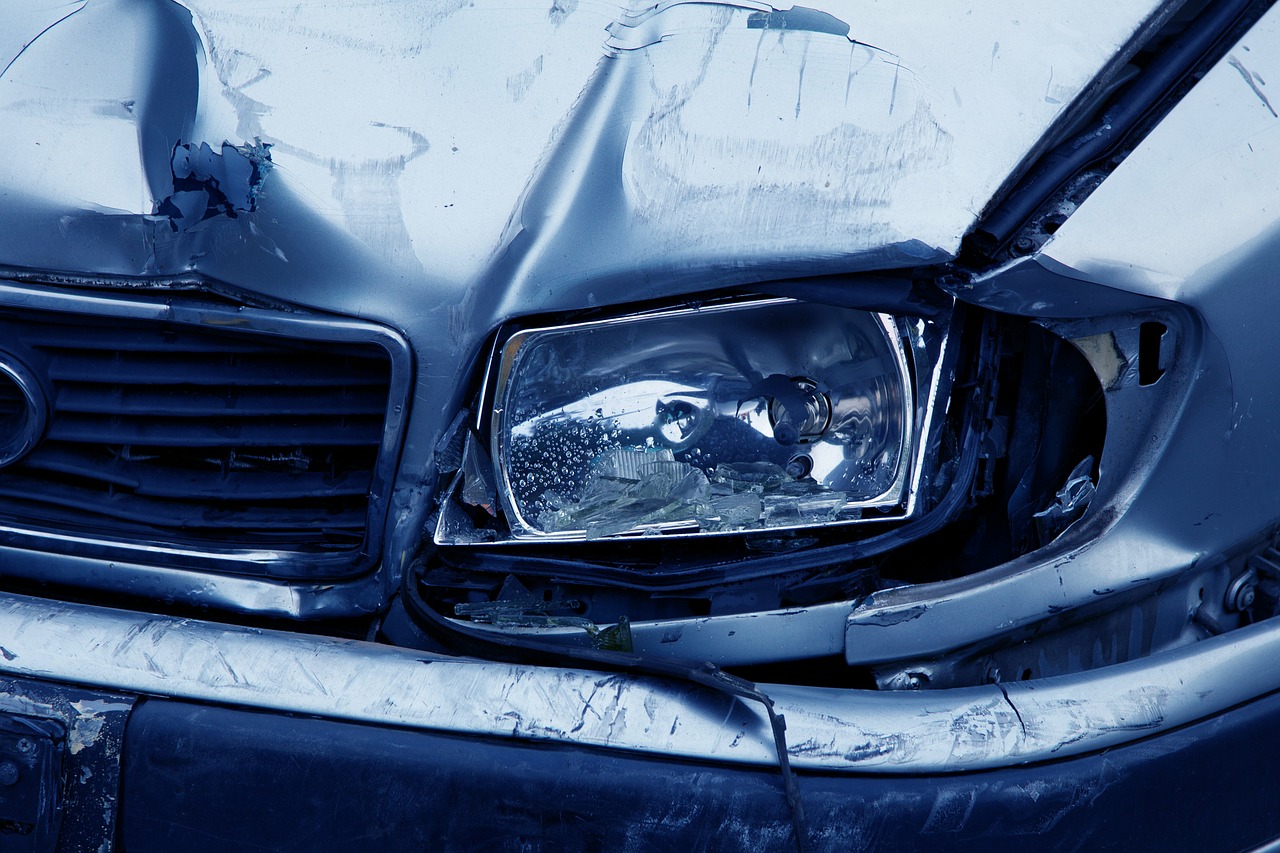 He had to have a titanium rod put in his femur and screws to hold it all together. After about a year, he had the rod removed (of course he kept the rod!) and his leg has never been the same. He has so much hip pain, knee pain and foot pain from that accident, years ago.
Since then, he has just been dealing with it, though I am sure a trip or four to a chiropractor would have relieved some pain or issues he is having. However, my hubby needed something that will help alleviate the pain for at least a little while.
I heard plenty of good things about DR-HO'S Pain Therapy System Pro and read up on the reviews of DR-HO'S products. I was impressed and so I decided to tell my hubby about it. We were sent DR-HO'S Pain Therapy System Pro to try out.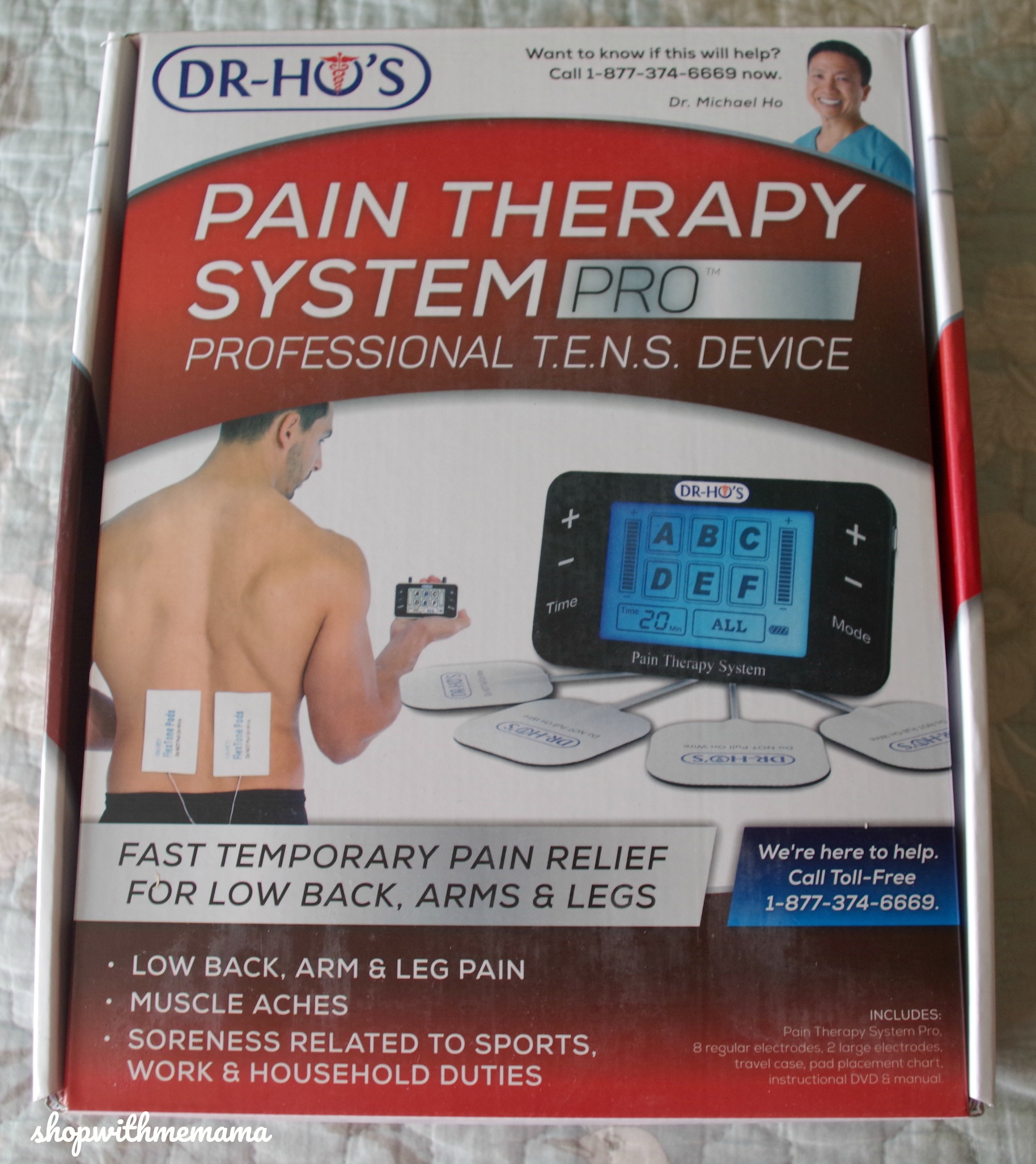 This arrived and we had no clue how to even start using it. Thankfully, it comes with a DVD which I recommend you watch, before even attempting this therapy, just so you are sure what you are doing. Also, always ask your doctor before trying ANYTHING like this.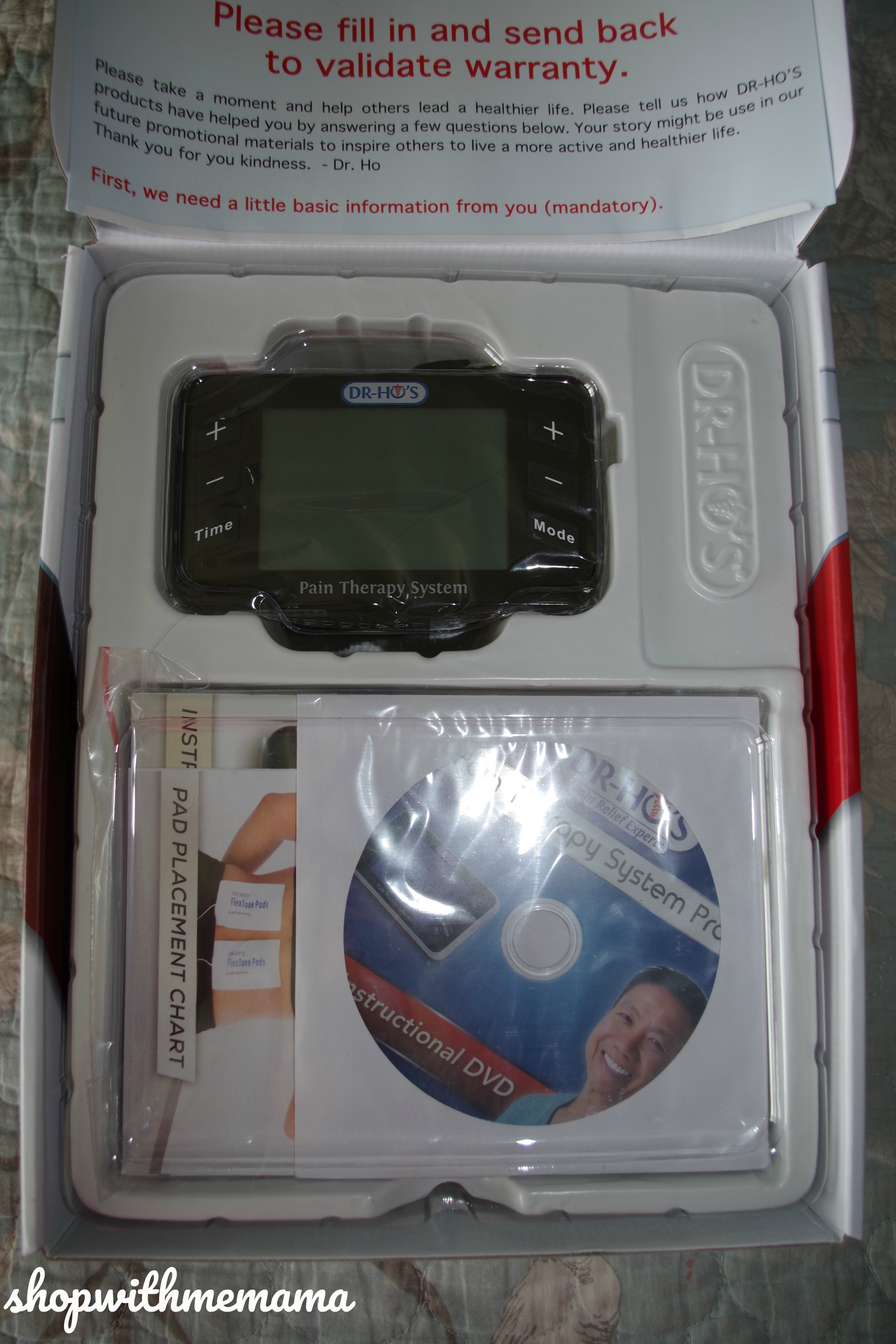 After watching the DVD and reading the instructions manual, we both realized this was not going to be too difficult to use, at all. In fact, it was pretty easy to use. The Pad Placement Chart was also very helpful when determining where to place the pads. We fully charged the Pain Therapy System Pro. Once that was fully charged (no batteries required!), we began my hubby's first treatment.
How To Use DR-HO'S Pain Therapy System
My hubby decided to treat his hip first. He has been having a lot of issues with it and we thought that was a great place to start. We placed the self-adhesive body pads on to his skin where he is having pain. We used the big self-adhesive body pads so that it covered the area well. You can easily find which pads to use and effective pad placement instructions on the DVD that the DR-HO'S Pain Therapy System Pro comes with.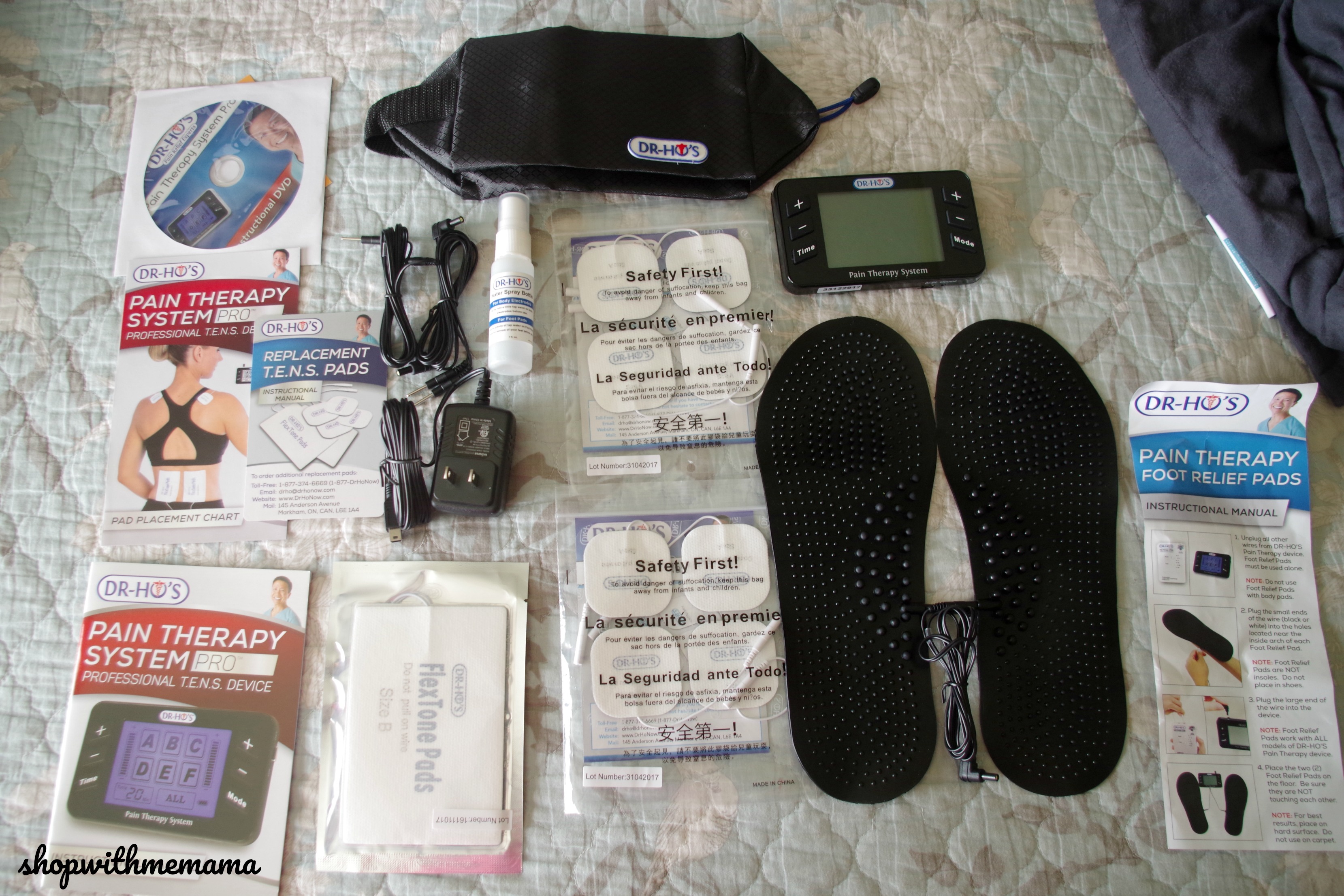 Make sure that before you turn on the machine, you have the self-adhesive body pad you are using, connected to the Pain Therapy System Pro, securely. Next, we clicked on the power dial on the Pain Therapy System Pro. SLOWLY increase the intensity until you feel the most soothing and relaxing massage action. It will feel like hands inside your muscles massaging those tense and painful/tender areas. It really gets to those DEEPER areas that have been bothering my hubby so much.
There are 6 separate modes of massage patterns you can choose from. Depends on whether you like a deep and vigorous massage or a gentle, calming massage. Each mode is designed with different waves and frequencies in order to provide professional-grade pain relief. You can set the automatic timer for 10-40 minutes and when the session is over with, DR-HO'S Pain Therapy System Pro will shut off automatically. We customized my hubby's therapy sessions by adjusting his intensity level.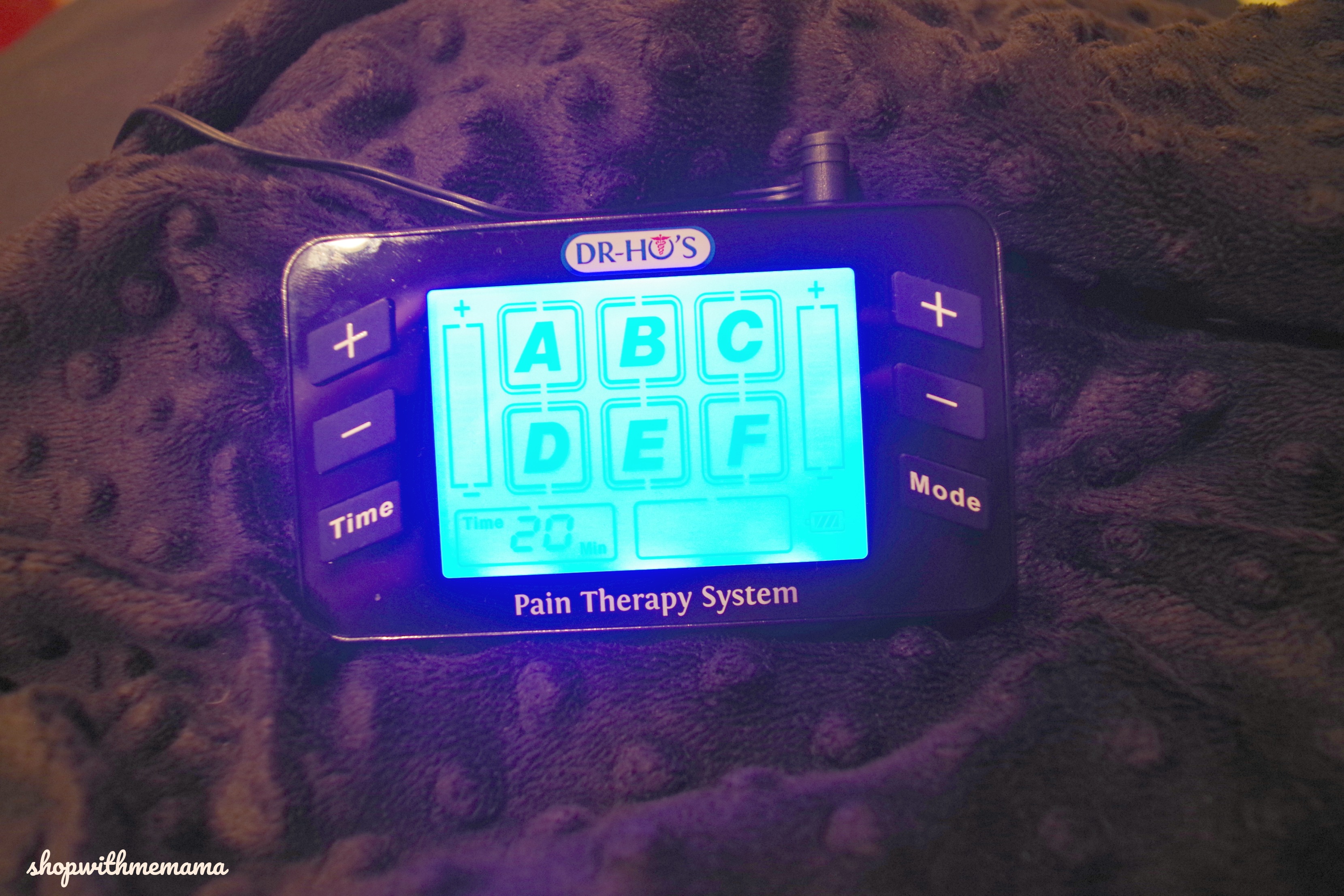 After the first treatment on my hubby's hip, he then used the foot therapy pads. Like I said above, my hubby has some serious pain in his foot, mainly his heel area. So he was excited to try out DR-HO'S Pain Therapy System Pro on his foot.
Basically, you follow the instructions above, except this time, you put your feet on the foot therapy pads, so there are no pads you have to put on your foot (unless you want to). Then, make sure the foot therapy pads are hooked up to the Pain Therapy System Pro properly. Then, choose your setting and relax for the next 10-40 minutes. It turns off automatically when the session is over.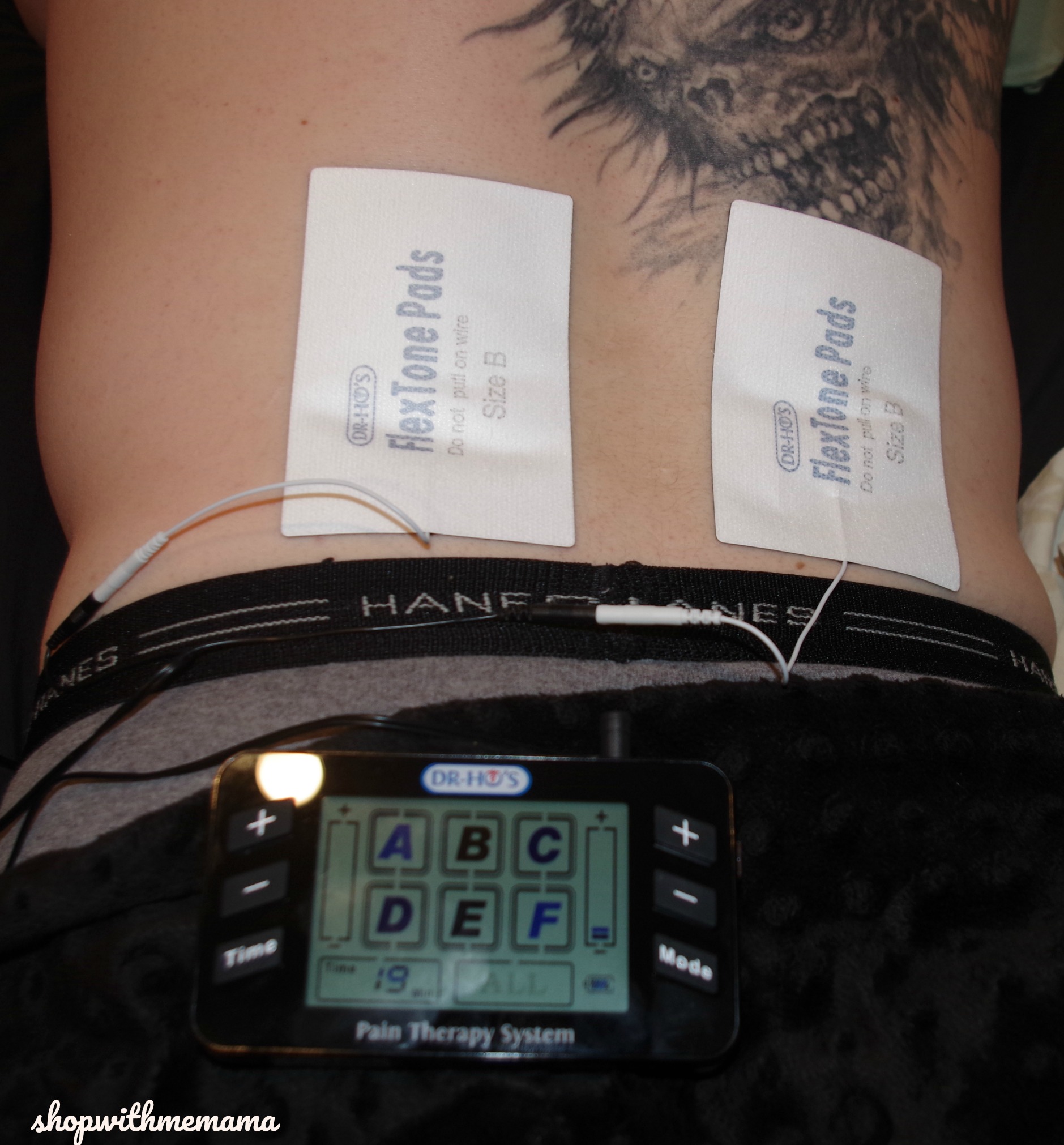 After the foot therapy session, we then did my hubby's lower back area. This has been hurting him lately and with the recent move of his mom, his back really needed some relief.
We added the two biggest self-adhesive body pads on his lower back and then made sure they were attached to the Pain Therapy System Pro securely. Then we turned it on and he picked the therapy session that felt the best to him. Then, he just relaxed until the session was over.
Treat Two Spots Or Two People At The Same Time!
What is awesome about this is that you can treat two spots at one time. Or, two people can do a therapy session at the same time! The level of intensity can be adjusted independently for each port meaning that the unit can be used by two people at the same time or can be used on two different parts of the body at the same time, both with independent modes and levels of intensity.
After Two Weeks Of Use
My husband has been using DR-HO'S Pain Therapy System Pro for about 2 weeks now. He uses it almost every day on his foot and hip. He has been finding temporary relief from this. It has absolutely been helping with his chronic foot and hip pain. So far, my hubby is very pleased and he can't wait to see how well this will work for his pain management, long-term.
Don't Do This!!!
I can be a bit of a ditz sometimes. ESPECIALLY after a very long day with my kids. The first day of summer, no school and rambunctious kids can take a toll on this mama's brain.
I was not thinking after one LONG day and stepped right onto DR-HO'S Foot Therapy Pads. Directly on them. I was holding the dial machine in my hand and for some reason, turned it ALL the way up. I have never in my life jumped SO high or fast. I swear my LIPS were tingling for the next 10 minutes after I did that. Talk about a shock. So, DO NOT DO THAT!!!! Lol.
More About DR-HO'S Pain Therapy System Pro
DR-HO'S Pain Therapy System Pro is an innovative TENS device that helps relieve muscle pain and tension in as little as 20 minutes. DR-HO'S® Pain Therapy System Pro provides great flexibility both for people who like powerful treatment and for people who prefer more gentle treatment.
Drug-Free Pain Relief!
If you have been relying on drugs to alleviate your pain, I highly recommend trying DR-HO'S Pain Therapy System Pro. You don't want to be on pain medication your whole life, do you? DR-HO'S products are an entirely drug-free solution to help manage your pain. All DR-HO'S products are completely natural solutions.
Scientifically Proven
DR-HO'S products are scientifically proven to relieve pain and reduce muscle tension and spasms. An at-home TENS device was part of a scientific study conducted by Dr. Stuart M. McGill Ph.D. which also shows that TENS can help to increase tissue oxygenation and improve circulation. You can find out more about that, here.
Buy Now!
You can browse and purchase DR-HO'S Pain Relief products, by visiting them online at https://dr.honow.com. The Deluxe Package is the best deal because you get everything you need.
$20 Off Coupon Code!
Get $20 Off for any of the Pain Therapy System Pro packages with code PRO20! Expires 6/19/2019. Get the deal HERE!
Get Social!
You can connect with DR-HO on Twitter, Facebook, Instagram, and YouTube!
Do You Have Any Pains You Would Like To Help Alleviate? Do You Think DR-HO'S Pain Therapy System Pro Could Help You?