That is what Go! Go! Sports Girls are all about! They are a positive doll for girls and they send a positive message about a healthy lifestyle – physically, mentally, and emotionally – through sports. Just what girls need, nowadays, if you ask me!
My daughter received "Gracie" a really cute blond hair doll with big blue eyes, like my daughter! When she arrived, my daughter was so happy to grab her and play with her! Gracie has since, been everywhere with my daughter.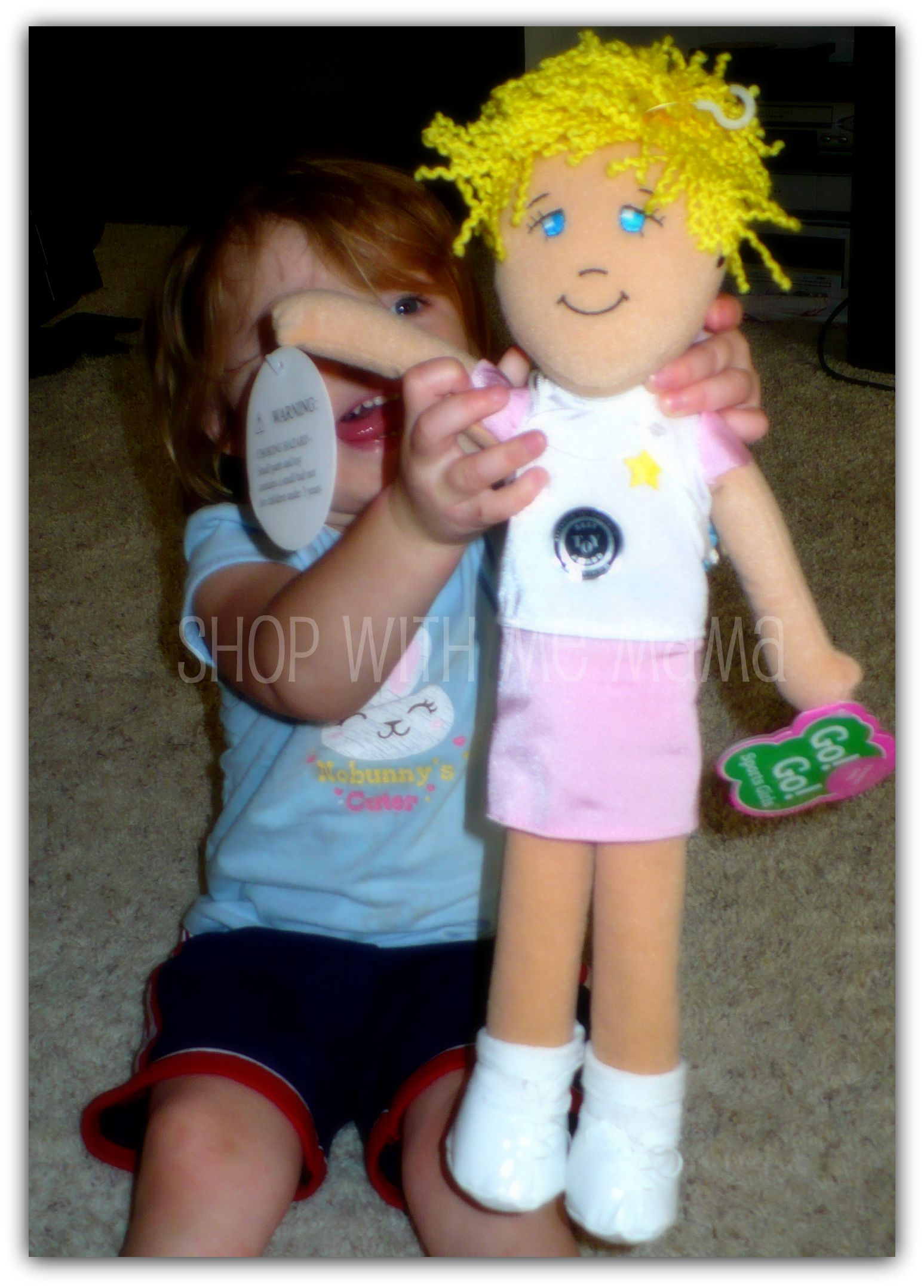 Go! Go! Sports Girls
To the store, to bed, at the dinner table for dinner, and more! My daughter loves that she can undress her and dress her again. For some reason that is a big thing for my daughter right now! Gracie, as well as all the dolls in the Go! Go! Sports Girl line, have positive sayings on their tummy's that you can see when their clothes are off. I thought that was really cute and neat for young girls to see.
About Gracie (taken from their site):
"Gracie loves to hit winners! Her favorite shot is her backhand down the line. Before playing tennis, Gracie stretches, drinks plenty of water and eats a healthy snack for energy, like a banana. When she is off the court, Gracie likes reading and playing with her friends"
The other dolls that Go! Go! Sports Girls carry are below:
Brooke who loves Golf
Cassie who loves Soccer
Ella who loves Running
Maya who loves Gymnastics
M.C. who loves Dance
Sam who loves Softball
Suzi who loves Swimming
Taye who loves Basketball
And two new ones, Anna who loves Soccer and Kate who loves Basketball!!
So, as you can see, there is a great selection of dolls to choose from! And they are so cute, soft and fun for girls of all ages!
More About Go! Go! Sports Girls (taken from their site):
Go! Go! Sports Girls know it is important to exercise every day, eat healthy foods, get a good night's sleep of 9 to 10 hours per night, and to appreciate and be true to yourself! Go! Go! Sports Girls want you to Dream Big and Go For It!
Dream Big Toy Company created Go! Go! Sports Girls as a fun and educational way to promote self-appreciation and the benefits of daily exercise, healthy eating and sleeping habits, self-esteem, and overall healthy life-skills among youths 3-12 years, regardless of race and socioeconomic class.
Go! Go! Sports Girls are age and size appropriate. They do not encourage an older or overly mature image. The image is innocent with a subtle yet strong message that appreciates and be true to yourself!
They are made from high-quality cloth which is safe and durable. They are soft, comfortable, and light to carry, easy for a child to take with her to play or sleep.
At Dream Big Toy Company, we feel strongly about Giving Back. A portion of our profits is donated to organizations that encourage girls to participate in physical activity and develop healthy lifestyles. To learn more about our charitable activities click here.
Want to Buy One?
To purchase one (or all!) of the adorable and inspirational dolls, please visit their site at http://gogosportsgirls.com.
---