*Jamberry Nails Review. This post includes my Amazon.com affiliate link.
Paint does not do well on my toes or fingernails. I love to paint my toes, not so much on my fingernails, only because the paint just chips right off my fingernails. So, on my fingers, I opt for nothing but freshly buffed nails. My toes, on the other hand, are quite ugly, so I HAVE to have something on the nails or I would just never show my feet, ever…
I heard from around the internet, about a great product called Jamberry Nails. It looked very interesting to me, so I asked them if they would be interested in me reviewing for them.
They sent me a sheet of my choice of their Jamberry Nails product. I chose the Mulberry Flower on Pink. Each sheet can do 2-3 sets of fingers OR toes. I read through the instructions and then sat down with my baby girl, with some scissors, a nail file, and a hairdryer!
Jamberry Nails Review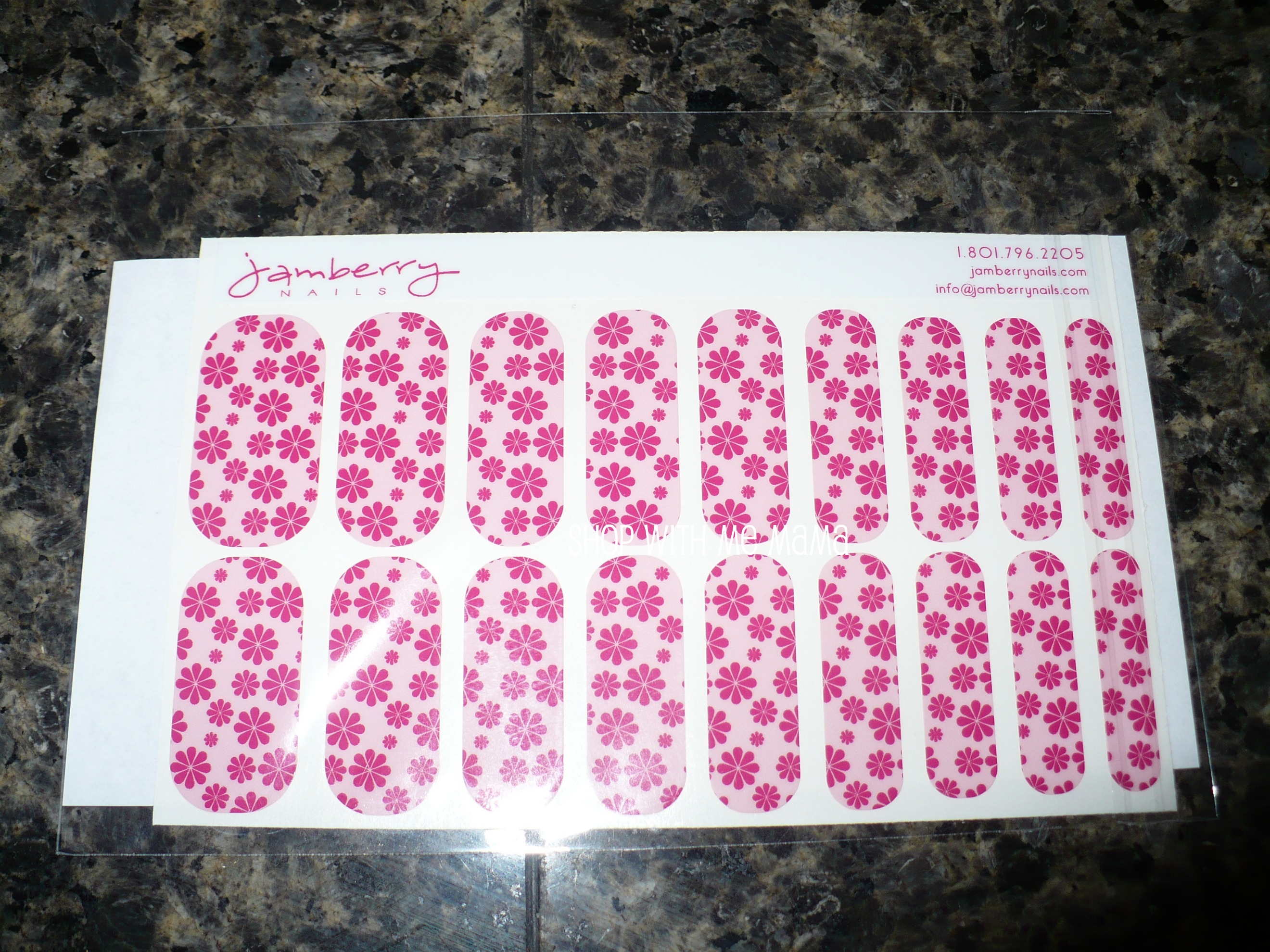 I first did my daughter's piggies. Though she is only 3, she did quite well with me taking my time to put these on her toenails. It took me about 30 minutes to do her toes.
First, you have to clean your nails with nail polish remover to remove any dirt or oils (or remaining polish) on your nails. You then can cut and file your nails to the desired length (though this was not necessary for us, as our nails are the way we want them already), and push back your cuticles.
See how I did my daughters? It was hard on her and I ended up cutting them to fit her as she could not stand the blow dryer, so our fault they came off as quickly as they did!
The Jamberry Nails come on a sheet and you pick which color shield matches your nails, approximately. Next, peel off that nail shield and warm with a blow dryer (this is what takes a little bit to do) for about 10-15 seconds or until it is soft and flexible.
When it is flexible or soft, you press the nail shield onto your nail firmly with pressure around the edges to adhere better. You can use a rubber cuticle pusher for this or just your fingers like I did.
Then trim the access nail shield with scissors and file off the remaining shield using a file. Then you have to apply heat again and pressure until the nail shield is secure.
When I had to apply the heat again, when it was on my daughter, that was the tricky part. She kept saying it hurt or was burning her (the blow dryer heat) which it wasn't, but I was nervous to use it because of that. I think that is why her nail shields popped off the moment she got into the bathtub that night. It was not worth my time or efforts to do her nails because of that.
Now my nails, I did my toes. It took me about 25 minutes to do both feet. Now right away, the nail shield on my small toe next to my pinkie toe came right off in my bath that night, too. But all the other nail shields have been on my toes for about two weeks, so yes, I am impressed with that. I have been out several times to friend's houses these past two weeks and my friends have commented on how cute the nail art is.
So my thoughts?
For my daughter it was more effort then it was worth, as they came right off her toes in her bath that night. It was probably due to the fact that she could not tolerate the blow dryer on her toes, to get the nail shields to adhere and I really don't blame her.
For me, it was a success. I STILL have them on my toes, except for that one that came off of my smaller toe, and it has been 2 weeks!! They don't look like they will be coming off anytime soon, either!
These are great for a special occasion, like a wedding, going out or something fun, I would invest in them. They kind of remind me of a sticky type of tape that you would put on your fingernails. They are certainly fun to wear and people do notice them.
Buy
You can now purchase Jamberry Nails on Amazon.com!
Did Jamberry Go Out Of Business?
No, not really. Jamberry assets were purchased by M Network. You can find out more information about there HERE!