*Product received, opinions are mine. This post contains my personal affiliate links.
I really enjoy summertime, but I don't enjoy the greasiness that comes out on my face when I am hot. I feel like I constantly am using oil blotting sheets! I get REALLY greasy! Gah!
Let's Get Our Skin And Nails Pretty For Summertime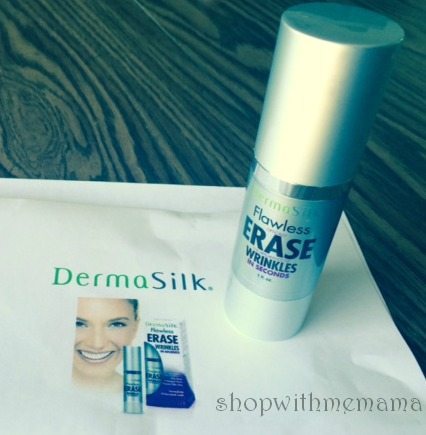 When I find good products that I can use, to help my face stay nice looking, I get excited! The Dermasilk Flawless
Erase Wrinkles in Seconds is a good choice to keep your skin looking good during the summertime.
This stuff is nice. It is very light feeling (lightweight) and smooths onto the skin well. This is an advanced optical cream that is supposed to erase the appearance of skin aging, lines, wrinkles, crow's feet, sagginess and enlarged pores, within seconds of applying it. It even will work on your hands.
It says it will give a flawless, immediate correction and achieves an instant airbrushed look. I first used this on the tops of my hands as I would certainly love for them to be more smooth looking. The tops of my hands looked nice and smooth. But, since I do wash my hands alllll of the time, it did not last very long. On my face and neck area, it was the same as on my hands. It did smooth out the surface of my skin, but I did not notice my pores going away or getting erased. It did make my face super smooth feeling though and the appearance of my face, overall, looked nice. I did still have those wrinkles though, but they were softened a bit.
The DermaSilk Flawless was originally developed to help the skin look better in high definition motion pictures. Since the advent of HD technology, skin imperfections have become really apparent on camera. Flawless was created so that these imperfections could be blurred out.
I like to use Flawless without makeup the most. I apply it as the last step in my skin regimen. My face looks and feels so soft!
Retails for $30 a bottle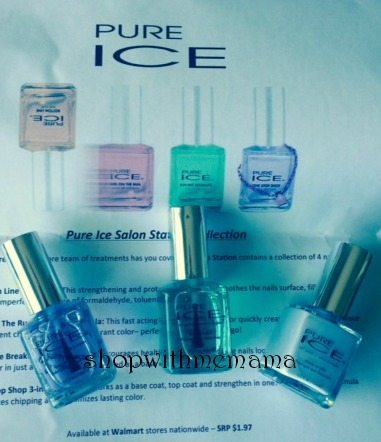 Now Onto The Nails!
During the summertime, I like simple nails. I like light colors that are fun and summery! But, most of the time, my nails are pretty plain, but just painted with a clear polish to keep them strong and healthy.
I was sent some Pure Ice
Salon Station nail polish/treatments to try out with my little girl 🙂 We love doing our nails together, it is 'mom and me' time!
The Bottom Line Base Coat is a strengthening and protective base coat, which helps smooth the nails surface by filling ridges and masking imperfections. It is free of formaldehyde which is great.
The Girl on The Run Quick Dry Formula is a fast-acting complex which helps set the nails quickly and creates a protective surface so that your nails won't chip easily. It also will lock in your pretty nail polish color!
Buh-Bye Breakups Nail Protector encourages healthy nail growth while helping to make nails noticeably longer and super strong in just mere weeks. This can be used as a base or top coat.
One Stop Shop 3-in-1 Top Coat also works as a base coat, top coat, and strengthener, in one. It is a fast drying formula that also helps eliminate chips and helps make the color of your nail polish last a bit longer.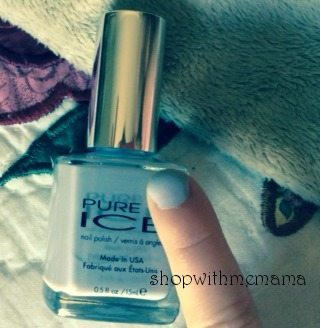 I was sent three of the four mentioned above. I was sent Pure Ice Nail Polish in Laven-Dare which is really light-colored and perfect for summertime. I like how soft it looks! I also got the Bye Bye Breakups which is the nail protector. And I got the Seal The Deal. All great polishes.
Retail price: $1.97 at Walmart nationwide
You can purchase all of these products online at Amazon.com! How do you take care of your nails and skin during the summertime?