Looking for Cheap & Trendy Junior Clothing? Hate breaking the dang bank to look totally fabulous? I always find great deals, and will rarely buy something at full price, except of course for my designer jeans 😉 but that is few and far in between if you ask me!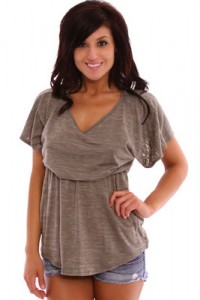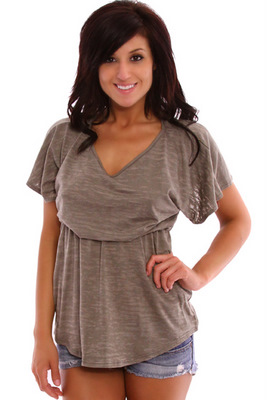 Lovemode.com is a new juniors clothing website that sells super cute and trendy clothes at astonishingly low prices! I mean, these clothes are CUTE! I had the opportunity to choose a shirt from their site. I had a very hard time choosing one, but eventually, after searching their site for about 20 minutes, I came across a shirt I HAD to have. I got the cute Mocha Tunic Top and boy oh boy it is adorable on me 🙂 Even my hubs think so! Well, he had better…
See, I am cute!
It is a quality shirt and I absolutely LOVE the length on it. I am all about lengthy shirts 😉 So, if you are looking for trendy juniors clothing, that is totally affordable, you should really check out lovemode.com.

And, right now, lovemode.com is having a grand opening storewide sale!!  They are giving 40% off of everything PLUS FREE shipping until May 5th!! No coupon is necessary and NO minimum!!! So get on it!! Oh, the cute clothes and deals you will score!!!

Holy smokes! Too cute, huh?
About lovemode.com (taken from their site):
Love.Fashion
At LoveMode, we are dedicated to bringing you the latest trends and fashions at affordable prices. We carry a wide and fashionable selection of juniors clothing and accessories.

LoveMode started in 2004 with Kiki's Fashions. Kiki's Fashions was born out of the need for cute and trendy maternity clothes at affordable prices. While most maternity clothes out in the market are boxy, boring and expensive, Kiki's found success by having a wide selection of unique maternity styles at prices mostly under $20.

As Kiki's grew, our customers began asking about juniors clothing.  They loved our maternity clothing, but wished they could continue shopping with us after their pregnancy.

So we listened and LoveMode was born.  LoveMode follows the same no-nonsense model as Kiki's: cute and trendy clothing, affordable prices, quick shipping and excellent customer service. We believe that if we make the shopping experience a simple one, our customers can focus on what really matters, the fashion.
Disclosure:
I was sent an adorable shirt to review. These are my own honest opinions, thanks!