We have always loved Mattel in this house! Heck, I loved them as a child! Mattel has a new Cars 2 Toy line out, and boy is it cool!
We received the Cars 2 Secret Spy Attack Finn McMissile to review and try out. My son was so excited it was so cute! When he opened up that Mattel box (oh how we love receiving those!), his little eyes lit up so big! This car is a fully loaded car with top-secret spy weapons, including firing missiles, sound effects and thrilling transformations!! I really liked that this came with the batteries! So much more helpful when they don't!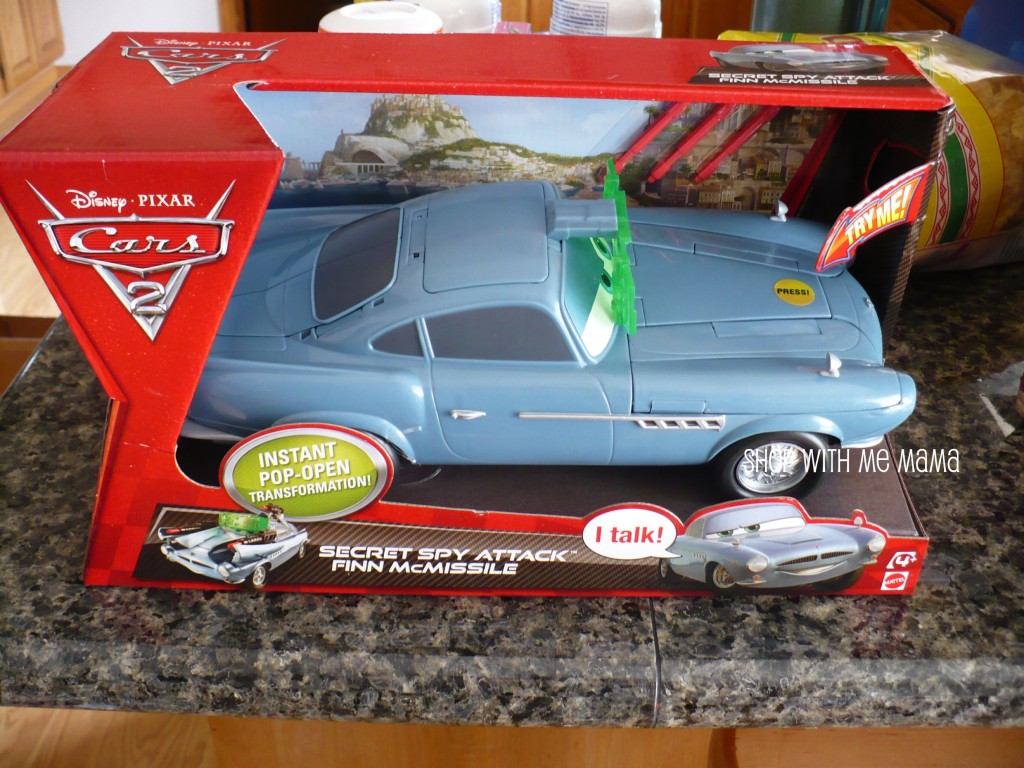 With a push of the hood on the car, missiles will pop up from under the hood and you can pop the little missiles into them and squeeze the sides of the missile launchers for some great fun!! You can also press the back bumper and up pops up a middle missile that you can again, pop in the missile and fire away! Also when you press down on the back bumper, Finn McMissile's eye protectors pop out and go over his eyes to protect them! Too much fun! He also makes sounds and talks. My little boy and girl both love playing with this. It is a big sized car too, not a dinky little car. It seems durable so far and nothing has broken, so so far so good!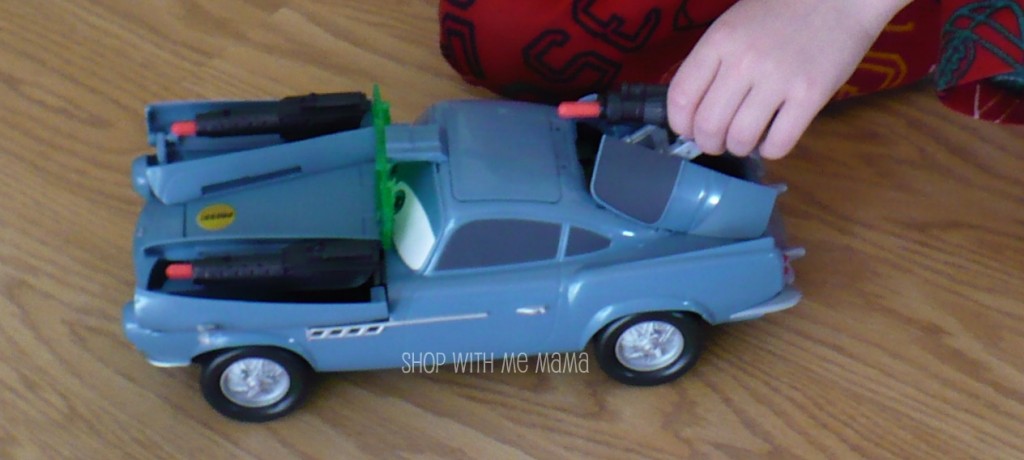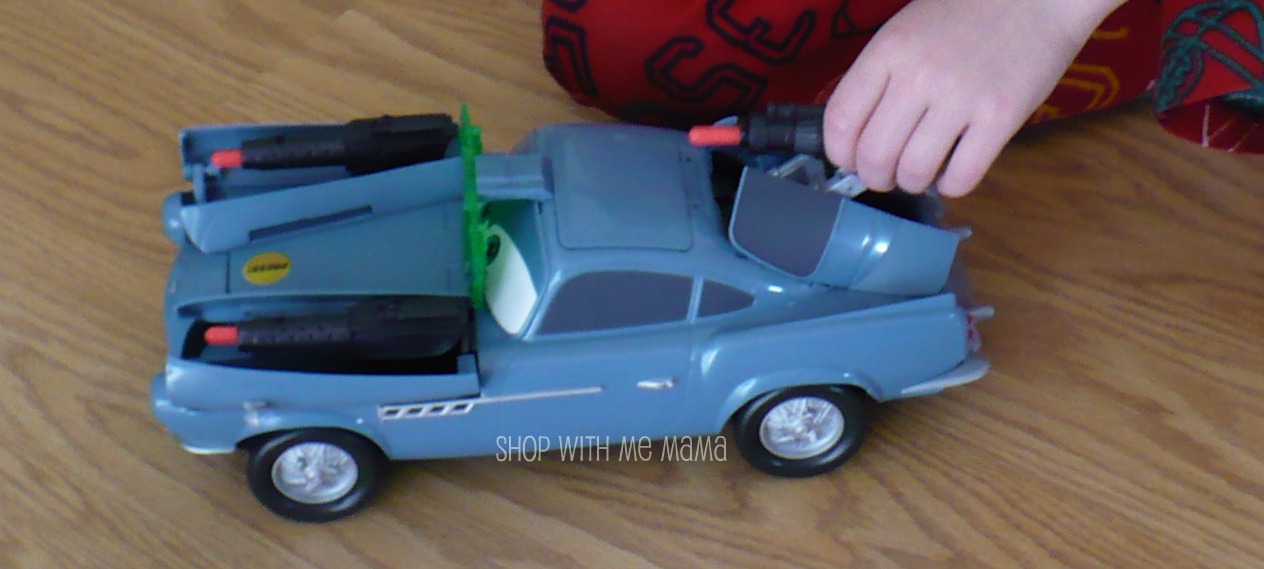 A Bit More About Cars 2 Spy Attack Finn McMissile: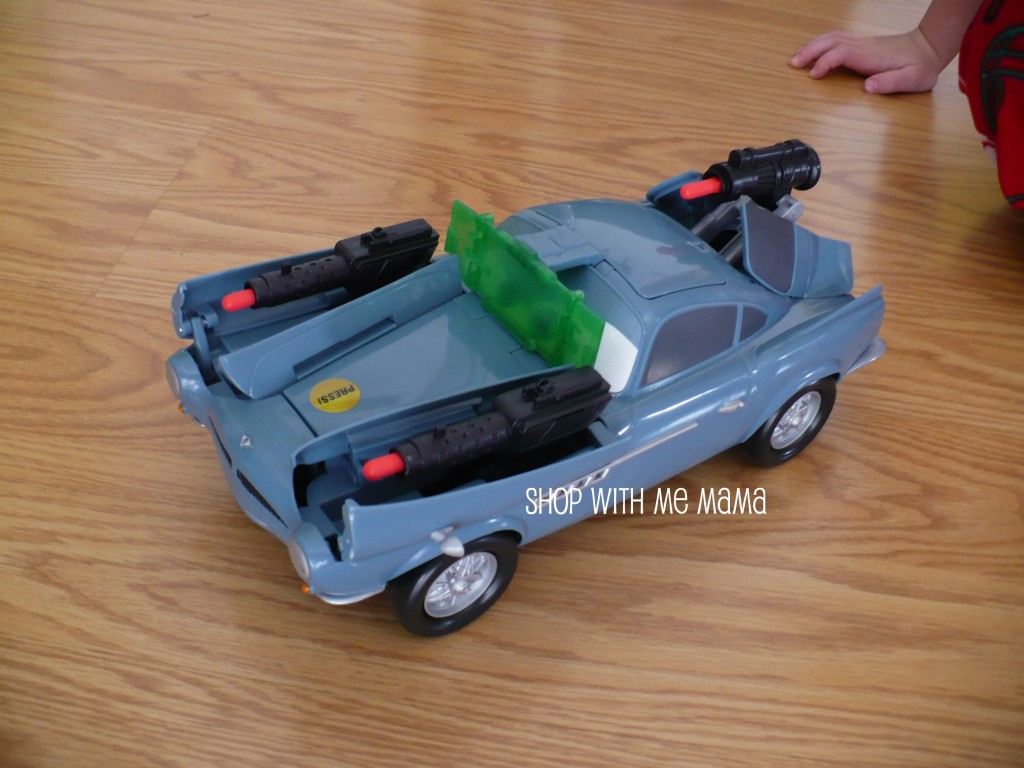 Secret Spy Attack Finn McMissile is no ordinary spy car. In all his glory, he is an international machine of mystery! He instantly transforms for all-out action with top-secret spy weapons and firing missiles. The ultimate mission? To help this secret age
Comes fully loaded and ready for battle
Features sound effects and fun phrases from the movie
Kids can recreate scenes from Cars 2 and invent their own spy missions
Some Other Cars 2 Toys:
Cars 2 Tokyo Spinout Track Set. You Load two Cars into the set's dual launchers to watch the vehicles zip toward the elevated spinning platform and whirl above the roaring river below. Only one car can claim victory while the other spins out of control and off the track. Set includes one die-cast Cars 2 vehicle. ARP: $29.99, ages 4+
Cars 2 Lights & Sounds Die-Cast Assortment. Lightning McQueen, Mater and friends come alive with real working headlights and revving sounds including their signature phrases from the film. Available in 12 different characters, the vehicles feature 1:55 die-cast scale.* ARP: $7.99, ages 4+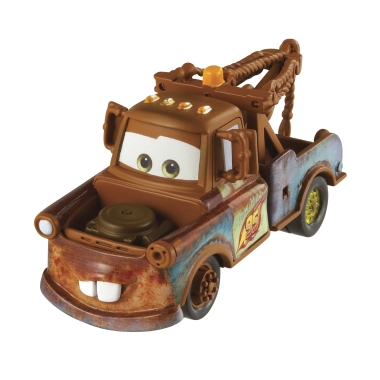 Cars 2 Character Die-Cast Assortment. The new 1:55 scale* vehicles come with a huge character variety, including kid favorites Lightning McQueen, Mater and new characters from Cars 2. ARP: $4.99, ages 3+
Buy!
To check out the whole Cars 2 line and purchase them, you can visit them online at http://shop.mattel.com
Disclosure:
I was sent product to review. These are my own honest opinions, thanks!