*no! no! Professional Hair Removal review. The product was received. This post includes my affiliate links.
I have lots of peach fuzz on my face and neck and I don't like it, never have. I have always searched for that 'answer' to take it all away, but have fallen short of finding it.
no! no! Professional Hair Removal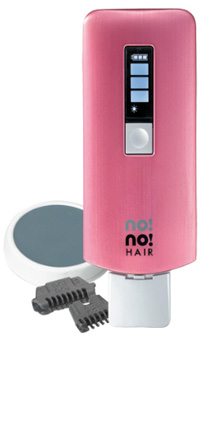 I have heard and seen soooo many wonderful reviews about no! no! Professional Hair Removal device and always wanted to try it out. When I was contacted to actually try it out, I was soooo excited!!! For I have ALWAYS wanted to get my hands on one of these devices!!! I received the no! no! Pink 🙂
I had to charge it up and once it was charged I was ready to use it. I had no clue how to use it or how it really removed the hairs, but when I found out, I was shocked! LOL. It burns the hairs!
The kit I received comes with two hair buffers (one small and one large), two different sized thermicon tips, user manual on cd, brush and power supply.
The no! no! is sooo easy to use. You simply turn it on and use it. I used it on my face first. I used the smaller thermicon tip for this area and you use the bigger one for the rest of your body.
Immediately I smelled 'burnt' hair, which told me this thing is actually working! My hair was coming off, which was cool. After I was done with the treatment, I then used the facial hair buffer (the smaller one) on my face. After I used that on my face, it was so smooth! But, the scent of burnt hair lingered all over my skin.
Next, I put the larger thermicon tip on to use on my legs. The no! no! did not work so well on coarser hairs. It was harder to take/burn off those hairs. Even after using the larger body buffer on my legs, I could still feel some stubbles. So, I just ended up shaving those off in the shower later on so my skin was smoother after that.
I totally recommend using the no! no! BEFORE a shower/bath, so that you can wash off the burnt scent smell (unless of course, you love burnt hair smell..). That way, you are smooth and you smell good 🙂
My Thoughts…
I realized no! no! no! Professional Hair Removal works AWESOME on fine hairs, like facial hairs, arm hairs, etc.. and not so well on coarser hairs, like leg hairs or whiskers. It works, but not as well as it does on finer hairs.
The burnt smell is kind of gross, so that is why I suggested taking a shower/bath after using the no! no! hair removal system.
All in all, I am super happy with my no! no! as I really only wanted it for my face and neck anyway. And it really does work on those parts, so I am happy with it.
The device is sleek and easy to control and hold in my hand. It comes with understandable instructions and the cd is a must to watch beforehand.
This is a painless way to take off unwanted hair. I had no problems with it hurting or making my skin feel weird. It is really easy to use and does not hurt in any way.
Would I Recommend This?
Yes, I do recommend the no! no! Professional Hair Removal system to anyone who has unwanted facial hair that is fine, like peach fuzz, etc. I don't really recommend it for coarser haired people.
Buy
You can purchase the no! no! Hair Removal online at Amazon.com.
Have you ever used the no! no! Professional Hair Removal System?