Sharing photos online is not only risky but can come with consequences, scary ones! I know of one fellow blogger who had her family photo stolen from her, the SAME one, three times!!!
I know that when I share photos of my children on my blog I always watermark them, in case anyone ever tries to steal them, they won't because of the watermark (except for the ones below…). But who knows. There are a lot of wacky people out there, unfortunately, and we should keep our pictures more private.
Organize Your Photos, Easily and Confidentially with Fotobounce!
A Picture of Baby Mice, that I downloaded onto Fotobounce:

But, sharing photos online does not have to be scary. Fotobounce thinks it is important that users be able to control who sees your photos, and I could not agree with them more.
Fotobounce has a Private Network feature which is a close group of people, Fotobounce Users AKA Bouncers, can invite friends and family to share your photo libraries. Fotobounce is a downloadable application for your computer.
And when you want to share them, you can go online and share them with your "bouncers" or Private Network. This makes YOU in control of your photo privacy and what pictures you want to share and with whom.
You can also import "bouncers" (your private networks) by importing them from Gmail and Yahoo! Fotobounce is NOT an online service. The only online aspect is when your bouncers are online making them available to download and share photos.
Identifying Faces: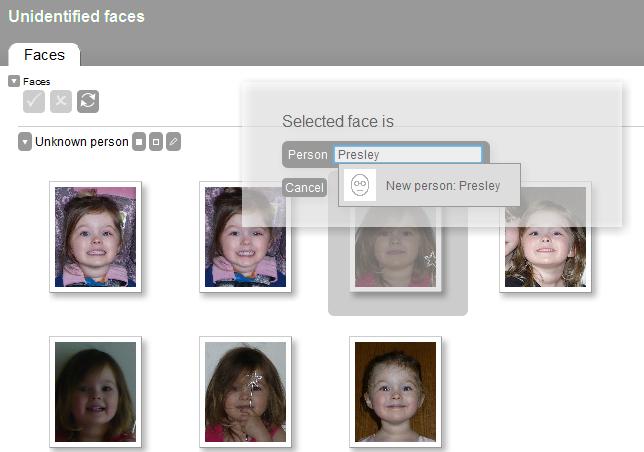 With Fotobounce, you are able to share your photos with your friends and who you choose to share them with. You can be sure that your photos are safe and confidential.
With Fotobounce you can manage all of your photos and share ONLY the photos that you want to share. Fotobounce allows you to create a network of friends where YOU control what you want to be shared or not.
Fotobounce also has advanced photo organizing techniques that include the use of face recognition. I love this feature because it allows you to save time, tagging your photos.
As faces are detected by Fotobounce, and tagged by the user, this trains Fotobounce to learn who people are and helps automate the tagging process, which is so nice! And, once your photos are tagged, you can then share on Facebook, Flickr or a private network, if you choose to.
I am really impressed with Fotobounce. I downloaded it, it is free and totally easy to do. I played around with it and it is very easy to use. Anyone who loves to share online photos, but are cautious to whom they share their photos with (which would be most of us, I would think), will definitely like Fotobounce. Though it is not an online service, you can still share them online, after organizing them and tagging them!
I have it on my desktop, so I can easily access it!

Once installed, I was able to immediately start using Fotobounce. I started the transporting of my newest pictures, that I just took on the 4th of July 🙂 The pictures are put into a folder with the month and year, it does this on its own 🙂
When you click on the album, in the sidebar, it lets you know how many photos are in that folder if you want to add to the folder, order prints, view slide shows and more! So easy to use!!
I am still working on my folders and adding family and friends, but I am impressed with the user-friendly ness and ease of use. Below is the start of my Fotobounce page: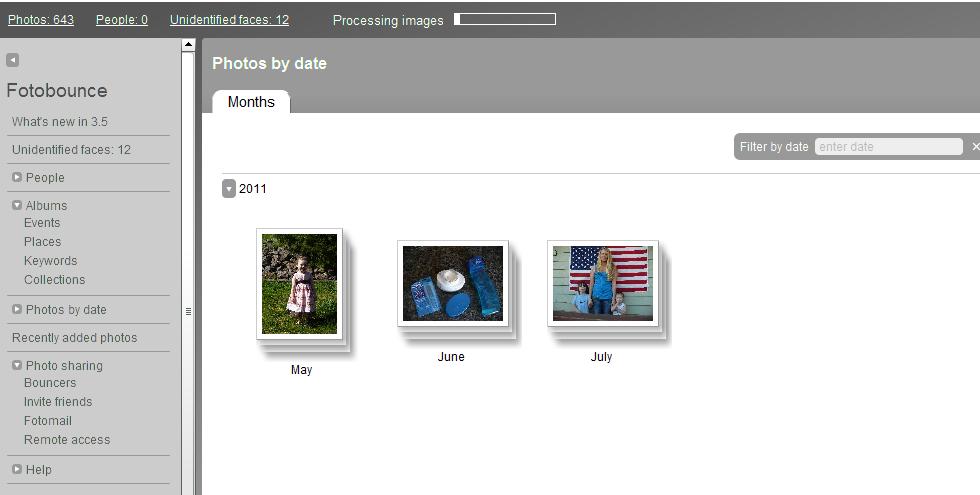 It is still transferring all my photos!
Anyways, you should download and try it out. You will be happy you did! Great to have on your desktop, organize and tag your photos, then, if you want, can share online to whomever you want to share them with!