This is all about my Paper Jamz New Pro Mic Review! I am ashamed of myself, LOL! I was supposed to post this giveaway a little bit ago, but got wrapped up and forgot. So… this giveaway will be short-lived but FUN!
*This post includes my Amazon affiliate link.
Paper Jamz New Pro Mic
With that said, I would love to introduce to you all, the new Pro Mic Paper Jamz Microphones! Totally cool and my kids just love it. They love using their imaginations and pretend they have a big audience!
My kids are quite musical anyways and adding the Pro Mic from Paper Jamz into the mix along with the Paper Jamz Instant Rock star Pro Series Drums and Pro Series Guitar (which we also received for this review), we were a rockin' band!
My daughter is a legendary singer, I, of course, play those drums and my son rocks out on that guitar! I must say, we sound pretty darn good! The Pro Mic is totally cool. It plugs into the little amplifier and you can seriously sing like a rock star, no joke. I have NO tune-carrying abilities, yet I totally sound like Britney Spears on this mic… well, maybe not, but secretly I think I do…
The Features of the Pro Mic:
Auto mode adjusts effects on the fly to recreate a track's original sound
2 built-in songs put you on the road to stardom
Add songs from your own library with the Paper Jamz Pro app
Voice Effects – Make your voice stand out from the crowd!
Perfect Pitch: Corrects your pitch so you're automatically in tune
Chorus: Multiplies your voice to add depth
Auto Vibrato: Adds dramatic effect to your voice
Melody Match: Tunes your voice so you always sing a perfect melody
Auto Harmony: Sound like part of a perfectly harmonized duo
Ya, all that! So. Much. Fun!
The Pro Mic also comes with the USB Cable, for ages 8+ (but we don't care!) and it will need 4 AA batteries, which are NOT included. You can also visit www.paperjamzpro.com and Download the free app. Add your own music. Sing like a star.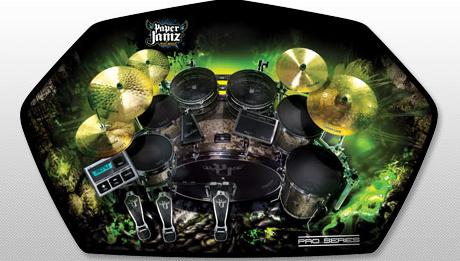 The drums are really fun to play! They have new functions, new effects, and new ways to become a rock legend! Features include new electronic drum pads, new drum sounds, and twice as many cymbals as the original Paper Jamz. This is a blast just to play around with!
We have the regular Paper Jamz Guitar and now we have the Paper Jamz Pro Series Guitar and this one is so much fun. It seems to play better and has a much better sound to it. You can play it like a real guitar, using the cords, you can download an app for this too, and customize your guitar's sound! So cool!
Buy!
You can find out more about the new Paper Jamz Pro Series by visiting them online on Amazon.com.