Holy heavens, talk about a NICE smelling shampoo and conditioner! The S-Factor Diamond Dreams Shampoo & Conditioner By TIGI will make your hair smell absolutely delicious! And, it is infused with diamonds, cashmere and pearls! For real!!!!!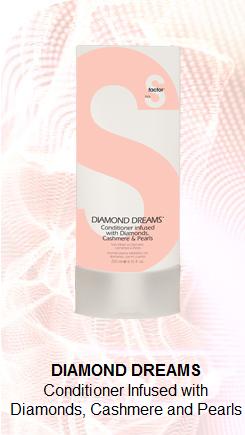 I received the shampoo and conditioner to try out and I am so glad I did. You never know a great thing until you try it and I am so happy with this duo.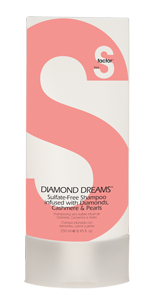 The shampoo and conditioner smells soooooooo fruity like a starburst fruity yummy scent. I can't explain it better than that, really.. The shampoo is thick and creamy and smells really good. It rinses out of my thick hair very well. The conditioner is very creamy too and it goes on my hair nicely. I leave it on for about 5 minutes to really get that yummy scent in my hair and to moisturize it really well. The conditioner rinses out very well too, leaving my hair very soft.
Now, since I have super thick and long hair, finding the right shampoos and conditioners have proven to be really tough for me. I need shampoos and conditioners to be creamy and moisturizing. This duo is just that! After my shower, I can easily pick through my hair and the tangles are not as much as when I use other conditioners and that is a BIG thing for me. All of you with LONG hair know what I am talking about!!!
My hair literally smells awesome until the next washing, which is about two days later. My hubby even commented on the awesome scent of my hair the other day and hugged me for a bit longer 😉
This shampoo and conditioner creates multi-dimensional shimmer, adding depth and richness to your color while protecting and conditioning your hair.
Buy
The TIGI S-Factor Diamond Dreams Shampoo & Conditioner can be purchased at select salons. The Shampoo retails for $27.00 and the Conditioner retails for $28.00.
Disclosure:
I was sent product to review, these are my own honest opinions, thanks!