*Sponsored posts. Opinions are my own.
There is nothing worse than your child coming home from school in tears because someone at school was being rude to them and picking on them. It breaks a parent's  heart in two! And, it is UNACCEPTABLE!
I have absolutely NO tolerance for any bully PERIOD. It is important to Stand Up To Bullying And Stay Strong! Don't let them get away with it or they will keep doing it!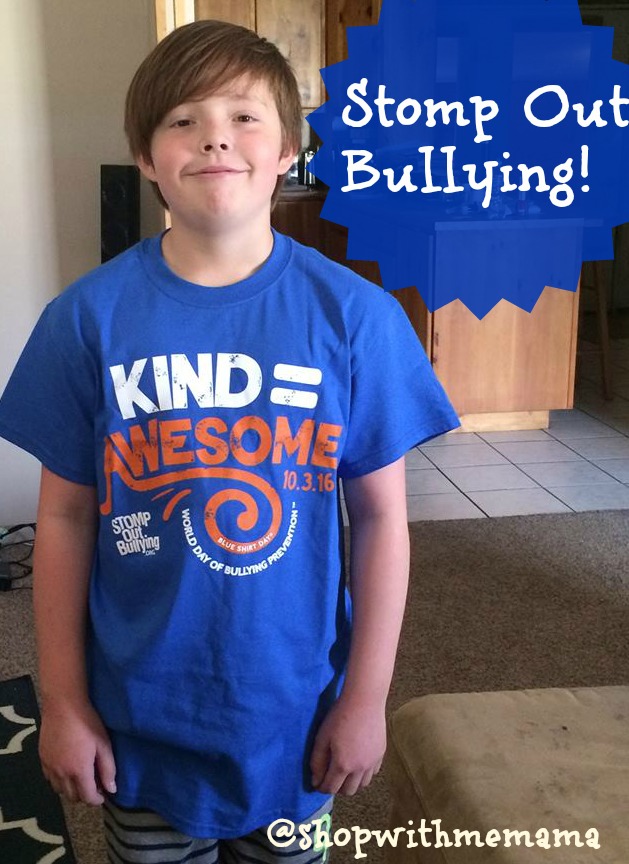 When my son was in first grade there was a bully that picked on everyone at the school, so it was not just my son. But, my son always had something to tell me about this bully, when he got home from school. I hated it! So, I wrote a note to the principal, called his teacher and talked with her. She moved the 'bully' away from my son (across the classroom) and soon, the bully moved. I swear the whole grade was happy that the bully moved and was now gone!
What You Can Do To STOMP Out Bullying!
Report Bullying
Don't be afraid to tell an adult. Telling isn't tattling! You are helping someone. I try to tell my kids this all the time!
Who should you tell? You could tell your parents, teacher, school counselor, school nurse, coach or any adult you trust.
Be sure to tell exactly what happened … who was bullied, who the bully was, where and when it happened. Even if you suspect a kid is being bullied, it's a good idea to report that, too. Most adults really do care about bullying and will be glad that you told them about it.
If you tell an adult and you don't think they are doing anything about the bullying or if the situation isn't improving, tell another adult. Keep telling adults until someone does something to help.
You can find more helpful tips HERE to stop out bullying for good!!!
More About National Bullying Prevention Awareness Month
October is National Bullying Prevention Awareness Month and to signify its importance, STOMP Out Bullying™ created BLUE SHIRT DAY® WORLD DAY OF BULLYING PREVENTION™
Blue Shirt Day® World Day of Bullying Prevention™ is observed on the first Monday of every October. In 2016 it will take place on October 3rd!
Someone you know could be bullied. Someone you know might be a bully. Help them! Let's Stomp Out Bullying!
Get Social!
Connect with STOMP Out Bullying on Twitter, Facebook, and Instagram!
 Have You Ever Been Bullied? What Is Your Story?