I have liked Carmex for as long as I can remember. I always had a Carmex lip balm in my purse or on my nightstand. So, I was super excited when I was able to be a Carmex Blog Squad Reviewer!! I already know and love the products, so why not make me an official Blog Squad Reviewer? Love it!
I received some wonderful goodies from Carmex several weeks ago. Carmex did not disappoint! Oh my goodness!! I received an adorable bag filled with wonderful things!
Take a peek…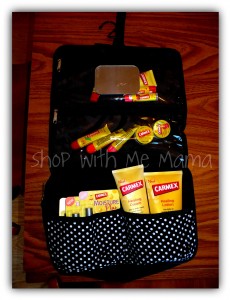 Pretty neat, huh?!
I love everything I got and feel so pampered using it. I always get excited when I get to review beauty/skin care items 🙂 The lip balm is, as always, amazing. It keeps my lips smooth and soft and I love the little tingle of mint that it leaves on my lips. The healing lotion is great for my rougher areas like my knees, elbows and feet! It almost instantly softens those areas and make them feel moisturized and nice! The Healing Creme does the same as the Healing Lotion, but is a bit thicker. I use both, alternating on my rough areas. And, I can't leave out those Carmex pots of lip balm! Those are great for traveling and just throwing in your bag or purse! Love 'em!
Buy Carmex!
You can find where to buy Carmex by visiting http://mycarmex.com/where-to-buy/default.aspx
Disclosure:
I was sent the wonderful products of Carmex in a beautiful makeup bag. These are my honest opinions of the products, thanks!