*This post contains my personal affiliate link to CashCrate
This post will tell you The Secret To Making Money With CashCrate! So, I think we all know what Cashcrate is, right? It is a site where you can sign up for free and take surveys and sign up for things AND get paid for doing it… Sounds too good to be true? Well.. I thought so too, so I did some research! (Not like I have a lot of time on my hands with two kids nearly under two, so bear with me…) The Secret To Making Money With CashCrate!
So, I signed up for it. Great, I am a part of the Cashcrate deal.
What I did right away, and what you need to do right away, is go to the forums under general topics. There you will find what surveys and sign-ups to do that ACTUALLY pay you RIGHT away. This way you are not wasting your precious time going through the whole list and never being credited (trust me, I did that too, and was starting to get a bit irritated…).
The Secret To Making Money With CashCrate!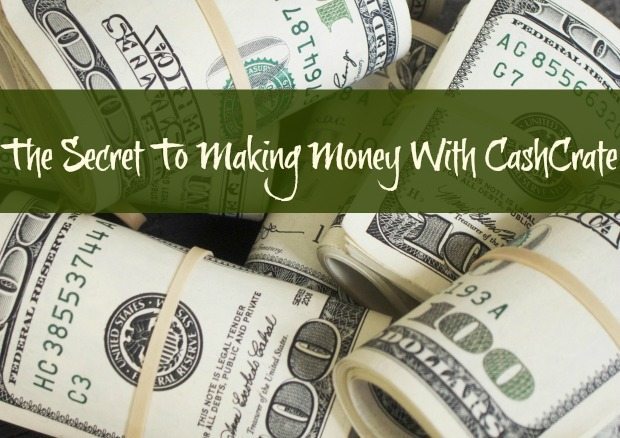 After I did that, I went to the all-for-FREE offers, meaning you don't have to use your credit cards for those "free trials". You NEVER have to do those to earn money on Cashcrate, NEVER, (and NO I did not learn that the hard way, my sister did, LOL, sorry Jul!!).
Also, when you get to those "put your email in, and then it takes you to the never-ending survey ones", all you have to do is enter your email, seriously, 99% of the time, that is all you have to do, and those usually credit you right away! I thought, wow, I just made like $1.00 in two seconds, LOL!
Now, and I have talked with many people, this is KEY.
REFERRALS!!!!!! Once you have referrals, like 100 or more, you don't have to do a dang thing, unless you want to of course! They do it for you, and you get a monthly paycheck for just sitting back! But, you HAVE to, and I cannot stress this enough, HAVE to keep in touch with your referrals, and keep them motivated to keep your money flowing!
It really is not mean, because you ALREADY did your work and worked your butt off, now it is their turn and then they can do the same when they get their amount, soooo easy!!!
So, my conclusion on cashcrate you ask? GO FOR IT, it is
LEGIT! I did get my very first check, only spent 10 minutes on the computer, and I am thrilled! No, it was not a million dollars nor was it even $20, BUT it was $13.45, and for 10 minutes of my life, that is fine with me! Having two kids in diapers, my first thought when I saw that check was, "diapers!!" LOL! I REALLY need a vacation! SIGH!!
Anyways, here is MY link if you are interested after what you read and now know! ENJOY!!!