*This post is sponsored by The Motherhood and The Stork. All opinions are my own.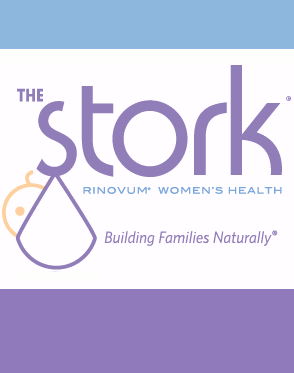 Approximately 7.3 Million Couples In The U.S. Have Difficulty Conceiving. Wow. That is ONE in SIX couples! Crazy to think about :/ But I know it all too well! It took me almost 3 years to conceive my third baby. It was painstakingly tiring and depressing…
EVERY. SINGLE. MONTH. Staring at that dang pregnancy test and nada. Ya, that was HARD. So hard on me 🙁 We had many IUI's to no avail, I even starting injecting myself and taking pills (Clomid) to help with ovulating just perfectly so I could have that IUI. We traveled about an hour and 1/2 away and almost all the times, it was with our other two kids in tow. The wait was not fun for any of us (which was usually about 2-3 hours tops) and it was EXPENSIVE.
Man, if we could have totally not done the IUI's, that would have been nice. But we did and that is that! We did, however (obviously), conceive our third baby on the month we took off, go figure…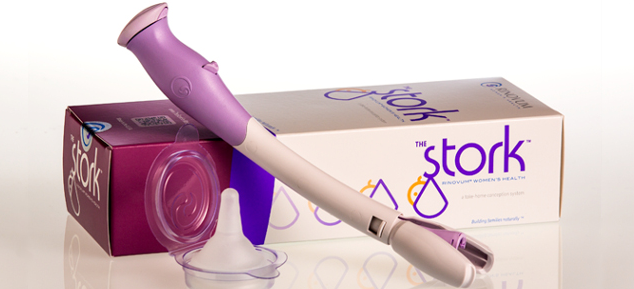 Had we been able to just stay home and have better services/products available to us to use at home, that would have been so much easier and less stressful for us! With The Stork, you CAN. Oh this would have been such a wonderful option for us!!!!
Introducing The Stork® from The Stork for Women on Vimeo.
What Is The Stork???
The Stork uses cervical cap insemination for at-home insemination. Physicians have used cervical cap insemination as a treatment for infertility since the 1950's. The Stork allows for you to use this same process in the privacy of your home.
The product, which includes a cervical cap in a condom-like silicone sheath, is used to collect semen into a cervical cap and then delivers the cap to the outside of the cervix as an aid to conception. The cervical cap is used to place the semen near the cervical os for 4-6 hours (the cervical os is the passage between the vaginal cavity and the uterus) where it then enters and travels through the uterus to the fallopian tubes where fertilization occurs. The cervical cap allows for the female to return to her normal activities right after placement.
Check Out How To Use The Stork!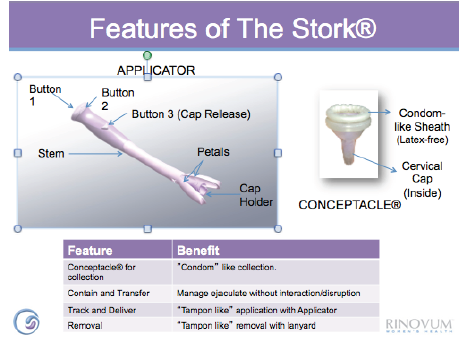 This is something we DEFINITELY would have considered using! The Stork is priced at only $210.00 a cycle as opposed to the $1,000-5,000 on the IUI or $12,400-20,000 a cycle on IVF! That is HUGE for those of us that are trying SO hard to conceive, but just can't 🙁
 Because The Stork is more affordable than the other options, many physicians are prescribing couples to do this process three times during the woman's most fertile time.
 Benefits of The Stork:
• Proven technique: Physician technique now available for use in the privacy of home
• Safe: FDA Authorized prescription product. Non-­‐reusable device
• Natural: Drug-­‐free product that requires no drugs
• Non-­‐invasive: Requires no injections or surgery
• Easy–to-­‐Use: Condom-­‐like in collection, tampon-­‐like in delivery
• Cost-­‐effective: Compared to "next-­‐step" treatment options
Purchasing The Stork is quite simple. You just contact your healthcare provider for a prescription (doctor, midwife or nurse practitioner), purchase The Stork from the website, choose from one device or a one-month-supply of three individually packaged Stork devices. They are only $79.99 for ONE or $210 for the one month supply.  Then submit the copy of the prescription through email, fax or mail for verification and then once verified, The Stork is shipped directly to your doorstep via their two shipping options: overnight or ground. That is it. So much simpler (and LESS expensive!!!!) than dragging two busy kids down to the doctors and sitting in the waiting room for hours! Ugh.
Now though insurance does NOT cover the cost of The Stork today, The Stork's longterm goal is that this will be available to everyone over the counter and to remove the prescription process. So that is something to keep in mind! If your physician has never heard of The Stork, you can download a brochure to take to them! Makes it SO much easier!
Rinovum is a Pittsburg, PA based, privately held women's health company, dedicated to bringing products into the market that will enhance women's lives and empower them to take charge of their health. Their first focus is the RX device, The Stork, driving towards a direct to consumer  device for reproductive health. This is to help aid in natural fertility and conception in the privacy of the consumers home.
Connect with The Stork on Twitter, Facebook and Vimeo!