My kitchen is SO outdated and I really am trying to update it. In a couple of weeks (or so!) I will be painting it a nice light gray color. I have also replaced the microwave and next will be the fridge. Since updating kitchens can be spendy, I have to do it slowly! One easy way I recently updated the sitting area in my kitchen was with Costoffs Metal Dining Chairs! I can't believe how just adding those made my kitchen look SO good, just by adding those metal chairs! Such a difference already and now I am even more excited to get my kitchen painted and updated for the upcoming holiday season!
Updating your kitchen doesn't have to be super expensive. If you buy things as you can afford them and don't go overboard on spending a fortune (I recommend budgeting!), then you should be okay. I know it is not immediate, but doing things as you can afford them and not stressing about spending money when you don't have it to spend can certainly take the stress out of updating any room in your home. Simple things like adding a cute free kitchen printable and framing it and hanging it on your wall will already create a more inviting and fun atmosphere.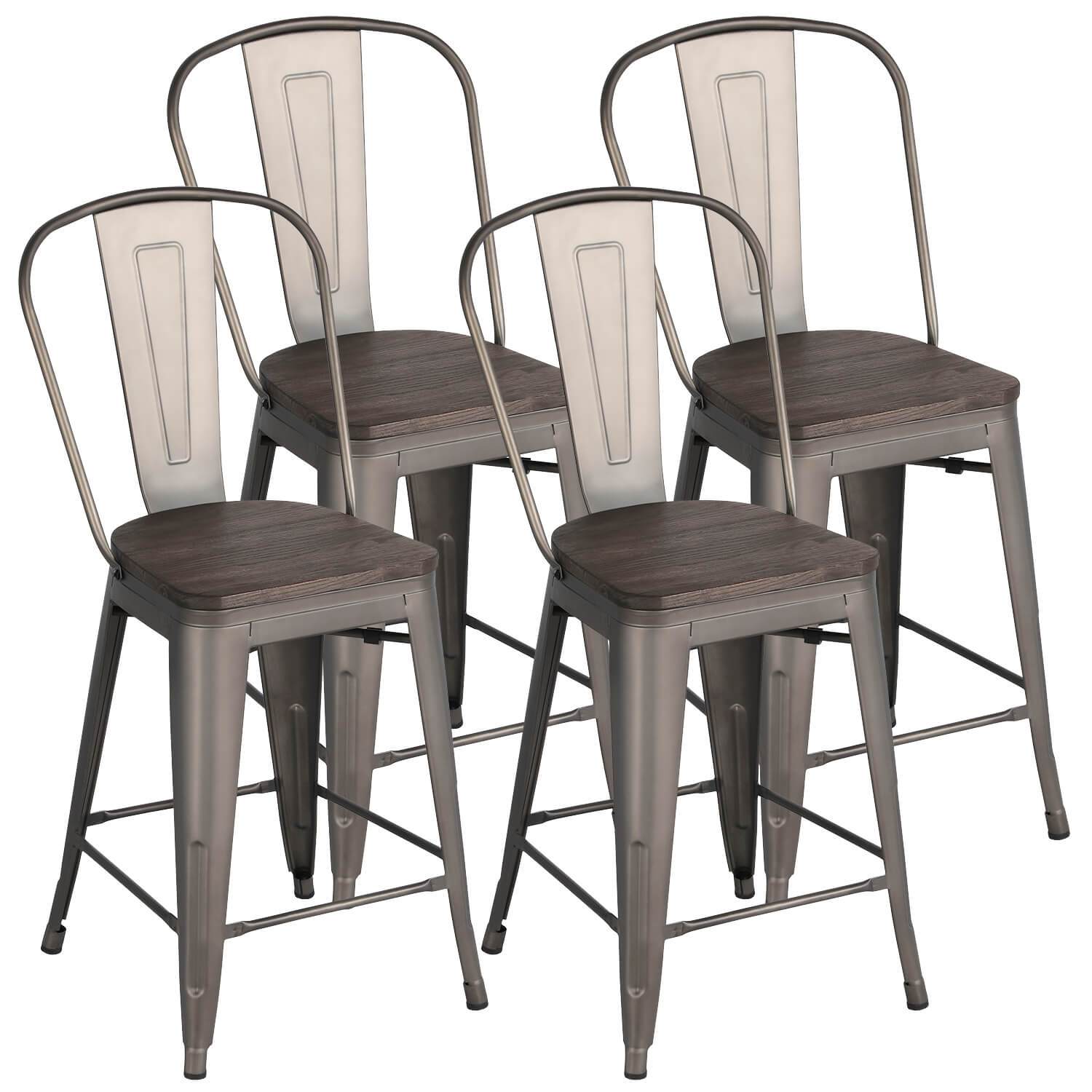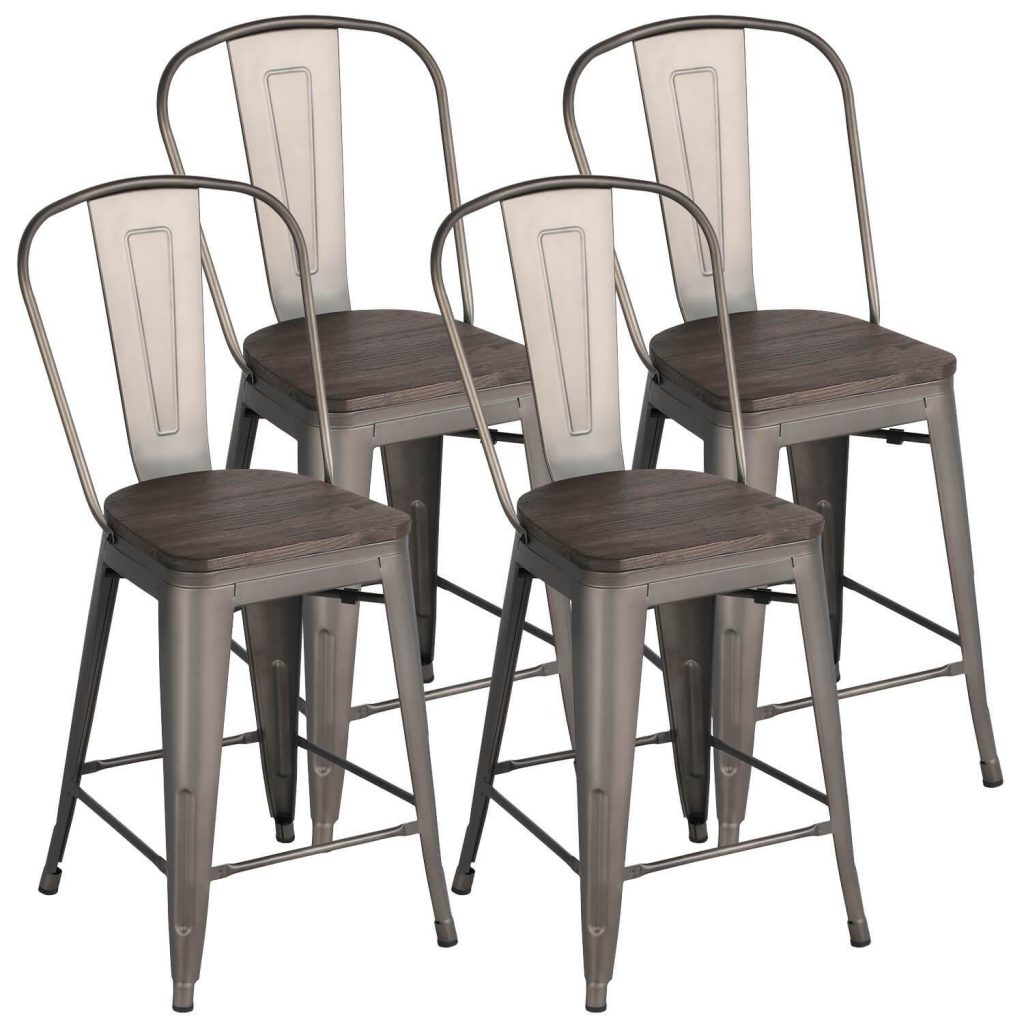 The Metal Dining Chairs from Costoffs certainly made a HUGE difference in the appearance and feel of my cozy kitchen! I am so pleased with how they look. They were packaged SO nicely so that when they arrived, nothing was damaged or missing. That is so nice because there have been plenty of times things I ordered came damaged or missing parts and what a nightmare and headache that was. So I was very pleased with how nicely and securely these metal dining room chairs were packaged.
Update Your Kitchen with Costoffs Metal Dining Chairs
The metal dining chairs are so nice looking! They came in a pack of four and have a high back on them with real wood seats. They are made really well and are very sturdy. They don't wobble around or feel fragile. I love them! Each metal dining chair is equipped with a detachable backrest. The chairs look great with or without the backrest. I decided to use the backrest because we tend to sit a lot at our counter and use our metal chairs. The backrest can be disassembled if you want a backless stool. Very easy to put on or take it off.
The footrests are also quite nice. If you have been on your feet all day long, the footrests are so nice to have! The metal legs of the chairs have protective pads on the bottom of them to help avoid any scratches on your floors. The plastic protective pads also help to reduce those annoying sharp noises when you move the chair around and they also help to increase stability when you sit on the chairs.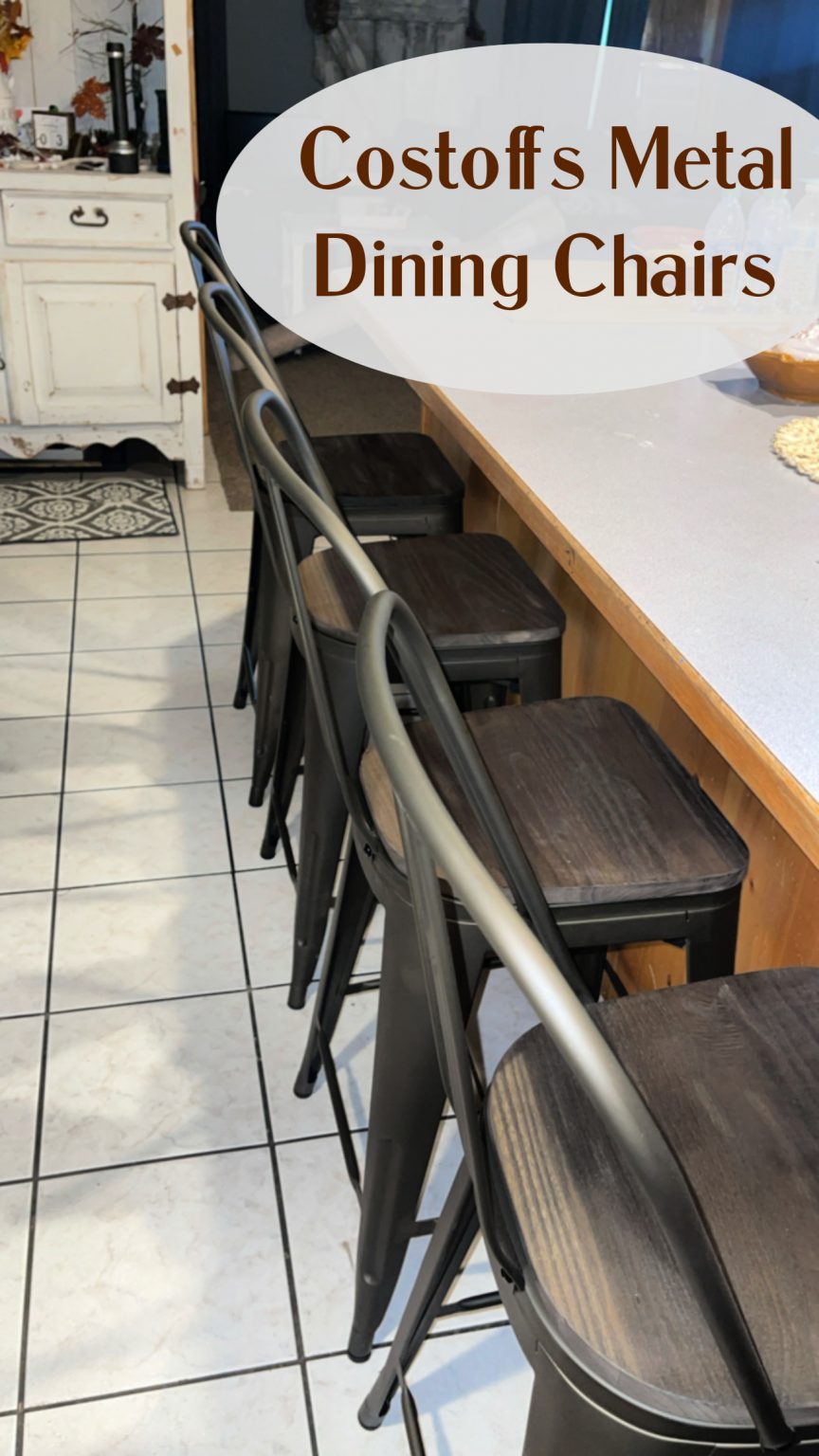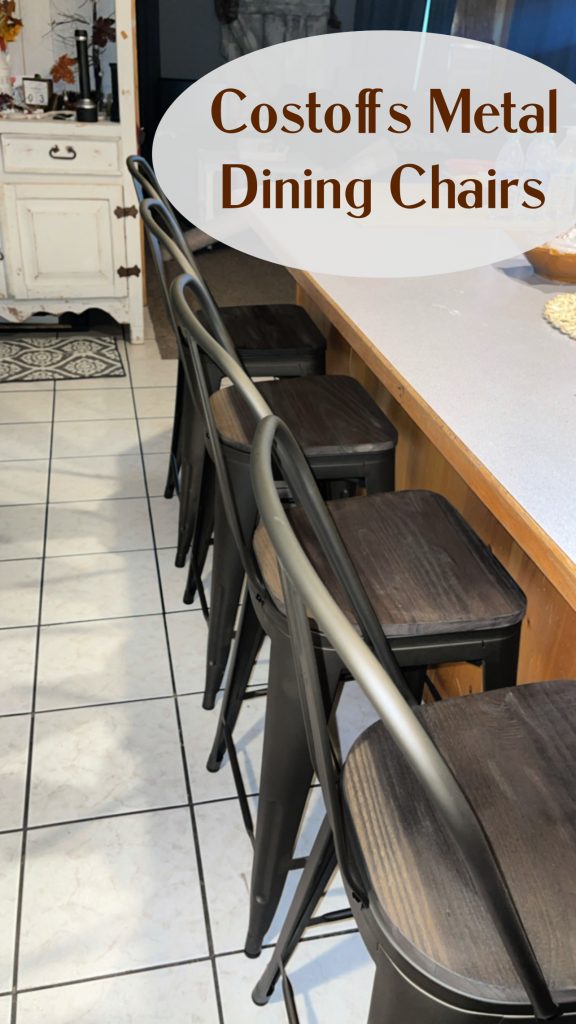 These modern dining chairs feature solid wood seats, which are made from fir wood with natural wood grain. Because of different angles and light, you might see different wood textures, which are not quality issues but because of the real wood, every wood seat will not look exactly the same but the chairs will look the same. The edges and corners of the wood seat are well polished and smooth to avoid any uncomfortable feelings and to prevent any injuries which are so nice! I loved smelling the fresh 'wood' scent when I pulled these beauties out of the box! These chairs match almost any other furniture and fit right in with any decor you may have.
Costoffs Metal Dining Chairs offers free shipping which is really nice and orders arrive in 10-15 business days, however, mine arrived in 4 days! These Modern Kitchen Metal Dining Chairs, Set of 4, from Costoffs retail for $199.99 and are a perfect addition to any kitchen that is being updated! We love ours and highly recommend them to everyone! There are also some helpful tips for choosing the best dining chair in that blog post. I hope that helps you some!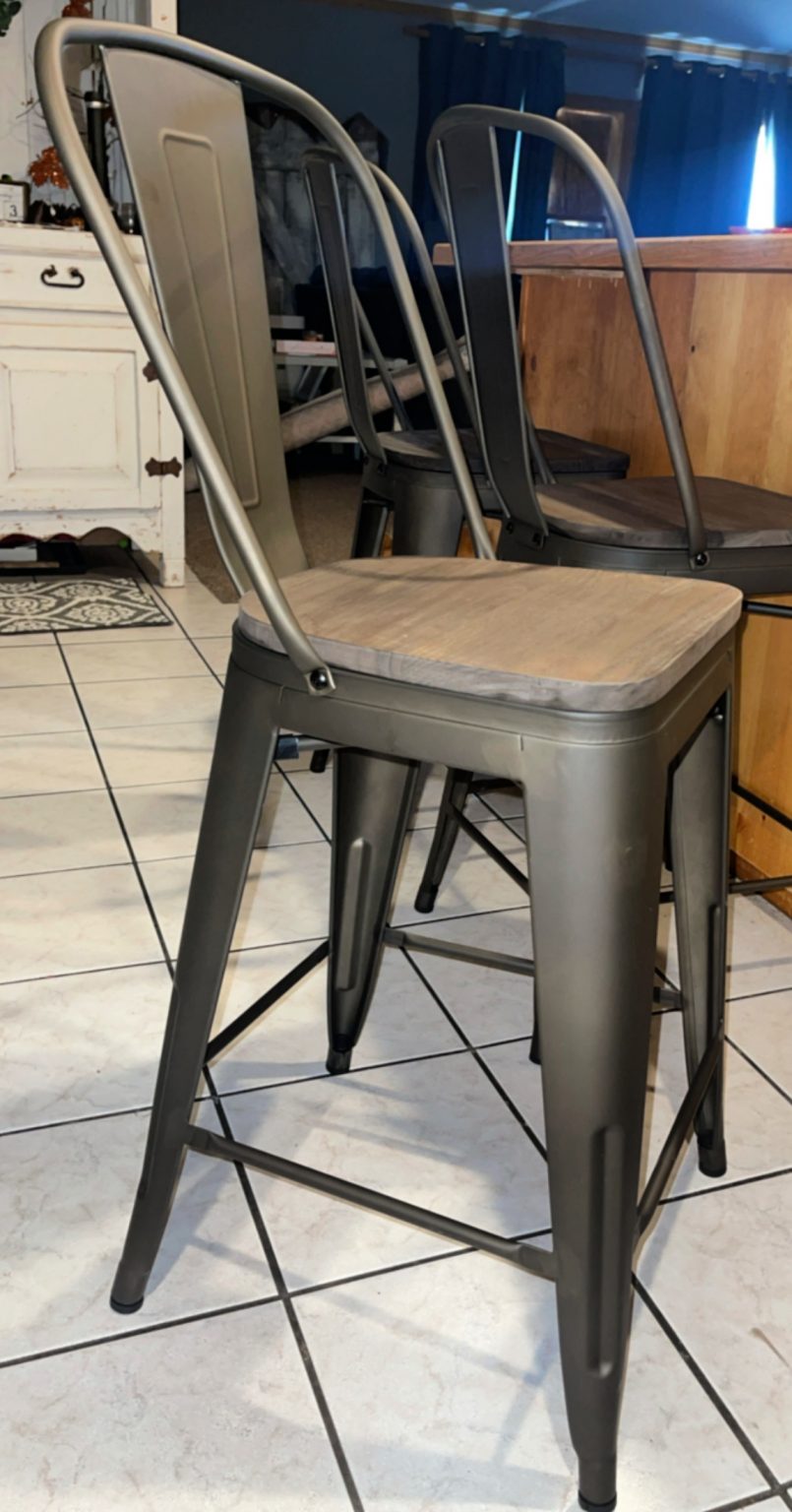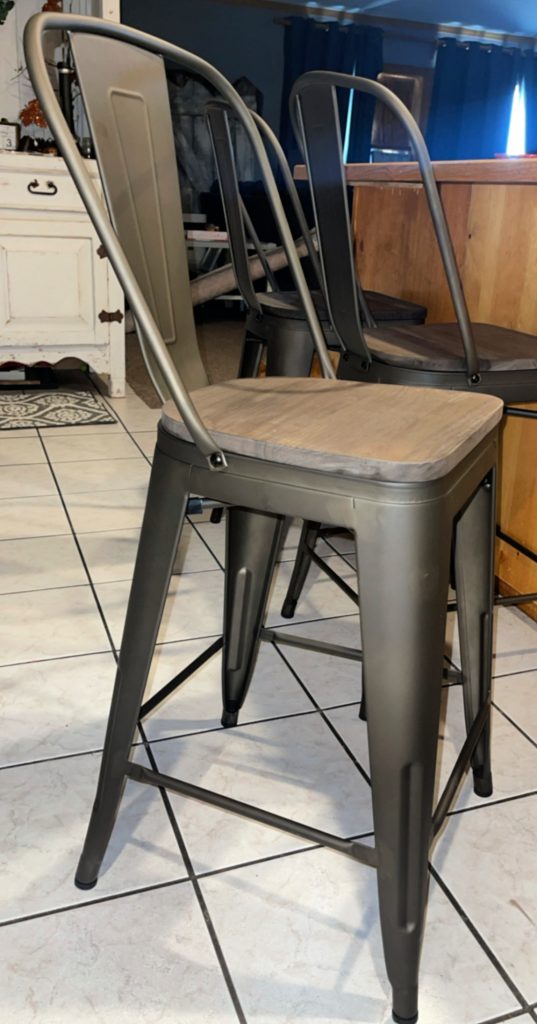 About Costoffs
Costoffs is your online store for Home & Office furniture. With the customer-oriented design, painstaking selection of materials, skillful manufacturing, free shipping & delivering, and 24-hour after-sell service!
Costoffs was founded in 2020, an e-furniture brand that focuses on home and office furniture. Costoffs is dedicated to producing reliable furniture with versatile uses and timeless looks at a reasonable price. People demand more from things they spend money on and Costoffs promises to bring their customers the best products and shopping experience at affordable prices.
Costoffs cares about every detail to create a comfortable and convenient living and working space for you. They select durable, healthy, and skin-friendly materials to craft sturdy and comfortable pieces for long-term use. Their design team is enthusiastic to meet your various needs which change constantly. As your reliable e-furniture store, they are confident in their free shipping & delivery and 24-hour after-sell service. Working with their manufactures directly makes sure the product quality and a 'wow' price.
Costoffs serve most categories of home & office furniture to fulfill your different needs and they will continue to expand their product range to provide their valued customers with more convenience and comfort! To check out everything that they offer, I recommend visiting their website!
PIN IT