I am NOT a fan of bikinis or swimwear. After having kids, your body kind of goes downhill, no matter what you do to try and make it NOT. UGH…But if they give you a little lift here and there like the cute push up bikini top I received, then I just might!
But, there is a suit out there that can help you out a bit. I am not very gifted in the breast department, so when I heard about the Voda Swim's Envy Push Up Bikini's I thought "hey, I could use that!"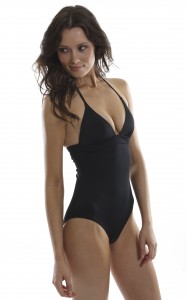 I got to choose which bikini I wanted and was sent it. I was sooooo worried I would look like a fat whale, but instead, it was kinda cute on…
But it is cute!
I love the pads it has in the suit top. It certainly lifts up my boobies and makes them look more 'perkier' 😉 Not a whole lot of support for the bigger breasted women, I would think. But for us smaller breasted ladies, yep, I think it does a nice job of making me look better on top 🙂 I love this push-up bikini!
Voda Swim's Envy Push Up Bikinis are designed to visually increase bust size by one to two cup sizes with their unique, push up swimwear. In addition, that patent-pending Envy Push Up pad retains less than a tablespoon of water, helping the tops to retain their extraordinary fit, even when wet. No more squishin' out the excess water, yay!!
The push-up swimsuit really adds an extra cup to my girls and makes me feel more confident when I wear a swimsuit. I also like that the swim bottoms little ties can be tied so that the sides of the bikini bottoms will be more french cut, or not.
The back of the suit top is totally cute too as you can see above. You can tie the bottom part really tight for more support, or leave it looser if you don't care about that.
So, if you are looking for a great swimsuit to help add an extra size to your breasts, definitely consider Voda Swim. Also, it helps to be a little tan so I use this fake tan!
Buy It!
You can purchase the Push Up Bikinis online at http://www.vodaswim.com/ and if you use Coupon Code: ShopMama you will receive 10% off your order!!!