*Products received. Opinions are my own. This post includes my affiliate links.
Every year there is that one child you just have no clue what to get! This year, it is my 3-year-old. He changes what he wants from day to day. So, I am left scratching my head on what to get this little boy!
I always love browsing the Hasbro website. Hasbro has been a brand in my life that I have always loved and adored. They have some of the best toys, in my opinion, and the memories I have when I was a child, receiving a Hasbro doll or toy is forever in my mind! Love it!
So while I was browsing the Hasbro website, I came across 4 things I KNEW my little guy would go crazy over.  So now I don't feel so bad when we open gifts Christmas morning. You can't go wrong with Hasbro toys under the tree! You can also check out my 3 fun new Hasbro Toys Kids Will Love!
4 Last-Minute Gift Ideas For Kids!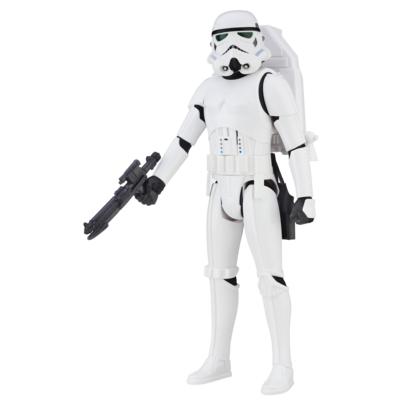 1.STAR WARS INTERACTECH IMPERIAL STORMTROOPER FIGURE. What child wouldn't want this? It is so neat and says a bunch of different things. It also makes noises. With over 65 different sound effects and phrases, the Interactive Imperial Stormtrooper figure uses a motion sensor to respond to specific movements. Equip the figure with the included blaster accessory to hear battle sound effects, or have the figure engage in hand to hand combat for punching sounds! Gear up figure with a jetpack to initiate flight mode and hear amazing sound effects based on different motion-activated aerial maneuvers! The mission is a go! This Storm Trooper retails for $29.99.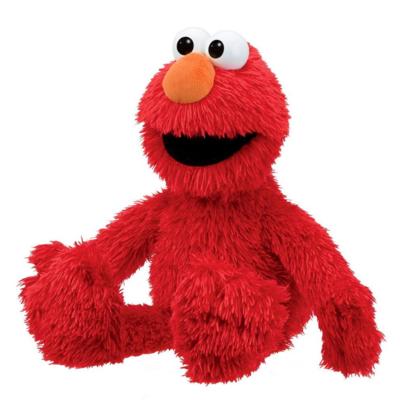 2.PLAYSKOOL FRIENDS SESAME STREET LOVE2LEARN ELMO. Elmo is adorable. My little one will go crazy when he see's this under that tree! Elmo is super soft and so fun to play with. Love2Learn Elmo plays games, sings, and makes silly sounds. Clap his hands together to hear all about letters, numbers, colors, shapes, and animals! The app also includes 3 games for children and Elmo to play together. The Elmo toy reacts to what a child does on screen in real time for an interactive game experience! He retails for $59.99. Buy Elmo Here!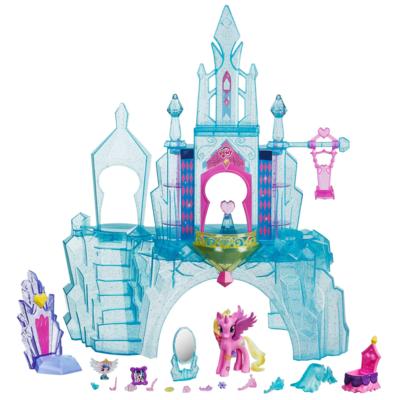 3.MY LITTLE PONY EXPLORE EQUESTRIA CRYSTAL EMPIRE CASTLE. My daughter was obsessed with My Little Pony when she was younger. I can't count the hours I played ponies with her on my bed, LOL. It was such a fun time for us. I miss it!
Imagine special times with Baby Flurry Heart and Princess Cadence in the Crystal Empire Castle! This glamorous My Little Pony Explore Equestria Crystal Empire Castle playset has a rotating light-up feature and reflects 3 cutie marks at the press of a heart-shaped button. It also has 2 staircases and areas for play on all sides. Sixteen fun accessories include a dress, throne, crystal vanity, cradle, and jewels. There are also 2 closets that have shelves that can spin and a swing for the Baby Flurry Heart figure! Pretend to swing Baby Flurry Heart while Princess Cadence gathers 2 included tiaras to get ready for a royal stroll! This retails for $39.99.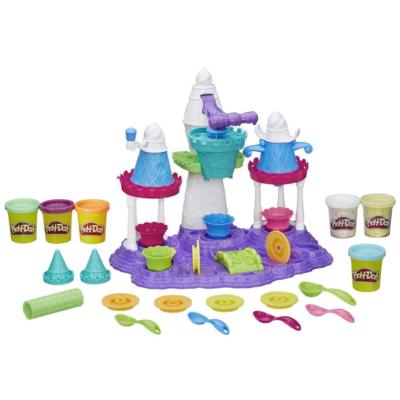 4.PLAY-DOH ICE CREAM CASTLE. What child doesn't love play-doh? My youngest can sit at the table and play with play-doh for HOURS. He absolutely loves creating things with it and squishing it. This playset is really cute and has everything you need to create some cute swirly play-doh ice cream! So fun!
Take a magical trip to the Play-Doh Ice Cream Castle! It's a colorfully creative kingdom where kids can go to make their wackiest ice cream dreams come true. The whimsical towers of frosty fun create colorful Play-Doh soft-serve treats in unique ways. With the 6 ice cream discs, kids can choose different shapes to press out their swirly Play-Doh ice cream. Just pop one into the center tower to switch up the fun! The Play-Doh soft-serve machine also features an easy-press handle for littler hands. When the dishes are filled to the brim with swirly Play-Doh treats, move over to the topping stations to cover them in wacky whipped cream and crazy sprinkles. The sprinkle crank and frosting tool are also removable for freehand decorating. For even more creativity, this Play-Doh ice cream wonderland also features Confetti compound filled with specs of colorful confetti! This retails for $19.99.
Are You Done With Your Shopping?