I am sure most if not all of you have heard or seen the candles that smell SO good and that have rings inside of them. If not, you MUST check them out. Not only do they smell GOOD, burn clean AND last a while, BUT they have rings inside of them and they are so beautiful.
The rings inside of these luscious candles can be valued online at JewelScent. So, when you uncover a ring nestled in your candle, go to JewelScent and get it appraised right on the spot! The rings are said to be valued anywhere from $20-$7500!!! GAH.
Get Your Ring Appraised!!
To find the value of your ring, just find the code notated on the label that came with your JewelScent surprise and enters it on their site, to discover its value! This is FUN to do and a bit addicting…
Did you find a golden token instead?
Lucky you! A token can be redeemed for one of JewelScent's exclusive jewelry pieces valued from $100-$7500! Just contact them via email provided on their site with the codes from the front and back of your token to redeem your jewel! Totally awesome, right?!?
First-class artisan fragrances are infused into these yummy scented soy-blended candles, creating a product of the JewelScent line of Jewelry and Essentials candles that are a feast for the senses. Retreat to your self-made haven with the inviting glow of your favorite candle from JewelScent!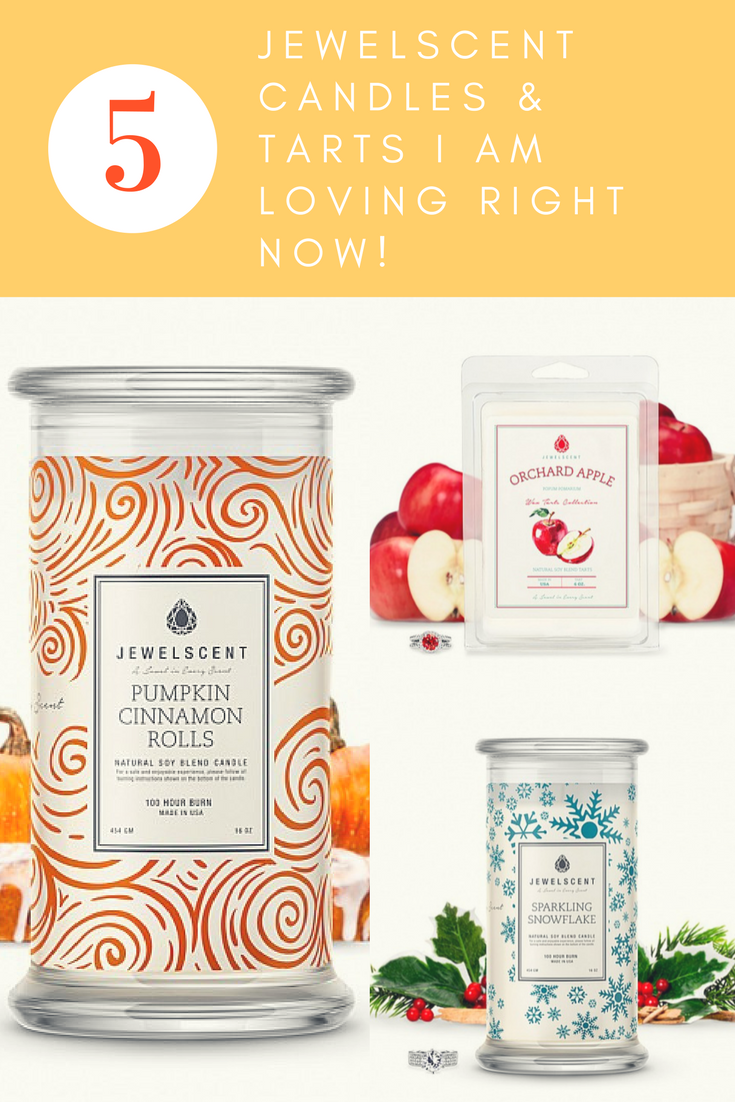 5 JewelScent Candles & Tarts I Am Loving Right Now!
There are quite a few JewelScent candles and tarts I have had my eye on for a bit now. I want them!! I want them ALL. And so will you, when you see them! Check them out below!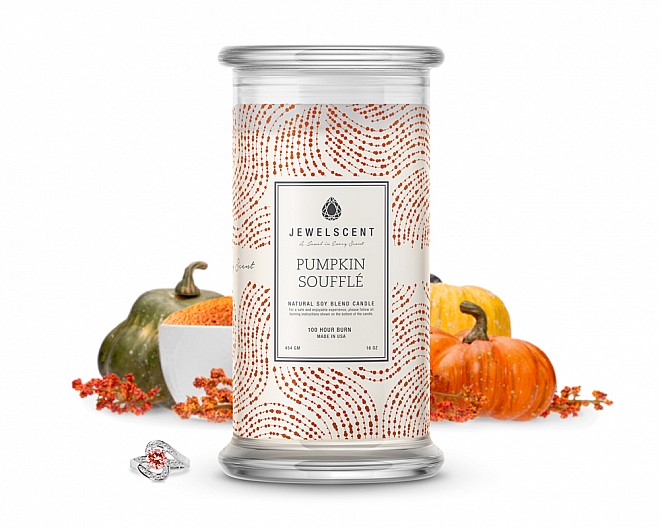 Pumpkin Souffle Jewelry Candle.
All the flavors of the season are captured in this blend of creamy pumpkin, ginger, molasses, and saffron. Allspice, nutmeg, and clove capture the earthiness of this rich and enticing scent! Retails for $24.99.
Each candle contains one hidden jewel valued $20 – $7500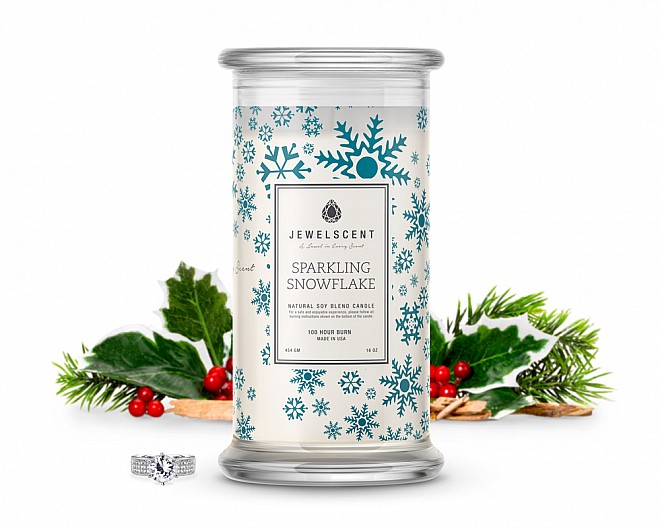 Sparkling Snowflake Jewelry Candle.
A festive scent that captures the essence of a white winter, this aroma melds clean notes of blue juniper, cedarwood, and pine with earthy notes of mahogany and cypress. Crisp notes of mint leaves add a touch of freshness, reminiscent of sparkling snow! Retails for $24.99.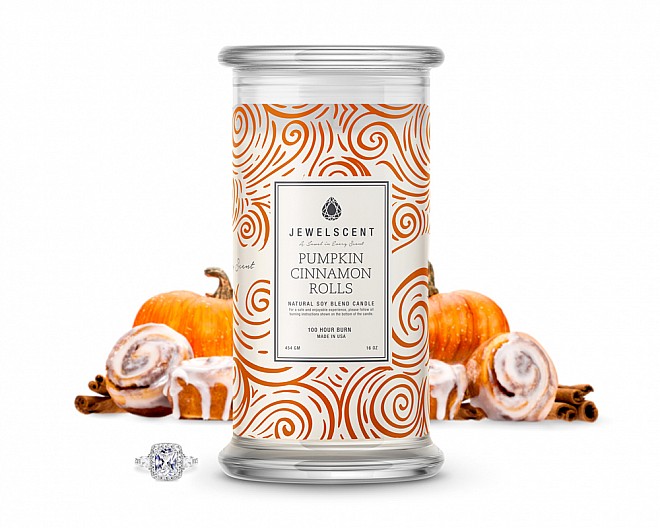 Pumpkin Cinnamon Roll Jewelry Candle.
A fresh-baked blend of creamy pumpkin and nutmeg kissed with cinnamon and cloves for a spicy twist to this sweet autumn treat drenched in warm vanilla and sprinkled with brown sugar. Retails for $24.99.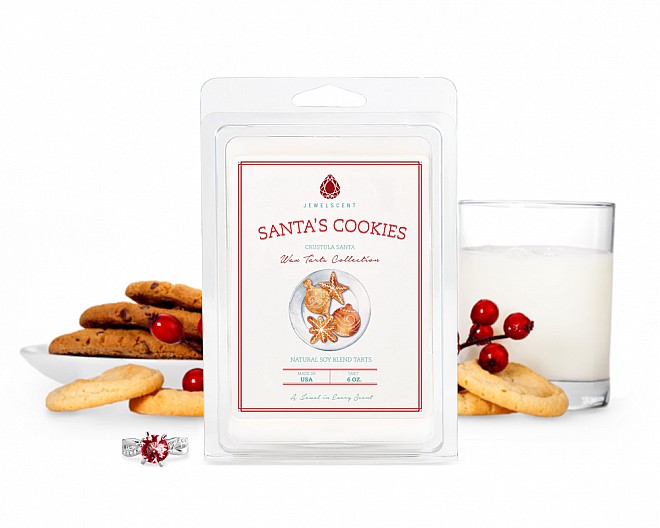 Santa's Cookies Jewelry Wax Tarts.
A classic blend of cookie dough, vanilla bean, and soft powdered sugar notes meld together to create a buttery sweet aroma and the perfect invitation for your favorite guy in red! Tarts Retail for $16.99.
Each pack of wax tarts contains one hidden jewel valued $15 to $7500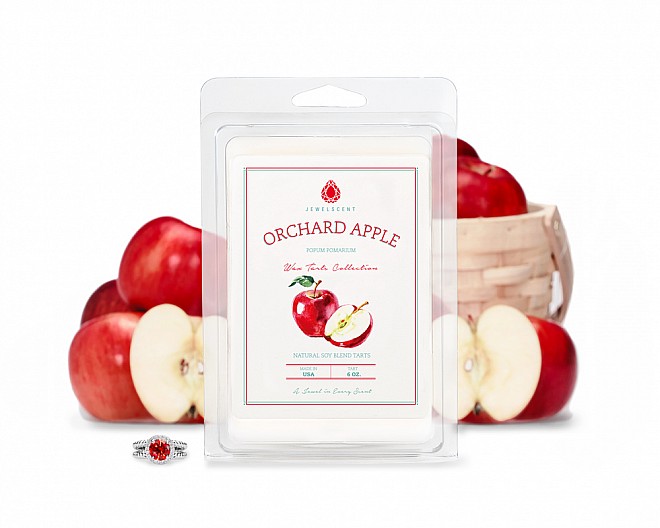 Orchard Apple Jewelry Wax Tarts.
Crisp red apple meld with juicy tart fruit notes and sheer musk, reminiscent of the orchard under the hot summer sun! Retail for $16.99.
JewelScent is not just about candles and tarts though. Nope. They sell fizzy bath bombs, Aroma Beads, Essential Aroma Beads, Body Scrubs, Body Creams, Soap and more!
Free Ring!
Get your free ring! Receive a silver-toned or black ring, just use the coupon code: WITCH1 at checkout!
Become A Rep And Earn!
Become A Consultant and Earn 20% (up to 25%) on personal retail sales! Join for only $19 today! Earn money for the holidays! Yay!
Host A Party!
I can set you up if you want to host an online party! Host an online virtual party and get FREE products simply by sharing JewelScent with your friends. Great way to earn Christmas gifts and it is fun! Email me at [email protected] and put "I want to host a party" in the email subject line and I will get you set up!
Earn Rewards Just By Sharing!
If you do not want to become a rep or host an online party, then there is another way you can earn rewards too! Just by registering and then sharing your link with your friends and family! Easy peasy!
Win
One lucky individual is going to win either a JewelScent candle (one of the $24.99 ones) in their choice of scent OR JewelScent Tarts in the winners choice of scent! Woot!
Rules
The contest is open to US 18+. Giveaway will end on November 12, 2017, at 11:59 PM MT. Winner will have 48 hours to confirm their win after I email them, or a new winner will be chosen. I am not responsible for lost or stolen mail.
*This is a self-sponsored giveaway by yours truly. Opinions are my own. This post does include my personal links. Thanks!