*Products received. Opinions are my own. This post includes my affiliate links.
I distinctly remember my Baby's First Time Playing in the Snow. I thought he was going to go crazy for it and have SO much fun. He was just starting to stand up and take steps, so I thought that the backyard, filled with snow would be a seriously fun adventure for him.
I remember putting his regular clothes on then putting on a super warm snowsuit over those already really warm clothes. Then I put some socks on him, boots and topped it all with a warm winter baby coat
 and hat. I even put little mittens on those tiny hands of his! He was ready to explore the white stuff waiting for him outside! I grabbed my camera and headed out the door with him in tow. His brother and sister running ahead of me, squealing with such joy!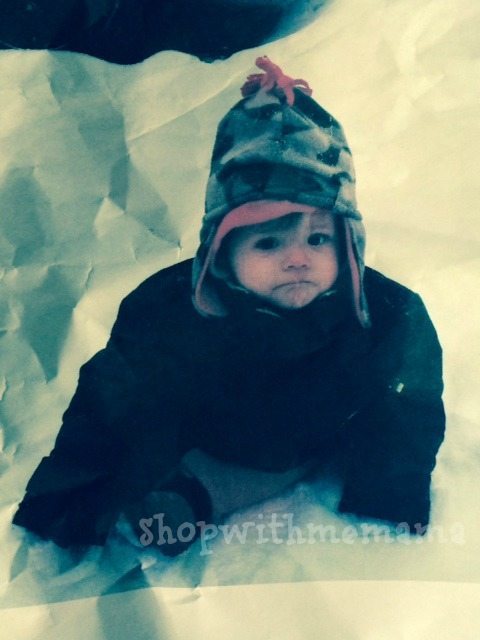 Once outside, I plopped my baby boy down and immediately he sat down. Unable to walk (or move) because I had bundled him up so much. He started to cry and that cry turned into a BIG cry and then it was all over from there. He wanted absolutely NOTHING to do with being outside or playing in that cold white stuff. Instead, he held his tiny arms up to his mommy (who was quickly trying to take as many pictures as she could!!) and just cried.
I scooped up my tiny baby boy and gave him hugs and tons of kisses on his wet, cold cheeks. I told him it was okay, he is fine, but he still was crying. I ended up bringing him inside and after taking off the layers of warm clothing and nursing him, did he stop crying. Apparently the layers of clothing, inability to walk or move and the coldness, really made him upset! I felt terrible, LOL.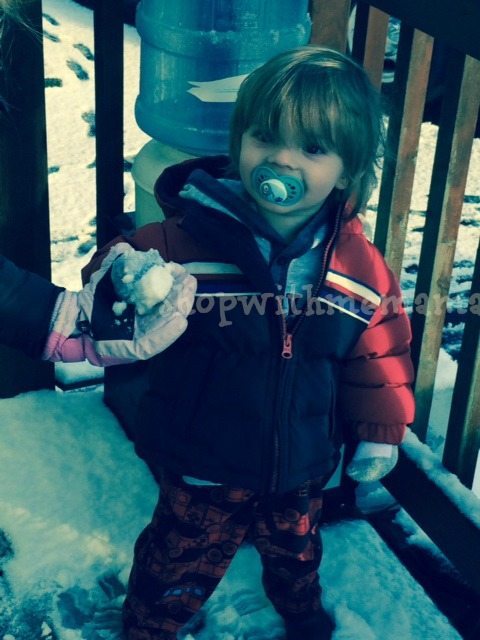 I remember that day so well and remember how tiny and helpless he looked, sitting in that snow, looking up at me with a sad face! So funny how a year can change SO Much! Now he LOVES the snow! He loves running around with his brother and sister and throwing snowballs! I am so happy he loves it now. Now, if ONLY we would get snow this year, (we have only had ONE day of snow so far..), that would be great. I want SNOW! We want snow!
One thing that my son DOES still use is Pampers
. This year we will start the potty training journey (if he is ready and I do believe he is. He potty's on the toilet!!!), but for right now we will continue to use Pampers.
Did You Know?
From Jan 2. – Jan. 17, with a purchase of Pampers Jumbo Pack diapers or Easy-Up training pants, Pampers value box of wipes (13x) & Dreft 50oz detergent, you receive a $10 Babies "R" Us gift card!
 Do You Have Any "Baby's Firsts" To Share With Me?