CONTEST OVER! CONGRATS TO
tabathia #167!!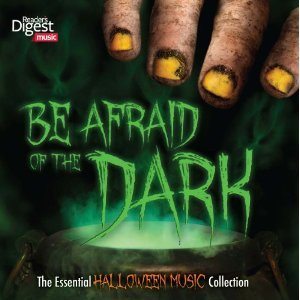 When I was a child I had the BEST birthday parties EVER. Seriously! My birthday is October 25th (in case you want to send me a gift..), so each year, I would have a huge Halloween birthday party. I swear me, my mom and sisters planned them for months. We would have a haunted house with scary Halloween music, then we would do the table that had bowls with all the yucky things you touched and tried to guess what they were (wet noodles for brains, peeled grapes for eyeballs, you get it, right?). Then we would dance and then sit down to a scary movie! Oh man my parties were cool and no one ever wanted to miss them!! Oh, and every one had to dress up too 🙂 We would have a contest for the best dressed person!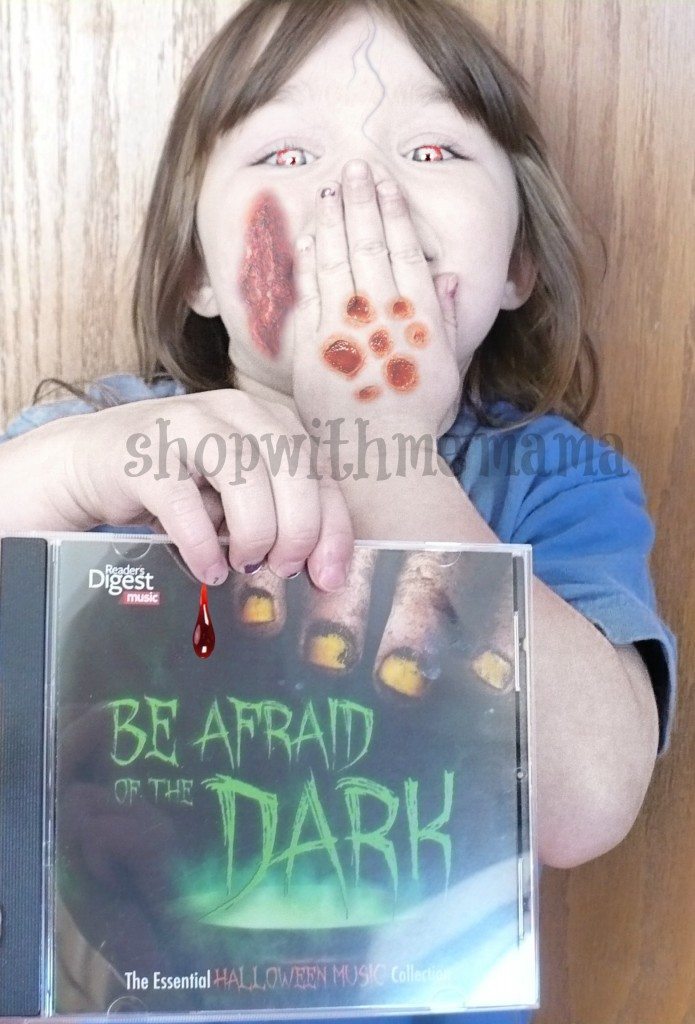 So, as you can assume, I had lots of scary Halloween music in my home. We owned all of them!! I LOVED Halloween music and still do. Now my kids enjoy listening to scary music, every Halloween, too!
I received the Be Afraid of the Dark: The Essential Halloween Music Collection (Reader's Digest Music; 2012) and I have to say I like it! Some of the songs freak out my 4-year-old, LOL, so I have to go to the next song. The music is certainly spooky!!
15 performances of the season's most classic, spine-chilling songs including:
Tubular Bells (Main theme from The Exorcist)
Dracula
Music from The Twilight Saga
Funeral March of a Marionette (Alfred Hitchcock Presents Theme)
Halloween (Main Title Theme)
This is Halloween (The Nightmare Before Christmas)
Music from Harry Potter and the Chamber of Secrets
My favorite on this CD is the 'Halloween' Theme Song!!! Love 😉
Buy
You can purchase Be Afraid of the Dark: The Essential Halloween Music Collection online at http://www.readersdigeststore.com
Win
One person is going to win this CD!!
How?
Easy! Just use the Rafflecopter form below.
Disclosure:
I was sent product to review. All opinions are mine.
a Rafflecopter giveaway