*Bella Ella Boutique Has Adorable Clothes! Shirts received. Opinions are my own.
Being a mommy, I certainly do not have to dress like an older woman. I want to dress cute and trendy and impress my hubby once in a while. I am not dead yet!
Bella Ella Boutique has some VERY cute, trendy and wow worthy clothes and accessories. I had a very hard time trying to decide what item I wanted to review! But, finally, I chose the cute Fading Chevron Print Tank in Mint. Since that Chevron print is sooo popular right now, I just couldn't go wrong with this choice!
Bella Ella Boutique Has Adorable Clothes!

This arrived quickly and soon I was wearing my new tank! It is very see-through, so I bought a tight-fitting white t-shirt to go under it. I also bought a white tank top to go under it, for those hotter days! Both look really cute underneath this tank.
I am very pleased with how it looks on me and it is sooo airy and nice to wear on hot days. Perfect for summertime! Bella Ella Boutique Has Adorable Clothes!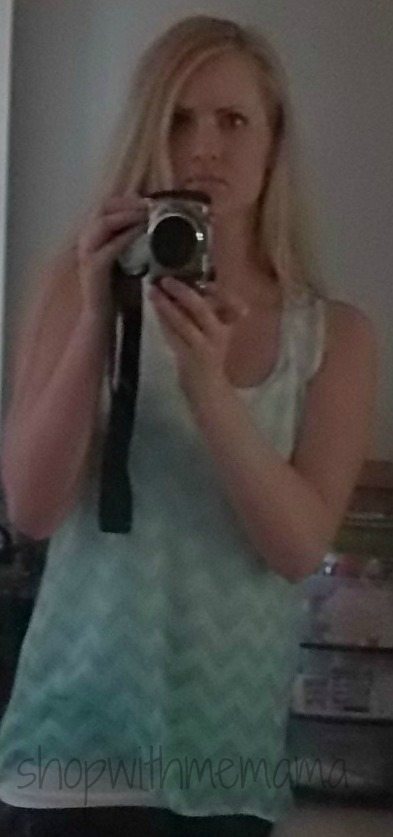 The length of this tank top is perfect too. I hate shorter things because I like to cover up my 'problem areas' which happen to be my butt and hips. So, this tank top covers perfectly and is just the right length for me.
The Chevron print is very cute and the colors in this tank top are very subtle but so pretty! I can dress this up or down, which I love and wear it anytime! This tank also comes in a really pretty purple and fits true to size. It is also priced right, at only $26.00.
Bella Ella Boutique has adorable clothes and accessories. They have pretty, girly dresses, tops, accessories and more. The site is easy to navigate and the selection is wonderful! I had a very positive experience with them!
Buy
You can check out the clothes and accessories at Bella Ella Boutique, by visiting them online at http://www.bellaellaboutique.com