I cannot believe that summer is halfway over..umm, when did that happen? Fourth of July long gone and whispers of back-to-school around the corner?! Say it is NOT so...sigh. I am not ready for this. I am not ready for my little boy to be in second grade and I am certainly not ready for my wee little girl, to enter kindergarten, I just might cry! Okay, I KNOW I will cry!!! Who am I trying to fool?
Anyways, this summer we have had all sorts of yummy foods. We have done the picnics, BBQs, and family gatherings! With all those wonderful events, there have been some really delicious summer pasta salads that I have been whipping up! They seem to be a huge hit and not just because they are good, but because they are better for you too!! How do you ask? Well, because I use Dreamfields Pasta to make them!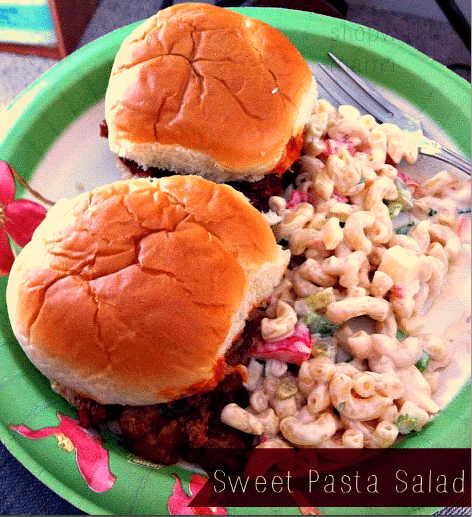 I am a part of the Dreamfields Dream Team and I love it! Not only do I get some great products to make yummy dishes with, but I also get to talk about a product I already know and adore! It is a win/win!
The pasta dish I made this time is called Sweet Summer Pasta Salad and I was using the elbow pasta. I refrigerated it, to make it nice and cold when we devoured it with our meal! It was soo good! I will share the recipe with you all, below!
Sweet Summer Pasta Salad
Author:
Prep time:
Cook time:
Total time:
A delicious and easy summer pasta salad!
Ingredients
1 Box of Dreamfields Elbow Pasta
1 cup Miracle Whip
4 TBS of Italian Dressing
3 Large Sweet Pickles
1/2 cup of cubed cheese (we used pepper jack)
1/2 Red Bell Pepper chopped
1/2 small onion, chopped
Salt and Pepper To Taste
Instructions
Boil and prepare elbow pasta according to directions on the box
Add cooked elbow pasta
Add 1 Cup of Miracle Whip
Mix in 4 TBS of Italian Dressing
Add Chopped sweet pickles and mix
Add cubed cheese
add red bell pepper
add onion and mix all together
Put in the fridge for about 2.5 hours
Enjoy!
See, super easy to make and everyone will just love it!! It is really good!
And don't forget what I said in another post, about this:
Dreamfields Pasta is delicious and authentic pasta that can be eaten by people with diabetes. My mother-in-law (who lives with us) has type two diabetes. She has to be very careful with what she eats, so it does not get worse. She has not been able to eat things she once loved, including pasta, in a long time.
When I introduced her to Dreamfields Pasta she was so excited! She, of course, talked to her doctor first about it (very important) and now she can eat pasta again! We love pasta in this house, so now she can eat it too! So, that is another reason why we love this pasta so much in our home!!
What is your favorite pasta recipe? Share it in the comments below!