CONTEST OVER! CONGRATS TO
Mary Renshaw-Grace #893!!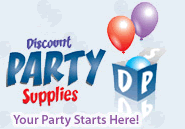 It seems like every week someone in my large family has a birthday! Whether it is my sister, brother, mom, dad, niece or nephew or friend, there is ALWAYS a birthday or event going on!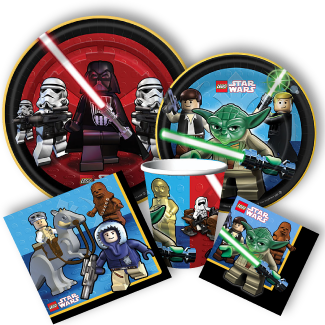 So, naturally, we are invited to a ton of birthday parties. Some we cannot make it because they are so far away and others we do. My kids love seeing their cousins and I love seeing my family!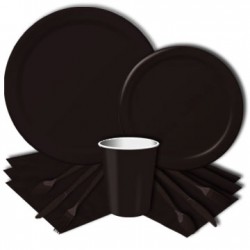 Party decorations are a must to always have on hand, because of all of the birthdays we have. I always have paper plates, cups, forks, spoons, napkins and party decor stored away in a hall closet for occasions such as those!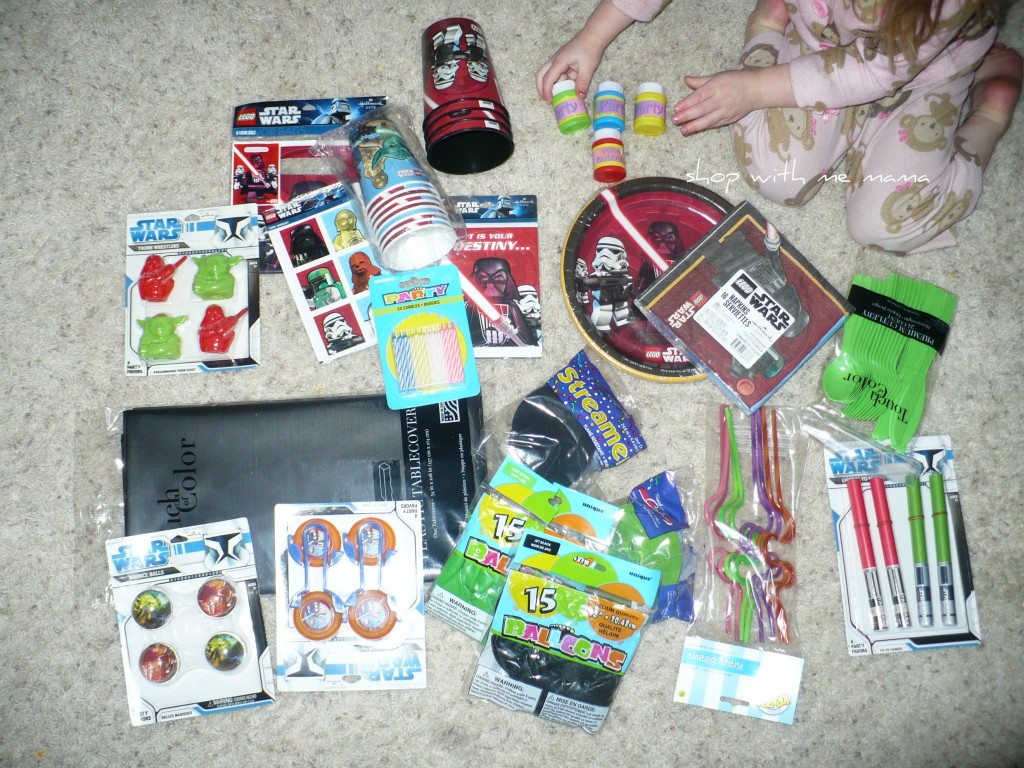 I recently was able to review some fun party supplies from Discount Party Supplies. The stuff arrived a bit late for my son's birthday party in January so that kind of sucked, but we did use it anyways, for a birthday party after birthday party 🙂 Kids don't mind a couple of birthday parties just for them, now do they? My son did not mind at all!
We received the Lego Star Wars Standard Party Pack along with 4 Lego Star Wars Deluxe Favor Packs to pass out. The stuff was really cute and my son absolutely loved it all. It came with the following:
And the Deluxe Favor Packs had favor bags, stickers, a 16-oz keepsake cups, a light saber chinese yo yos, a thumb wrestlers, wristbands,  bounce balls, squiggle straws and mini bubbles! They were a huge hit and the kids had lots of fun!

Discount Party Supplies has an enormous selection of themed party supplies. From Disney themed items to the newest movie releases, you'll find that they have the greatest collection of birthday supplies on the internet. Need baby shower or wedding decorations? Then check out their special events section!!!
 Buy
You can purchase great party products from Discount Party Supplies, by visiting them online at http://www.discountpartysupplies.com/ and don't forget, that all of their customers receive free ground shipping on any order over $65.00!!
Win
One lucky individual is going to win a party theme of their choice for their next party! Value is $40!!
How?
Easy! Just use Rafflecopter below. There are no mandatory entries, you can do one or all! Please follow the rules and leave me a valid email address so I can contact you if you win. Good luck!
Disclosure:
I was sent product to review. These are my own opinions, thanks!


a Rafflecopter giveaway