Fun Games To Play This Spring With Your Family! I know it is springtime and you are so eager to get outdoors, but some spring days are wet and cooler than we like, so we opt to stay indoors on those dreary days. One way to keep the kids occupied on those wet, rainy days is with Funnybone Toys' new games they just released!
Nothing like spending quality time with your family. It is just good for the soul! My kids LOVE having family time and when these fun new games arrived from Funnybone Toys, we were already planning a night together full of games and food!
*This includes affiliate links.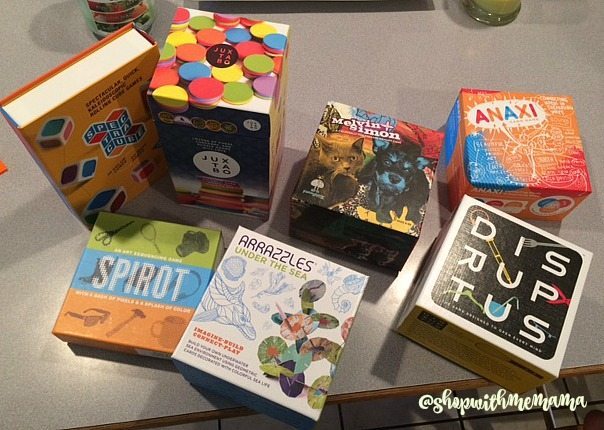 The four new games from Funnybone Toys are:
Anaxi – Connecting Words in Surprising Ways During a round, draw 3 Anaxi Word Cards and overlap them. All players work at the same time and have 1 minute to write down as many people, places, or things that share overlapping qualities. Players with original and unique answers score points. Retails for $21.99.
Spirot – a pixel-art-inspired game of sequences. BOX CONTAINS: 81 Spirot Cards 9 Board Cards
AN ART SEQUENCING GAME WITH A DASH OF PIXELS AND A SPLASH OF COLOR. Retails for $15.99.
Arrazzles "Under the Sea" -BOX CONTAINS: 45 Cards with 45 Seascapes BOX CONTAINS: 24 Pairs of Jumbo (4.25"x4.25") Thick Cards Arrazzles® Under the Sea is the first in a new series of building toys modeled after Arrazzles®, the multi-award winning, art-inspired building toy, launched by Funnybone Toys in 2013 The Arrazzles cards have 5 different patterns of slots that let you create awesome 3D arrangements! Build an ocean filled with beautiful sea creatures—use 45 beautiful cards depicting a variety of marine creatures, including the occasional scuba diver! Retails for $19.99.
Melvin+Simon Collage Memory Game – Playing the classic memory game with these cards is a great way to explore the art of collage! Melvin (cat) and Simon (dog) are up to some antics in 24 different collage scenes, including scuba diving, building a fort, and playing jazz! Retails for $16.99.
We also received some other fun games from Funnybone Toys, too! All of these are a blast to play. I think our favorite game so far, is Melvin+Simon Collage Memory Game. We love memory, so this was a blast to play for us!
Buy
You can purchase these fun new games from Funnybone Toys, online at https://www.funnyboneproducts.com/ or Amazon.com.