GoldieBlox
We are all innovators to some extent. We as moms are on a daily basis finding ways to keep our kids busy or calm a baby from crying, we find ways to do this and sometimes we get super creative trying to find those solutions!
GoldieBlox was created to inspire the next generation of innovators. If you have daughters, you want them to be full of self-confidence and be able to take on the world KNOWING they are good enough.
Of course, we want our boys to do the same, but sometimes girls worry a bit too much, I know I do! And, sometimes my worrying or thinking I can't do something, stands in my way of actually DOING something!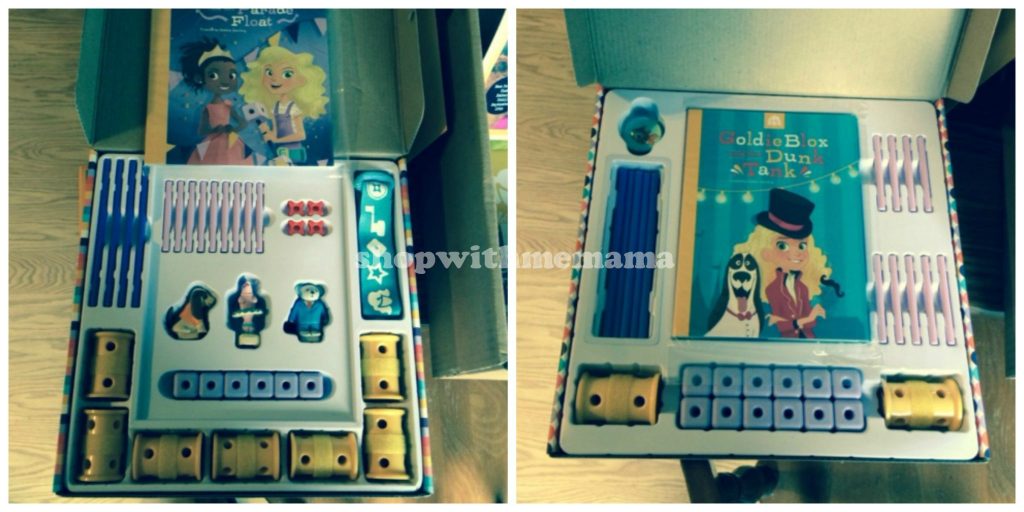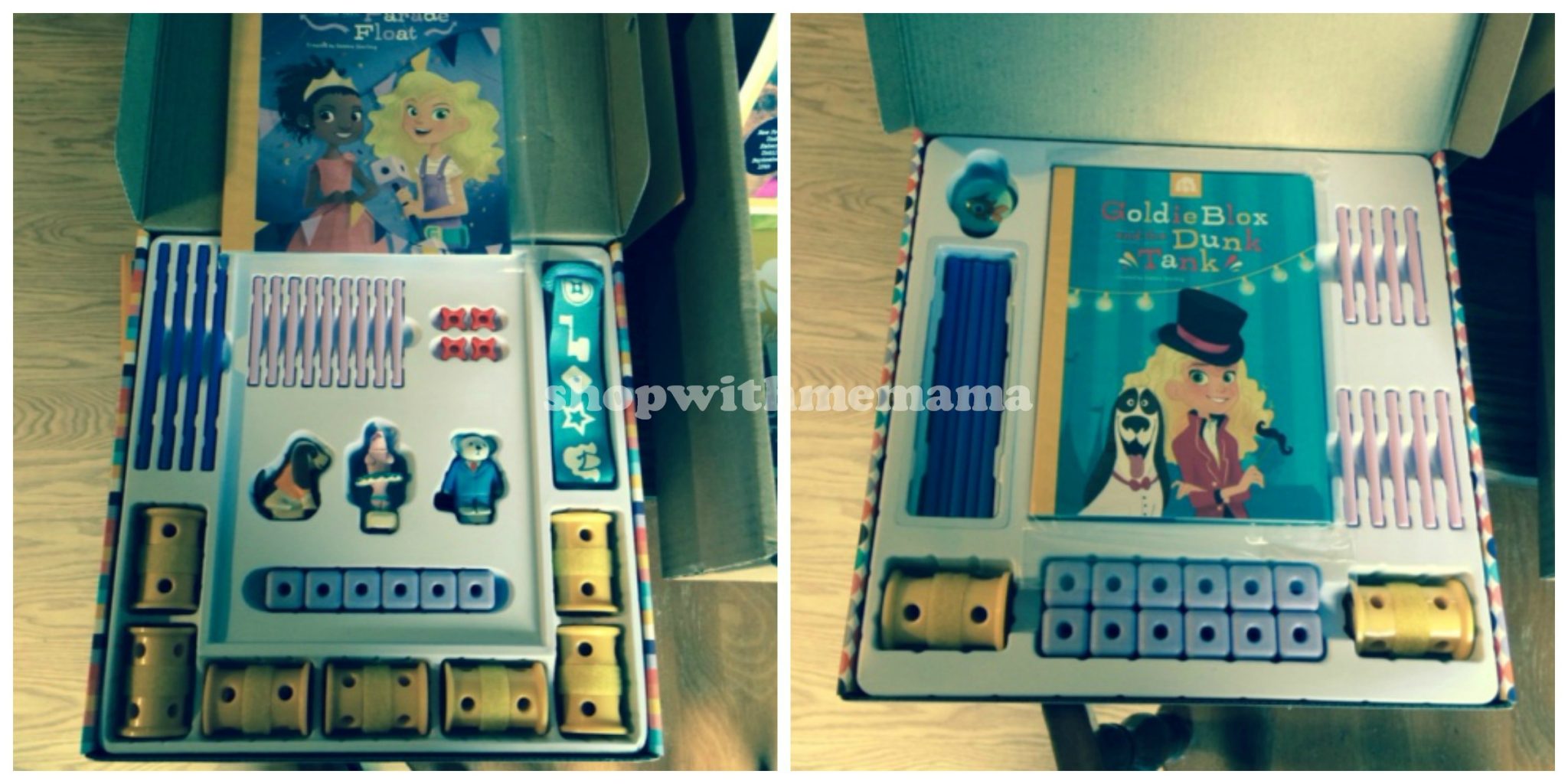 I was so inspired by GoldieBlox. I love the story behind it and how it encourages girls to be innovative and not be afraid to build and create things.
GoldieBlox is trying to introduce basic Science, Technology, Engineering, and Math (STEM) skills. STEM skills are 21st-century skills – these are must-haves to be successful. So, I thought it was not only important but super neat that GoldieBlox was introducing this in their toys!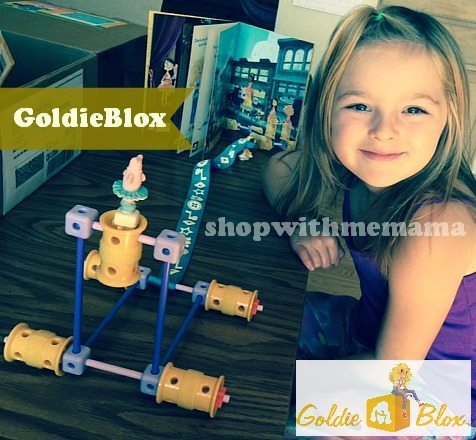 I received two GoldieBlox toys. The first one is the 'Dunk Tank' and the second one is the 'Parade Float'. I and my daughter sat down at the dining room table and had so much fun putting these together while reading the stories that came with them! A really cute, learning experience for her and ME!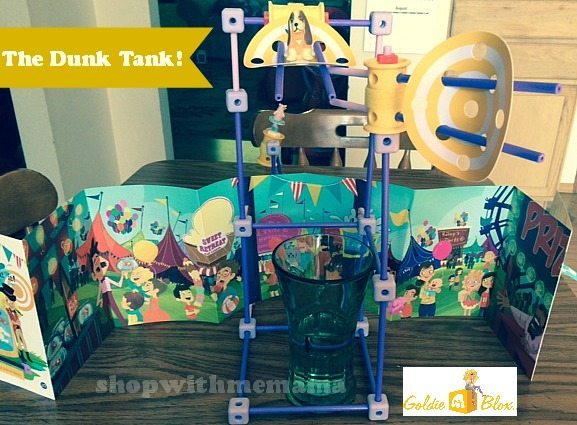 How Does GoldieBlox Work?
It is fun! These are little building sets and inside each building kit, is a book (instructions on how to build the set) and it also comes with a little character (or two).
At the beginning of every GoldieBlox story, they introduce some basic engineering vocabulary with a basic "Bill of Materials." The pieces you get with GoldieBlox are based on the Seven Simple Machines (wheel and axis, lever, pulley, etc.) These are the basic building blocks of every physical thing!
You just read the book and while reading it, it will prompt you when to put something together and how to do it. It is a completely fun, story you read while building the set! Too much fun!
Sometimes it can be hard to build these sets, but don't give up!!! This was another important message they are sending to girls through GoldieBlox, which is to not give up!
Even Goldie, in the stories, will have something not turn out the way she wanted it to and will have to try again at making something. So, there is learning at every page turn and set put together!
GoldieBlox is definitely on a mission to help girls stay interested in engineering and technology, past that big drop-off at age 8. How? By reading books and building toys! Love it!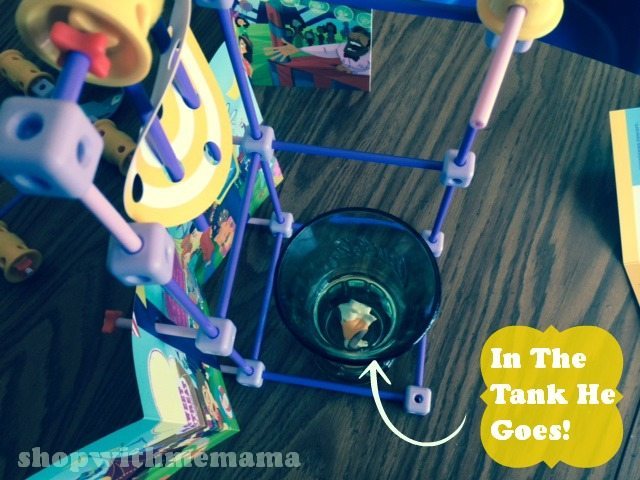 So Who Is This 'Goldie' Chick, Anyways?
Goldie is the star of all the GoldieBlox Toys! She is a girl inventor who goes on fun adventures and solves problems by building simple machines. As you and your child read along, you build what Goldie builds with the fun, included toolkit! Each book also features additional designs as inspiration, for endless building possibilities!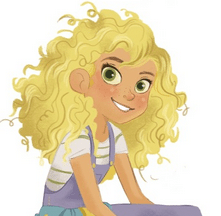 GoldieBlox has some fun kits available and more to come soon! Some of the kits you can buy now are:
Goldie Blox and The Spinning Machine
Goldie Blox and the Dunk Tank
Goldie Blox and the Parade Float
Buy
You can purchase GoldieBlox in Toys R Us, on Amazon.com, GoldieBlox.com, and thousands of other stores!