*This is a partnered post. Opinions are my own.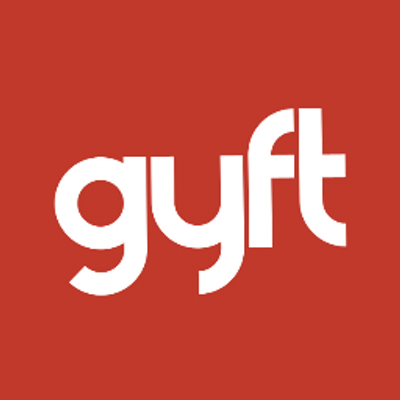 Gyft is a digital gift card platform and app that allows users to upload plastic cards to their digital wallet and buy gift cards to hundreds of retailers and send them via Text, Facebook, and email.
I remember going shopping right after Christmas one year and having to dig through my purse to find that one gift card my Mom had given me. It was horrid. Why was it horrid?? Because I had a baby in one arm and two other kids fighting in the store next to me, while I tried frantically to find my gift card. It was NOT a good experience and I was SO frustrated I ended up leaving that store!
Needless to say, I never got my things I wanted to get because that stupid gift card was hidden in a part of my purse that I did not know existed. I ended up purchasing something online with that gift card and a good part of it went to shipping costs. NEVER again!!!! What a flippin' WASTE!
Fast forward to now…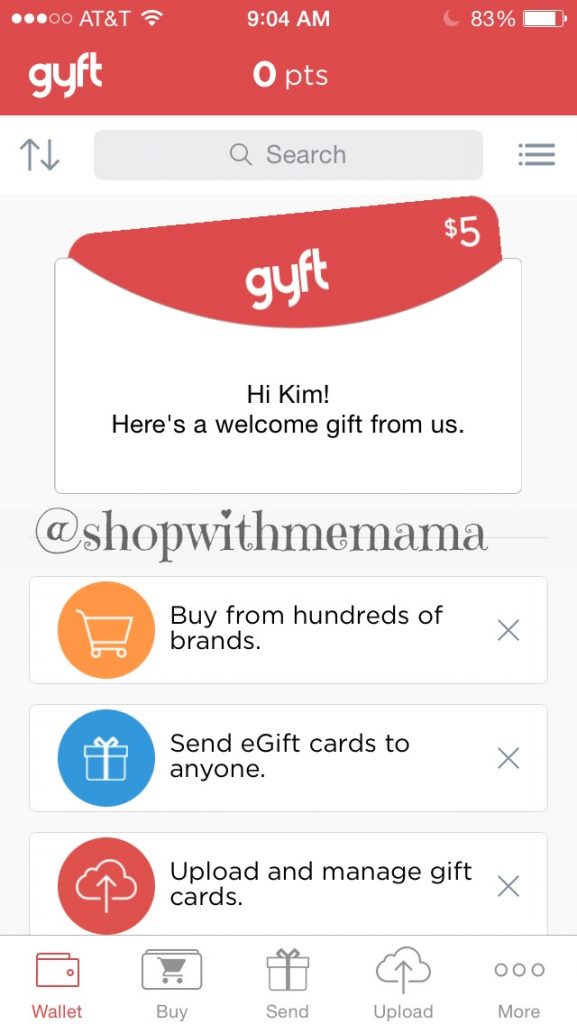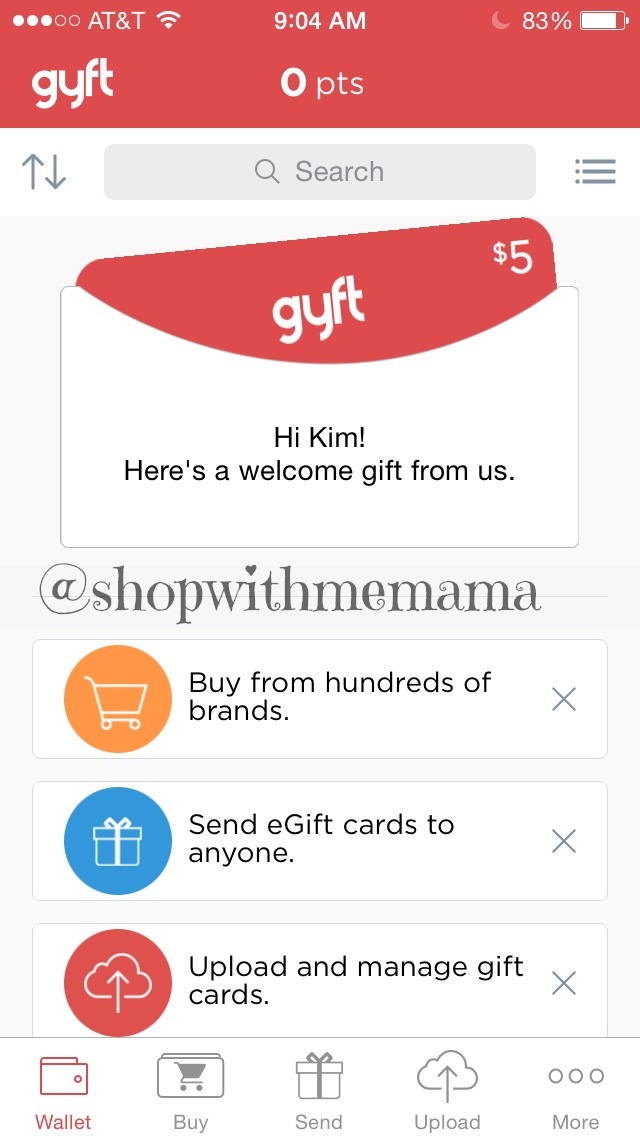 Up until a few weeks ago, I had never heard of a service or app that would allow me to upload all my plastic gift cards into Gyft so I don't have to carry them to the store anymore. Uh, why on earth did it take so dang long for me to find this????
It's so easy to do and use.  You just upload those gift cards then go to the store and open the app and scan it and redeem. Simple. No more thrashing through my purse to find that one particular gift card I want to use. I swear I will never do that again! Now, I don't have to 🙂
The app is totally easy to download on your iOS or Android. All you do is find the Gyft app and download it. It is free to download! When you do download and sign up for a Gyft account, you will get a welcome gift, a free $5 Gyft Card to use as a discount on your first purchase of $15 or more! Totally worth it!
Download A Gift Card
Downloading a gift card that you have, to your phone is simple. Just go to the app on your phone and click the 'upload' button on the bottom of the screen. It will take you to a page of retailers. You scroll through the retailers until you come to the gift card retailer and click on that. Then it will bring you to a page where you enter all your gift card information and then hit 'save'. There you have it! Easy! Then, when you visit the retailer, you simply take out your phone and go to that saved card for that particular retailer and pull it up and show it to the clerk to scan. So much easier than digging through a purse!
Get Rewarded!!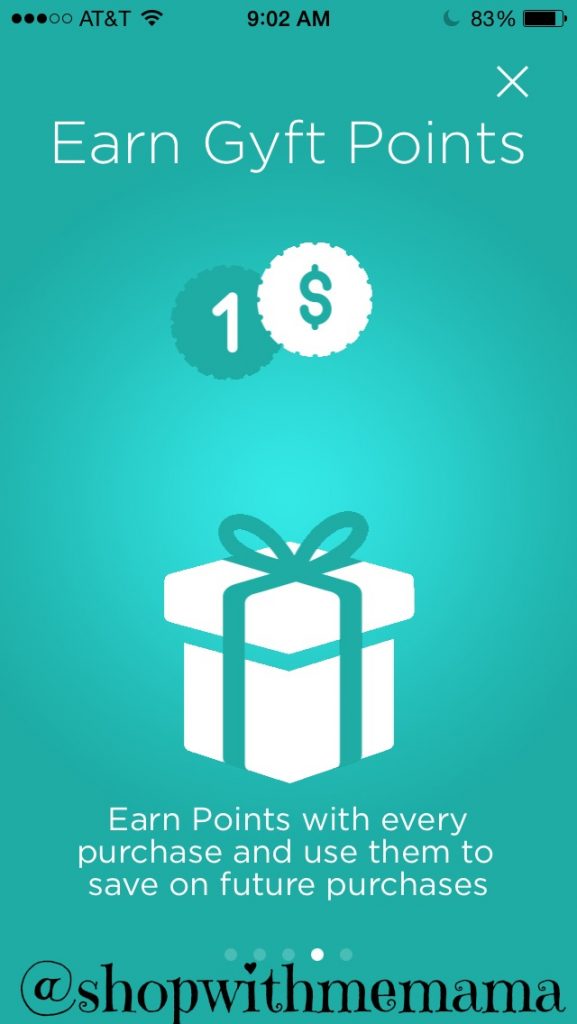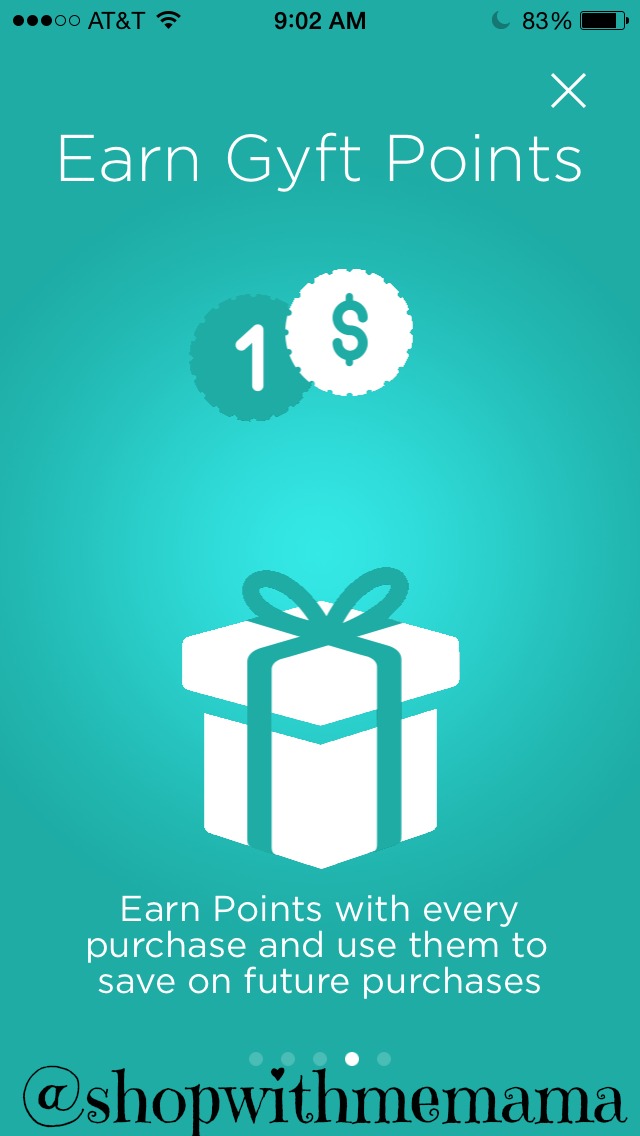 You can buy gift cards for yourself and earn Gyft rewards points! So if you know you are going to shop at a store like Target, you might as well go ahead and buy a gift card to Target for yourself (hey, why not??).  A benefit to buying yourself a gift card is that you can use it as a budgeting tool as I tend to always grab a few more items at Target than I intend to! If I have a set budget this would help out with the situation. Every gift card purchase you get 1% in Gyft Rewards points towards future gift card purchases. This is such an awesome deal!
Buy A Gift Card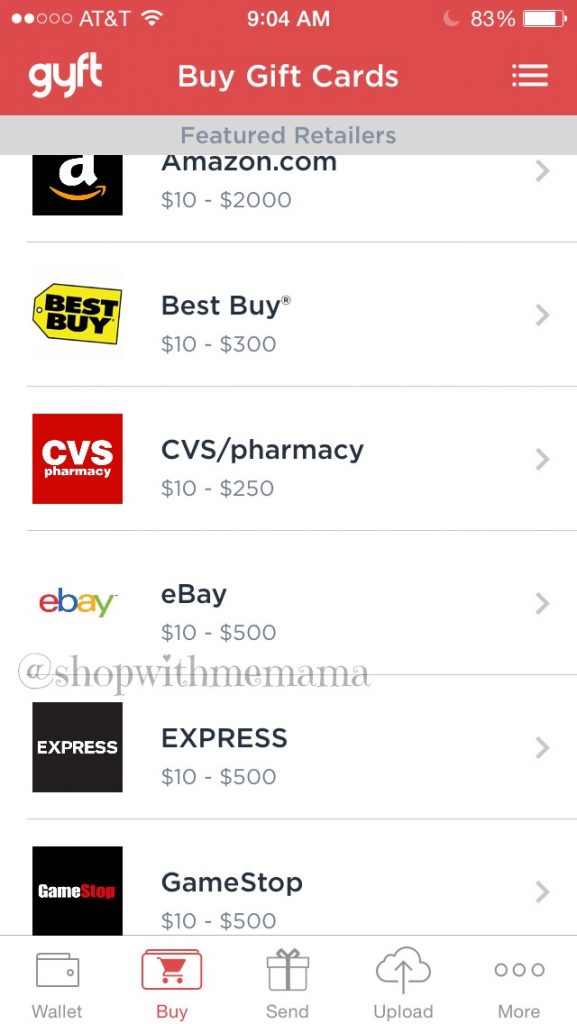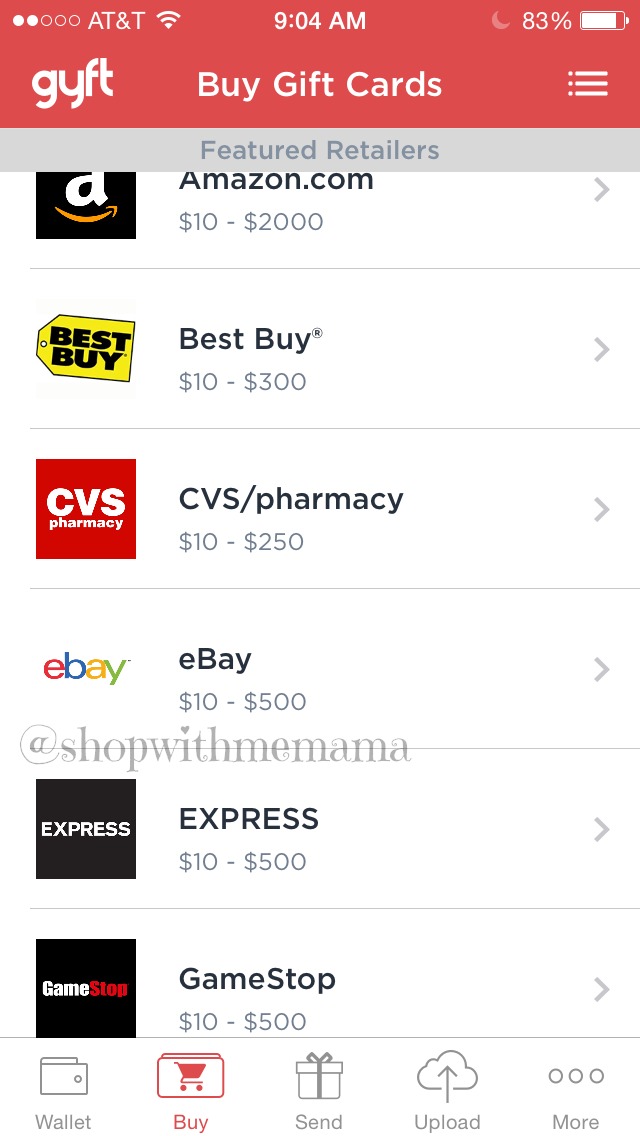 Yes, you can also buy gift cards through the Gyft app. Click on the icon on the bottom of your screen that says 'Buy'. You can search from over 200 retailers! Find that retailer and click on it. You can choose from just $10 up to whatever the retailer says. Once you decide on the amount, just click on 'Buy'. You may want to send somebody a Gyft card, but don't know what specific gift card the person wants, the receiver can get which ever gift card they want, that is available on the app. No more second guessing!
Psst! Get A $10 Gift Card For $5!!!!
If you sign up for your account, you can use the $5 Gyft card that you got from opening the account, towards a $15 gift card!!! Do IT!!! Hey, getting a $15 gift card for $10? Ya, I like that!! (Needs to be redeemed in 24 hours and you need to make a purchase of another gift card for at least $15)
Top Ten Gyft Retailers!
These are the most popular retailers on Gyft:
1. Starbucks
2. Target
3. Whole Foods
4. Gap
5. Old Navy
6. Amazon
7. Zappos
8. iTunes
9. Nike
10. Overstock
Ready? Go!
If you like what I just told you, then go download the Gyft App! Grab it on iOS or Android!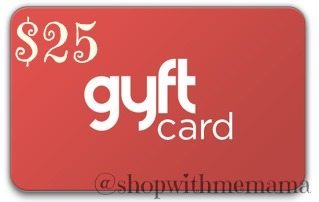 Win!
1 winner will receive a $25 gyft card! (This Gyft card will allow the winner to choose any gift card available through Gyft for the winner to redeem. Ex: Whole Foods, Sephora, Target, etc.)
How?
Easy! Just use the Rafflecopter form below! Good luck to everyone who enters!
Rules:
Contest is open to US 18+. Giveaway will end on May 3, 2015 at 12 am PST. Winner will have 48 hours to confirm their win, after I email them, or a new winner will be chosen. Sponsor is responsible for sending out prizes. I am not responsible for lost or stolen mail.