CONGRATS TO
Anne E. Perry
*samples received. Opinions are mine.

I am starting to go more and more natural with products for my family. I am starting with Essential Oils and all-natural skincare.
I was sent a few samples of Ora's Amazing Herbal skincare products to try out and was very pleased with them. I wish I had more! I was sent the Touchy Skin Salve, Body Powder and Baby Powder.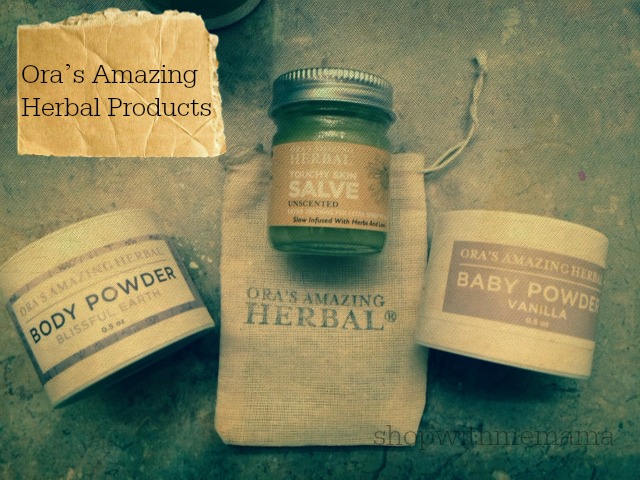 The Touchy Skin Salve is great stuff. It is a greenish color and when you touch it and put it on your skin, it kind of melts into your skin. It is greasy, but it really moisturizes the skin. I use this on my baby's skin as it is horribly dry and he has really bad eczema. This is great for people with sensitive skin. It did not irritate my baby's skin at all.  This is unscented with no essential oils and the addition of emollient castor oil and anti-inflammatory licorice root, this gentle formula can treat ailments and dryness for even the fussiest of skin. Available in a coconut oil-free formulation as well!
The Body Powder is wonderful too. It is free of talc, grains, and anything synthetic, these finely milled powders absorb excess moisture while functioning as a gentle deodorant, and soothe any irritation. Use it as you would any dusting powder. It really leaves my skin super soft feeling. This is Available in Unscented, Vanilla, and Blissful Earth.
The Baby Powder I use on my baby. It is also free of talc, grains, and anything synthetic. I use it when I change my baby's diaper and put some on his cute little bottom. It leaves his little bum super soft! This silky powder absorbs moisture, soothes skin, balances pH and reduces odor-causing bacteria. Available in Unscented and Vanilla.
I love the packaging (so natural looking!) and the products are truly great for our skin. I am impressed with them so far!
Every ingredient in every product in this natural line, from the healing salves to the soothing body powders to the yummy lip balms, has been carefully selected for its healing, soothing, and protective qualities.

 Safe enough for the whole family to use, the products are free from any synthetic ingredients, preservatives, or additives.
Buy
You can purchase Ora's Amazing Herbal Skincare Products online at http://orasamazingherbal.com/
Win
One person will win two full-sized products from Ora's Amazing Herbal! Yay!
How?
Easy! Just use the Rafflecopter form below! GL!
Contest is open to US 18+ will end on April 20, 2014 at 12:00 am PST. One person will win two full sized products from Ora's Amazing Herbal! (see above!)! Winner will have 48 hours to confirm their win or a new person will be chosen, good luck!