This post is all about How to Throw a Sustainable Wedding Party. More than any other time in recent history, many of the most pressing matters that affect our planet are beginning to influence the way we live our lives. Growing numbers of people are now taking the time to question things such as their spending habits, use of natural resources, carbon footprint as well as their diet.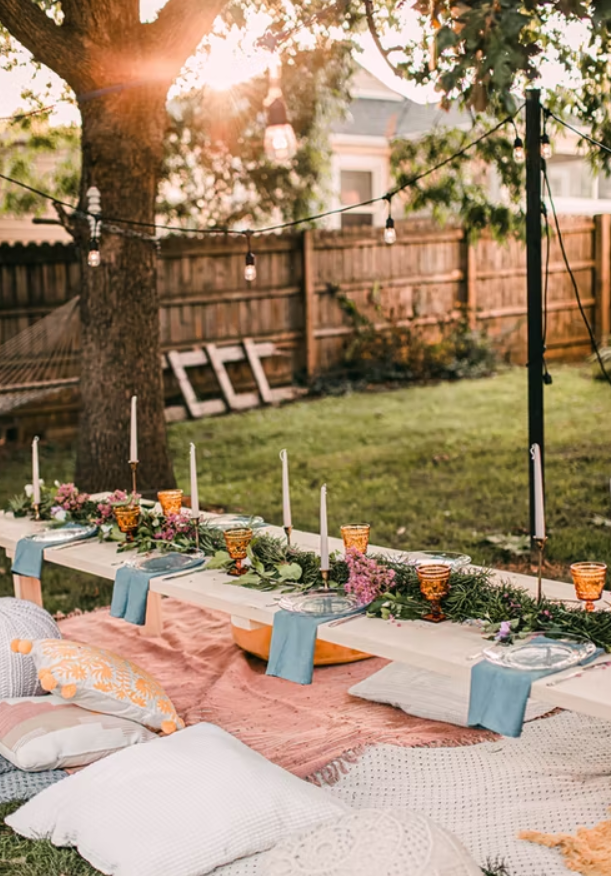 How to Throw a Sustainable Wedding Party
If you and your partner are doing your best to live an eco-friendly lifestyle, there is no reason this should not include your big day. If you are in the early stages of planning your wedding and have yet to pick out an engagement ring, consider choosing from lab grown diamond rings that do not deplete any of the Earth's natural resources. In this article, we'll explore some creative ways to help you throw a sustainable wedding party to remember.
Venue
One of the first things to consider when planning your wedding party is the venue. An ideal spot would be an outdoor location such as a park or garden where you can host your friends and relatives in a natural setting surrounded by fresh air, flowers, and blue skies. You can check out the best winery with accommodation in Mornington Peninsula to start. With Mother Nature providing the scenery, you will not need much in the way of lighting or décor.
However, this is not always an option, especially in the wetter or colder months. Instead, select a location that aligns with your values and promotes sustainability regarding its operations. Look for amenities such as energy-efficient lighting, solar panels or other renewable energy sources, and recycled or sustainably-made furniture.
Invitations
When sending your guest wedding invitations go for paperless options if possible. This will not only help to reduce the impact on forests as well as the amount of waste that ends up in landfill sites but will also save you money on postage costs.
There are a number of online tools to help you create wedding invitations to your liking and then sending them digitally will eliminate the chance of them getting lost in the post. They are also a great way to easily keep track of all your RSVPs.
Another option is to personally record a video message where you and your partner invite your guests to your wedding. This can be sent instantly through your smart devices and is another sustainable and efficient way to send word of your upcoming nuptials. If you do prefer the traditional route of sending a card in the post, choose a recycled card instead.
Decorations
Whether it's paper flowers or laminated bunting, many custom-made wedding decorations are made from non-sustainable materials. Fortunately, there are many creative ways in which you can still celebrate in style while adhering to your ethical values.
For instance, rather than using plastic or paper confetti, why not make your own version from dried petals or leaves? Dried lavender, rose, hydrangea and delphinium petals make a beautiful, yet biodegradable combination to shower you and your beloved with.
No celebration is complete without a few balloons. In place of the usual latex wedding balloons opt for a natural latex made from the Hevea brasiliensis tree or for a fun addition to your day, why not hire a bubble machine instead?
In place of wedding favor bags or boxes, consider gifting your guests with small potted plants such as succulents, floral decorations, seeds packets, natural and locally-made soaps, or handicrafts.
Wedding Food
When it comes to serving food for your guests, look for caterers who source local, organic and ethically-produced ingredients to make the most eco-friendly as well as the healthiest choice. Buying your alcohol from local wineries, breweries, and distilleries will also help to lower your carbon footprint.
If possible, offer vegan or vegetarian food options as meat production contributes to environmental problems such as deforestation, greenhouse gas emissions, and soil degradation.
Finger foods, such as canapés and hors d'oeuvres are a great option for reducing the need for utensils and plates while your show-stopping wedding cake can be served to guests in the form of individual cupcakes. If you are outdoors, consider using compostable materials such as bamboo plates, cloth napkins, or plant-based straws.
Reduce Waste
Keep the waste from your wedding to a minimum by offering your guests, catering staff, and vendors any leftover food when they leave. Rather than throwing away any excess amounts of food leftover consider offering them to local charities or food banks. Make sure all biodegradable items such as utensils and decorations are disposed of in the compost and take any remaining flowers or plants home.
I hope you enjoyed my article about How to Throw a Sustainable Wedding Party. By incorporating the ideas in this article, you can confidently plan a sustainable wedding party while doing your bit for the planet! If you have any questions, please leave them in the comments below! Thank you!