Keep The Nursery Fresh Smelling With The Munchkin Arm and Hammer Diaper Pail! When you have a baby you go through MANY diapers, that is no lie. And, they reek!!! Okay, so maybe newborn poop does not stink as badly as toddler poops, but, when you get a pile of them going in that trash can, they DO start smelling pretty ripe!! YUCK!
*This post contains an affiliate link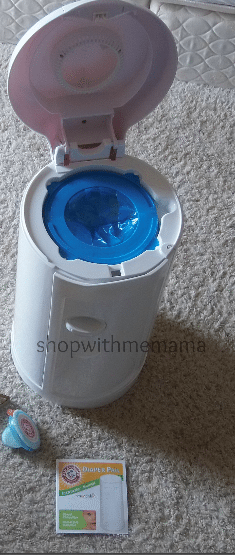 Munchkin Arm and Hammer Diaper Pail
So, up until a few weeks ago, I was using just a regular garbage can to dispose of my baby's dirty diapers. He is still small, so his diapers don't smell too bad, yet. But, they will!!!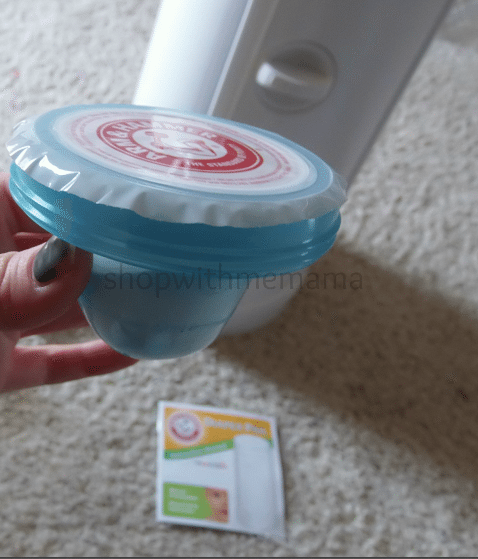 I was sent the Munchkin Arm and Hammer Diaper Pail to review. I was pretty excited to check it out. It came already assembled, even the bags were attached and ready to go. All I had to do was open the Arm & Hammer little pod and attach it to the lid of the pail. Pretty easy!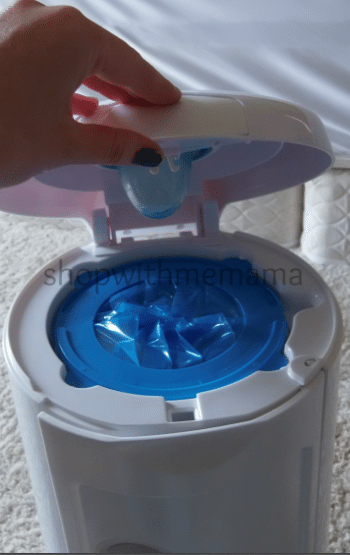 Now, when you get a dirty diaper, you just pull the tabs over it tightly, until it goes into a little ball, and then press the button on the top of the diaper pail lid and pull it up. Then you push the used diaper into the 'hole' until it is in there good, then you just close the lid.
As you close the lid, you can see the bag being 'twisted' so that the stink won't come out. When the lid closes too, the Arm & Hammer powder sprinkles out onto the dirty diaper, making it smell, less.

When you have a full bag of the stinkies, you simply turn the knob on the door compartment and 'snap' the ring together and pull it through the hole (see pictures above). Throw it in the garbage can outside and you are good to go!!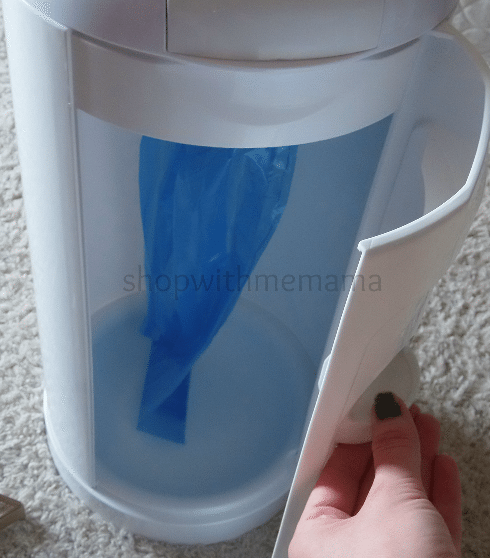 What I Like…
I like that this is easy to use, no assembly required. The bags are great and hold a lot of little size two diapers (not sure about other sizes??). I like that the bags will twist to keep the stinkies in the bag and not in your nursery. I like the idea of the Arm & Hammer powder, that sprinkles out when the lid closes. I like that you can refill the baking soda when it runs out, in the pod.
What I Dislike…
I also wish that this had a push pedal so you could open it with your foot and not your hands.
Buy
You can purchase the Munchkin Arm & Hammer Diaper Pail online at Amazon.com. It retails for around $64.99.