*Product was received. Opinions are my own. This post includes my affiliate links.
Lalaloopsy Baking Oven Review #Lalaloopsy #BakingOven
My little girl loves being in the kitchen with me, whenever I bake or cook! She is always right next to me and so is my toddler! They love seeing (and helping!) mommy cook/bake! We spend a lot of time in the kitchen and I enjoy being in there with my babies! So much fun!
My daughter had the opportunity to review the Lalaloopsy Baking Oven
 and oh my goodness, she has so much fun creating some yummy goodies to eat!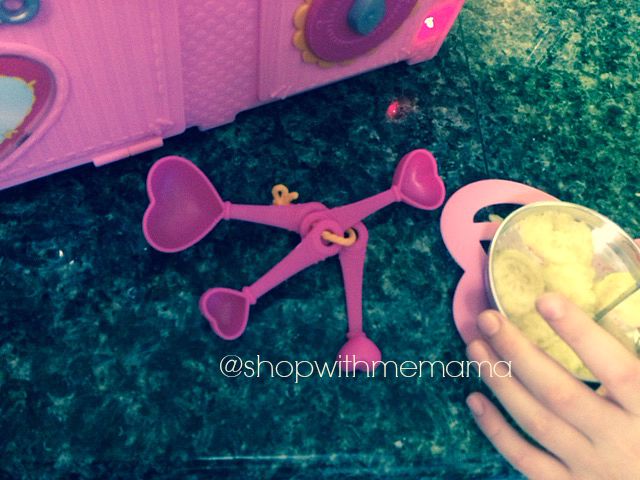 The Lalaloopsy Baking Oven comes with everything you need to create two yummy treats! This includes a baking pan, 1 cake and 1 cookie mix, pan pusher and recipe booklet.
These are easy-to-make goodies and so much fun to bake! My daughter first made the strawberry cake! We let the oven heat up for about 20 minutes while we prepared the cake! I loved the little tablespoons/teaspoons! They are called a 'dash' or 'sprinkle' instead of 'teaspoon' or tablespoon'! So cute!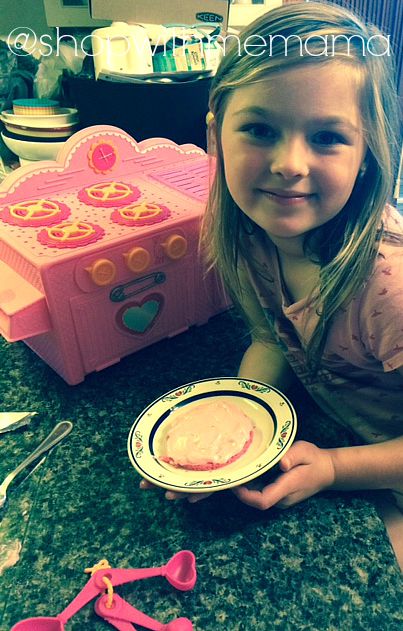 When the cake was prepared and ready for the oven, my daughter put the little cake tin inside the oven then used the pan pusher to push it to the oven part. We set the timer on our microwave for about 20 minutes, when the timer went off, my daughter used the pan pusher to push the little cake into the cooling chamber of the oven. We waited 5 minutes, then we took out the cake and frosted it with the strawberry frosting it comes with! It was SO yummy my daughter said 🙂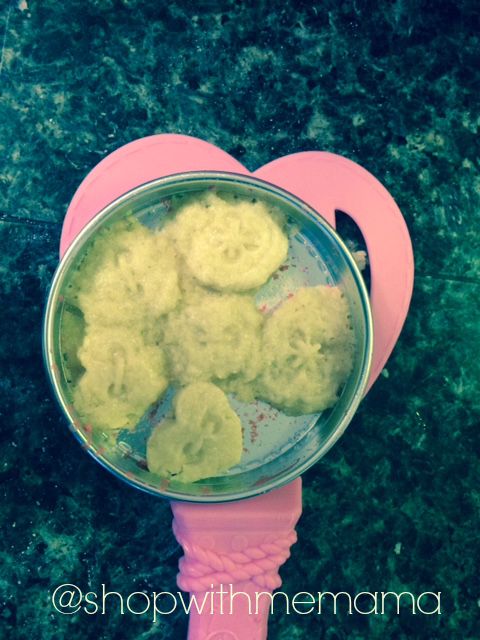 My son wanted to make something too, so I let him bake the tiny sugar cookies. He mixed the sugar cookie mixture with some water and stirred. Then he had to pick it up and make it into a little ball with his hands. He sprayed the cookie mold with cooking spray so the cookies could come right out. He then pushed little pieces of the cookie dough into the cookie mold. Once all the cookie dough was pushed into the molds, you then have to push it back out and into the cake tin for cooking. That was the hard part! Those cookies did not want to come out, so they were kind of funky looking when we baked them.
The cookies baked for about 5 minutes and then we let them cool, before my kids ate them up! This is a really fun oven for kids. My kids wanted more mixes, so of course I got online and bought more from Amazon.com
. I hope they are here soon!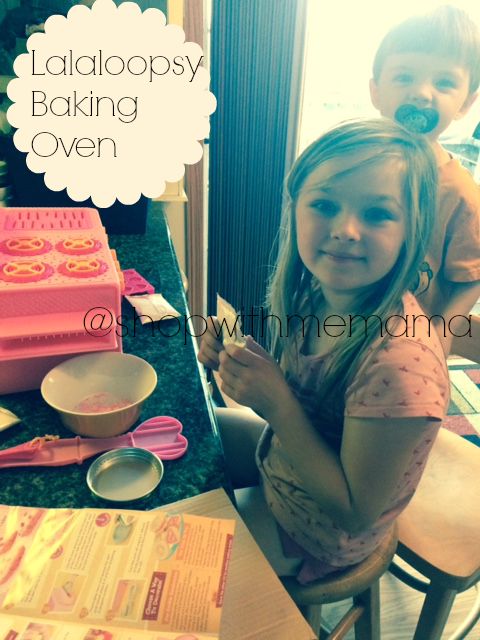 The only thing about this oven that I should mention, is that when the goodies are ready to be taken from the oven (from the cooling chamber), the tin is hard to get out. The pan pusher pushes the cake tin up too far causing it not to come out easily. I had to use my fingers to get it out (Not recommended!).
Buy
You can purchase the Lalaloopsy Baking Oven
 at all major retailers: ToysRUs, Amazon.com
, Target, Walmart. It retails for $49.99.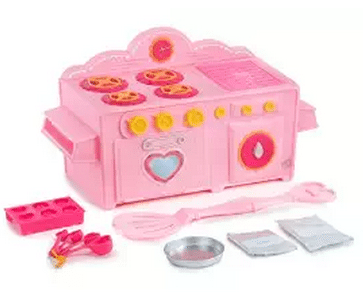 Win
One person will win the Lalaloopsy Baking Oven
! Yay!
How?
Easy, just use the form below!
Rules:
Contest is open to US 18+. Giveaway will end on August 11, 2015 at 12 am PST. Winners will have 48 hours to confirm their win, after I email them, or a new winner will be chosen. I am not responsible for lost or stolen mail.