My daughter loves Limeapple's cute, sporty girl clothes. She has just about everything from their line and is only adding to it all the time! The fun, cute and sporty activewear that they carry, for girls, it so fun! My daughter loves putting together outfits from the clothes she bought from Limeapple!
Gift Card Received. Opinions Are My Own.
Limeapple's 15th Anniversary Sale! Shop Now!
Limeapple is having the BEST sales right now and to add to it, they are having their 15th Anniversary Sale starting today (November 6th!) through November 10th! Don't miss out on this awesome sale! With Christmas just around the corner, it is the perfect timing for this sale!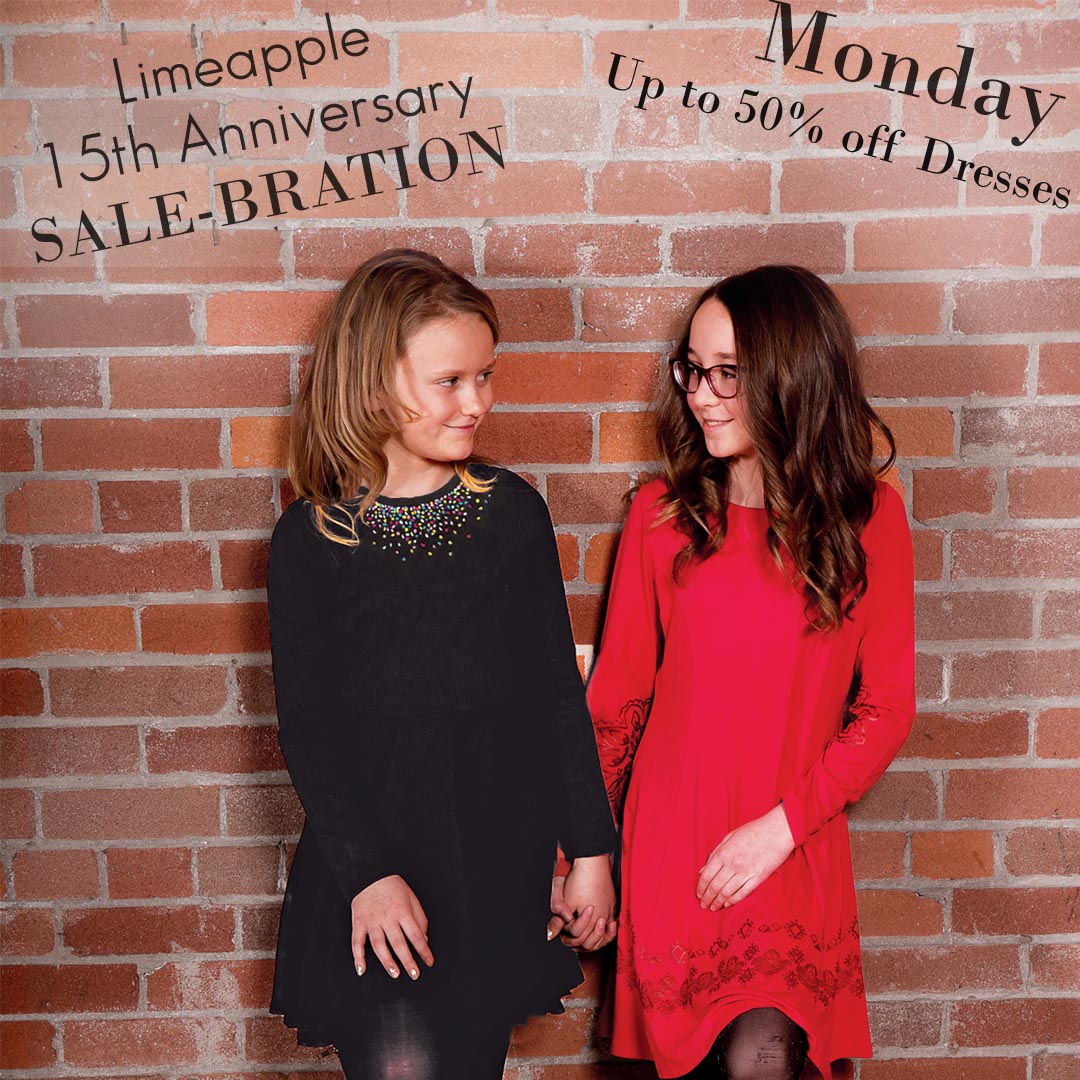 Limeapple is a lifestyle clothing brand offering fun, practical, well-made clothing for smart, confident, adventurous, sweet young girls age 4 thru 14.  From their signature printed leggings to their colorful fun tops and dresses, they have something for every young girl looking for something special!
I am sure you know a young girl who would adore these fun and practical clothes, right? If not, I am sure you know of a parent or grandparent that would love to know more about this sale and the cute clothes they have, am I right? Then you must share this with them!
Here is the rundown of Limeapple's 15th Anniversary Sale! Shop Now!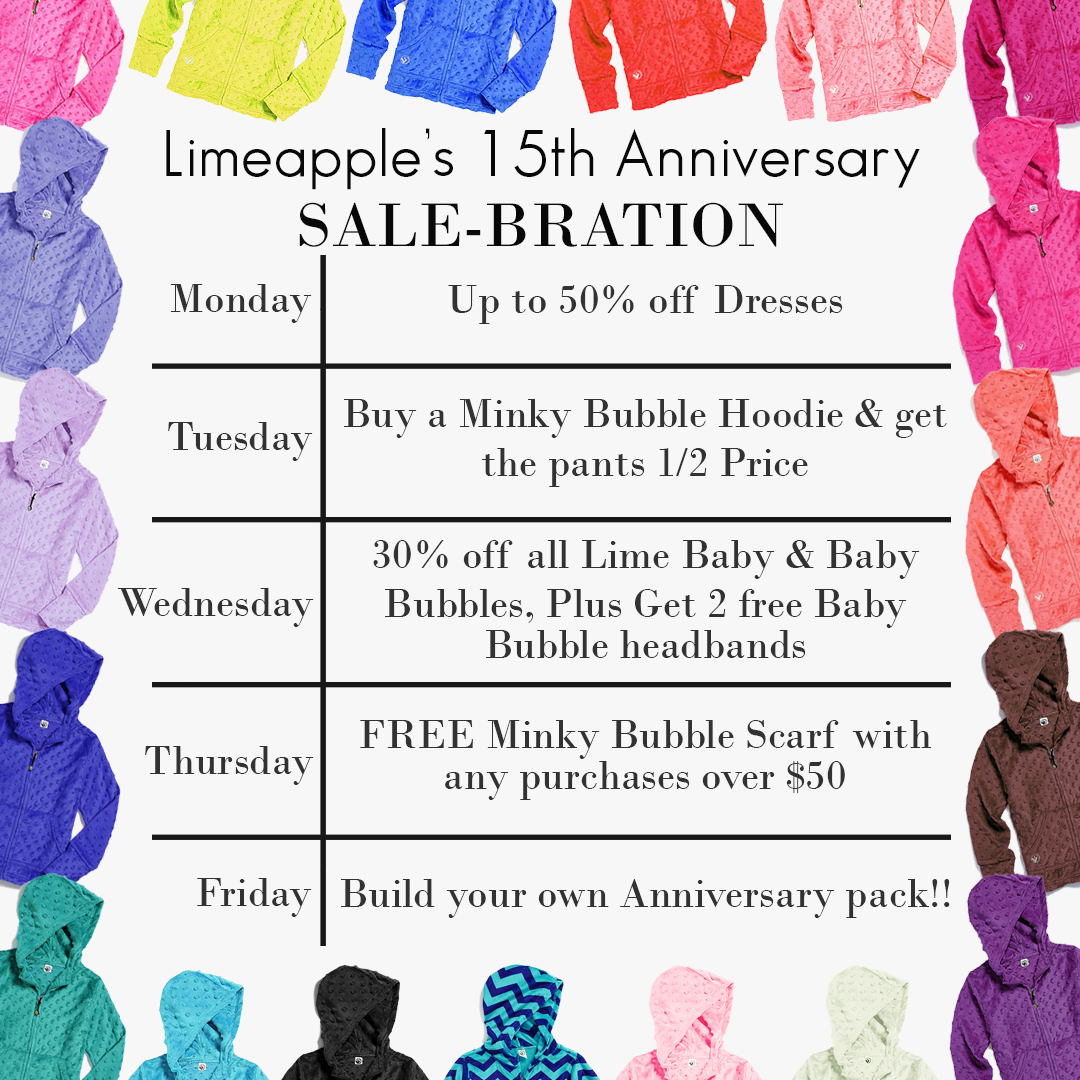 Things from Limeapple that we have!
The Minky Bubble Scarves are SOOOOO soft and cuddly! My daughter absolutely loves hers and since we live in Idaho and it is already so cold, my daughter has a few colors of these and wears them almost every morning when she is outside waiting for her bus. This certainly keeps my little girl warm on those cold mornings! On Thursday, you get a FREE Minky Bubble Scarf with ANY purchase of $50 and over!!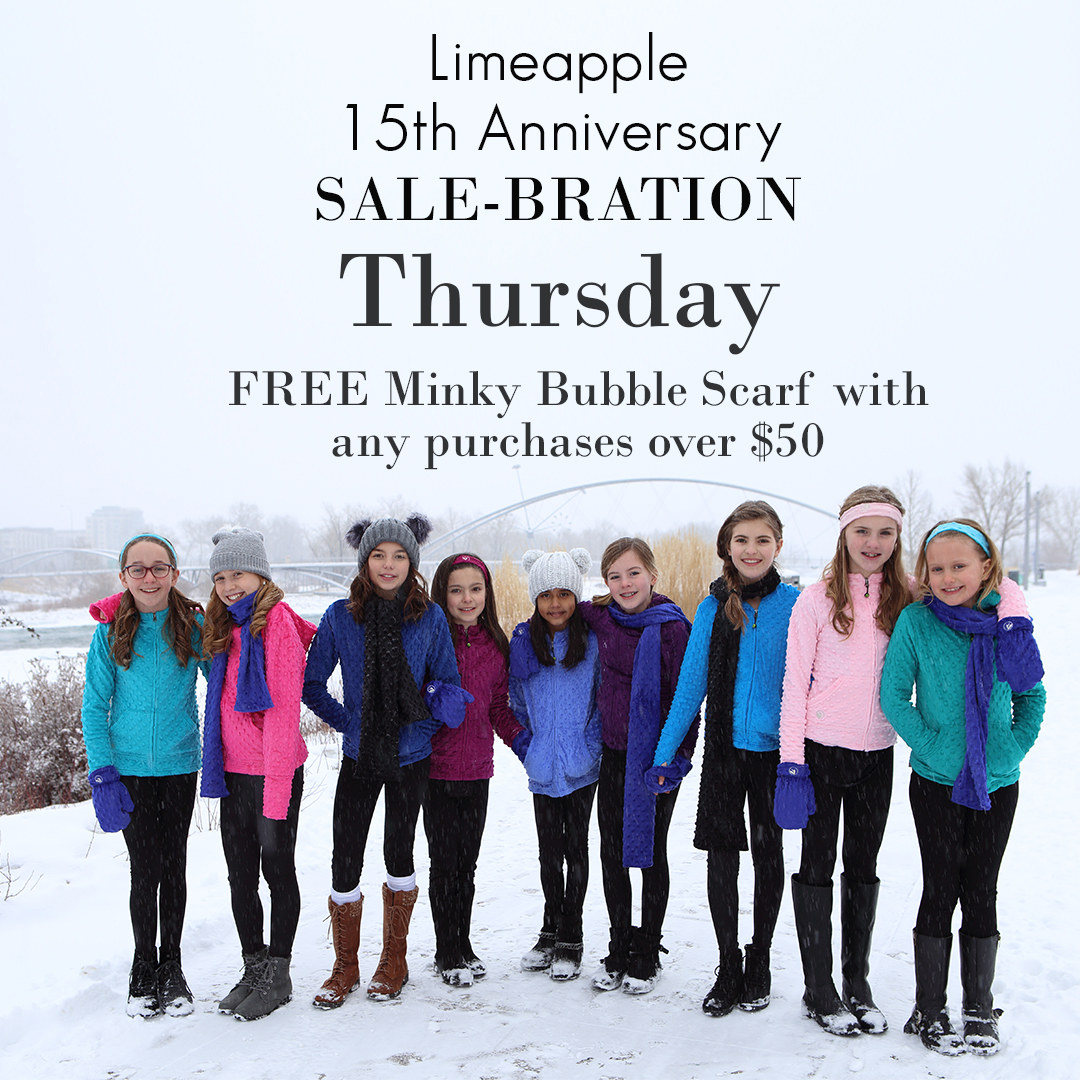 The Minky Bubble Hoodie is also SO warm! My daughter wears one of hers under her regular coat, when going to school. That way, she can take off her coat at school and wear the Minky Bubble Hoodie all day in the classroom so she can be comfy and warm! She has a few colors of these awesomely warm hoodies! On Tuesday of this week, you can buy a Minky Bubble Hoodie and get the pants for 1/2 price!! Such a comfy set!
Build Your Own Anniversary Pack!
This is fun to do! You get to choose which items you want, to create your own Anniversary Pack from Limeapple! Friday, Build Your Own Anniversary Pack! Check out what you can add to your anniversary pack here!
Check out the sale before everything is gone (things go really fast!!). Let me know what you buy, in the comments below! Happy shopping 🙂