*Marvel's AVENGERS: INFINITY WAR was recieved. This post includes my affiliate links.
Have you seen Marvel's AVENGERS: INFINITY WAR in the theaters? If not, it will arrive on Blu-ray on Tuesday, August 14! Yay! My husband and son saw this movie in the theaters and loved it! It was SO good they said!
The Blu-ray will have behind the scenes and exclusive access to more than two hours of never-before-revealed details of its unprecedented, ten-year cinematic journey which includes an epic filmmaker roundtable, an inside look at the surprising Super Hero pair-ups,
deleted scenes and more!
Marvel's AVENGERS: INFINITY WAR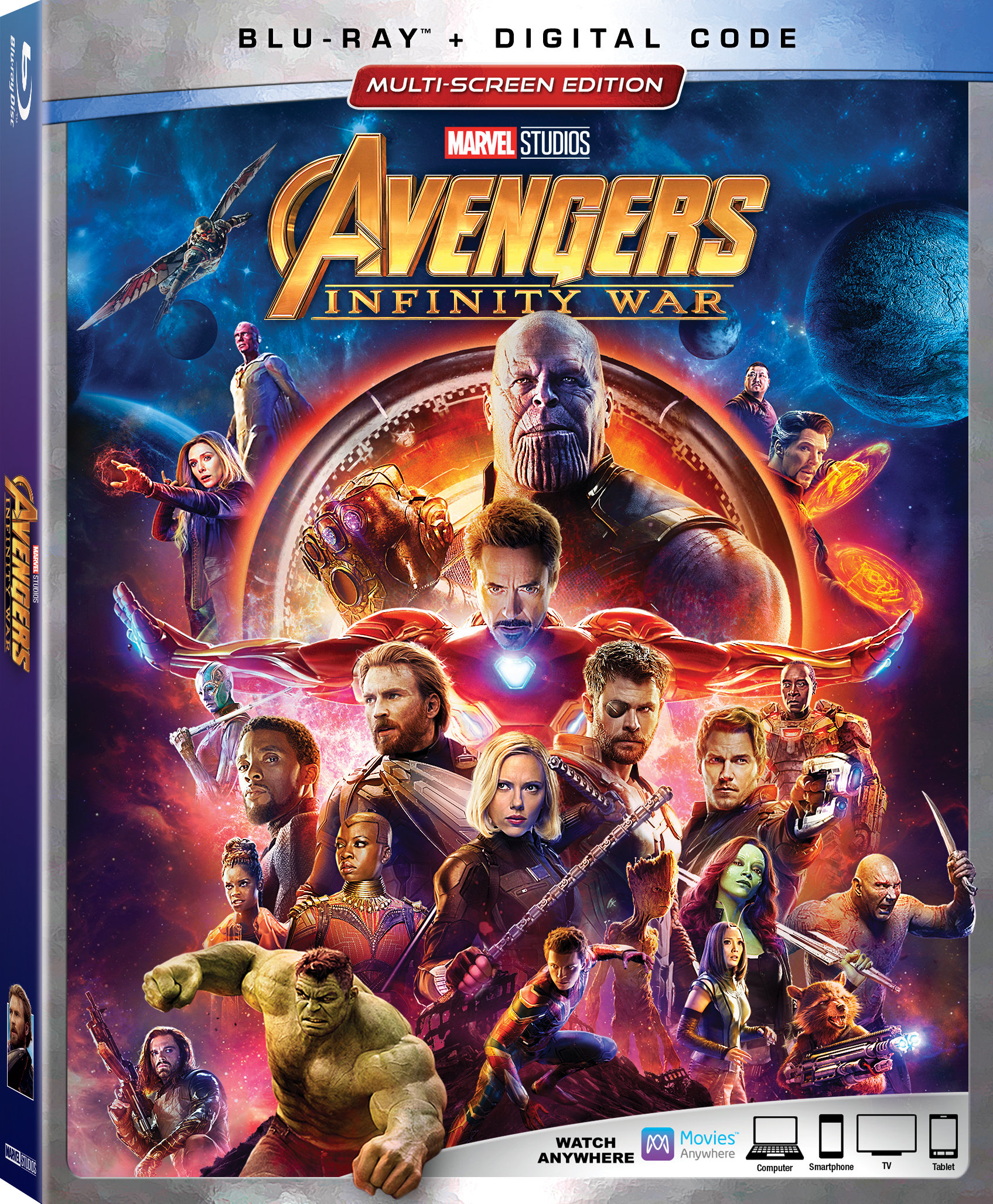 4K Cinematic Universe Edition
The 4K Cinematic Universe Edition's never-before-seen bonus material grants behind-the-scenes access to MCU members and features the memorable moments when characters first meet the rationale behind some unexpected on-screen pair-ups, and a funny Super Hero gag reel.
Featurettes explore the frighteningly powerful Thanos and two action-packed attempts to prevent his collection of all six Infinity Stones: the struggle on Titan and the massive battle in Wakanda. Deleted scenes and filmmaker commentary reveal even more on-set secrets from Marvel Studios' monumental undertaking.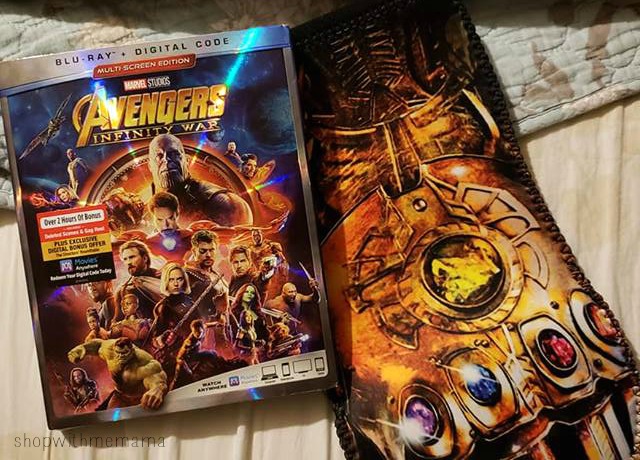 Blu-ray and a Digital Copy
The Multi-Screen Edition includes a Blu-ray and a Digital Copy of the film, giving viewers the flexibility to watch the film on different devices. Those with 4K Ultra HD capability may opt for a 4K Cinematic Universe Edition, which includes a 4K Ultra HD disc, a Blu-ray, and a Digital Copy.
And for those who wish to catch up on their MCU history, select retailers are also offering bundled packaging as well as individual Digital and Physical releases of "Marvel's The Avengers" and "Avengers: Age of Ultron."
Marvel Studios' "Avengers: Infinity War" is directed by Emmy® Award-winning directors Anthony and Joe Russo from an original screenplay by Christopher Markus & Stephen McFeely. Kevin Feige produces the film, with Louis D'Esposito, Victoria Alonso, Michael Grillo, Trinh Tran, Jon Favreau, James Gunn and Stan Lee serving as executive producers.
BONUS MATERIAL (may vary by retailer):
Blu-ray& Digital:
•Strange Alchemy (5:08)–Share the thrill of characters from across the MCU meeting for the first time—and discover why some were teamed up together
.•The Mad Titan (6:34) –Explore the MCU's biggest, baddest villain, his trail of influence through the stories, and the existential threat he represents
.•Beyond the Battle: Titan (9:36) –Dive into the climactic struggle on Thanos' ruined world, including the epic stunts and VFX, to uncover the source of its power.
•Beyond the Battle: Wakanda (10:58) –Go behind the scenes to find out how the filmmakers pulled off the most massive and challenging battle Marvel had ever attempted
.•Deletedand ExtendedScenes (10:07)
•Happy Knows Best (1:23) –Tony and Pepper spar over the details of their upcoming wedding—until a hassled Happy Hogan pulls up with an urgent request.
•Hunt for the Mind Stone (1:24) –On a darkened street, Wanda Maximoff and the wounded Vision attempt to hide from Thanos' brutal allies
.•The Guardians Get Their Groove Back (3:20) –As Peter Quill and Drax quarrel over their failed mission to Knowhere, Mantis interrupts with news.
•A Father's Choice (4:00) –Thanos confronts Gamora with a vision from her past—and with lying to him about the Soul Stone.
•GagReel (2:05)–Watch your favorite Super Heroes make super gaffes in this lighthearted collection of on-set antics.
•Audio Commentary (approx. 149 min.) by Anthony and Joe Russo, Christopher Markus and Stephen McFeely
DigitalExclusive:
•A Directors'Roundtable (approx. 32min.)–Eight amazing directors reflect on how their movies contribute to the Marvel Cinematic Universe's larger storytelling adventure.
Infinity Stone Cookies!
What better way to enjoy this movie then with some yummy Infinity Stone Cookies! My friend made some really yummy Infinity Stone cookies and I wanted to share them with you! Find out how to make Infinity Stone Cookies here!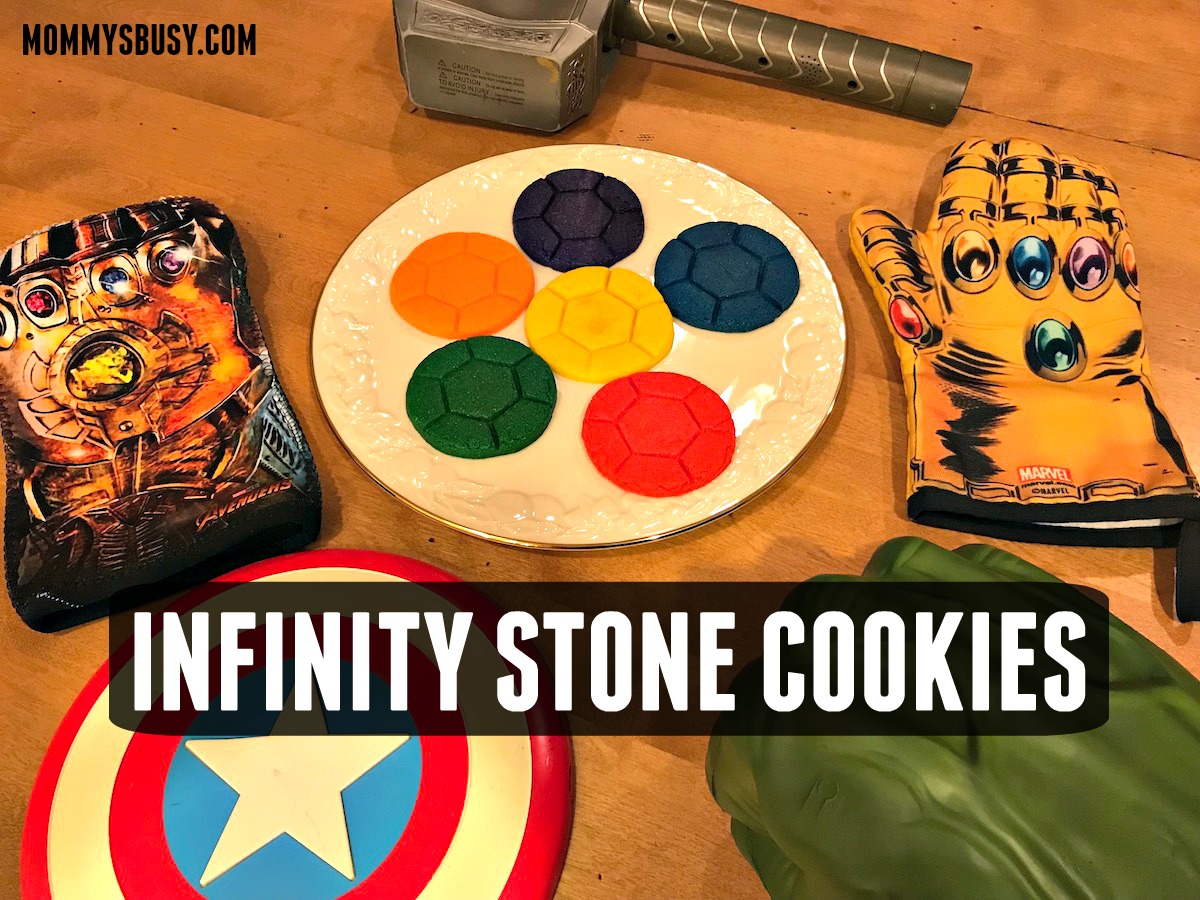 Buy
You can purchase a Blu-ray copy of Marvel Studios' "Avengers: Infinity War online at Amazon.com!
Win!
One person will win a copy of Blu-ray copy Marvel Studios' Avengers: Infinity War! Yay!
Rules:
The contest is open to US, 18+. Giveaway will end on August 31, 2018, at 11:59 PM MT. Winner will have 48 hours to confirm their win after I email them, or a new winner will be chosen. I am not responsible for lost or stolen mail.