*Mustachifier: The New Pacifier For Your Little One. I received product to check out. This post includes my affiliate links.
We all know and have seen the mustache craze. Goodness seems like everyone is sporting a 'mustache' nowadays, whether it be from party favors to just plain silly sticks with mustaches on them, everyone is doing it!!
Mustachifier: The New Pacifier For Your Little One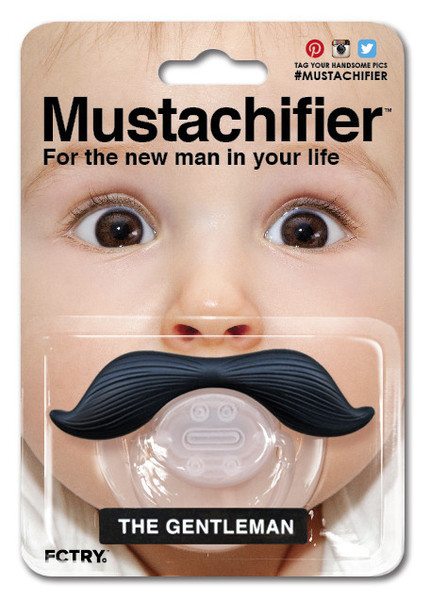 Why not get your little one in on all the fun, too? I thought the Mustachifier was hilariously cute and wanted my baby boy to sports one! He received a mustache pacifier to review and man is 'all that' and more! Too cute for words!!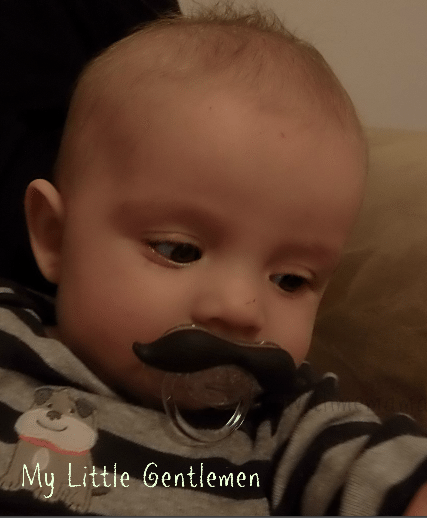 It comes packaged in a really silly plastic pacifier container, with a picture of a little baby. So funny! I loved that! You take out the Mustachifier and it comes with a pacifier cover, which is so needed when you are out and about to keep that paci clean and germ-free!!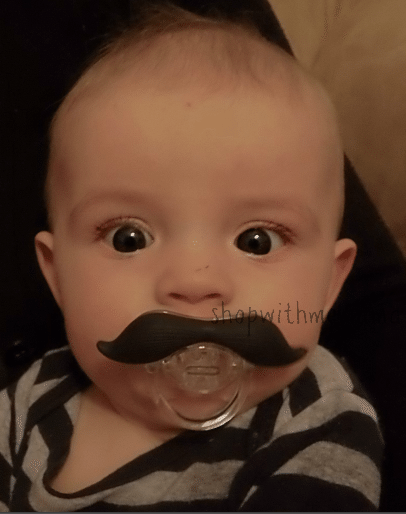 My little baby boy is partial to only one kind of pacifier, so when I saw that he was ACTUALLY taking to this new pacifier, I was really relieved!
My baby boy looked adorable with his new Mustachifier!! So cute! The Mustachifier comes in three different styles: the cowboy, ladies man, and the gentlemen. We received the Gentlemen one.
Features:
100% BPA free pacifier
• Ideal for 0-6 months
• Soft mustache made from teether material
• Silicone Nipple
• Includes snap-on cap for hygiene
• Natural orthodontic shape
This is a great pacifier for going out and about in the world. We went out with it and got PLENTY of comments on my new little one!! It was so much fun!!! People were definitely intrigued with this paci!!
It is a little top-heavy, because of the 'mustache', so your baby will have to get used to holding it in more so than other pacifiers. But my 6-month-old got it down really well and was soon sucking away on his new 'stache, LOL. Too cute!
I don't think I would let my baby sleep with this though, I only have him use it when I am around and he is awake. I know, I am a paranoid mama! Not to say there is anything dangerous about this pacifier, I just like my baby to sleep with a regular pacifier is all.
I think these would make a cool baby gift! The mama would be so happy and pleased with it because it is just so stinkin' cute! And if you can't decide on which one to buy, then just get the Full Monty which is all three!!!! Love it!
Buy
You can purchase the Mustachifier online at http://www.mustachifier.com or Amazon.com. It retails for $9.99.
Have you ever heard of Mustachifier: The New Pacifier For Your Little One before? Would you use one on your little one??