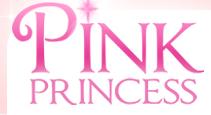 If you are searching for an absolutely beautiful, adorable and affordable flower girl dresses for a Summer wedding, or anytime wedding, you have to check out Pink Princess!!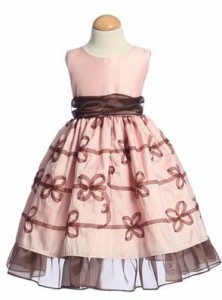 Oh the adorable and affordable little girl dresses that they have. It was so hard to choose just one thing!!! But, after browsing their website for a good 45 minutes, I am totally serious, I decided on the Pink Flower Girl Dress Solid Bodice with Ribboned Taffeta Skirt. Oh my goodness, when it arrived, how cute it was/is!!!
I IMMEDIATELY had my daughter drop trow and I put this on her. It fit her PERFECTLY…
And the back….
Totally adorable and these dresses are not expensive at all! That is what impressed me the most, the prices, styles/variety and quality of these dresses. I wish I had known about this site last year when my brother got married. I would have purchased a dress for my daughter from here!
Flower girl dresses, First Communion Dresses, Christening Gowns, and a whole lot more! Pink Princess has what you need to make your little girl adorable or get a suit for your little boy! Yep, they have Boys Formal too!!


About Pink Princess (taken from their site):
Our company has been in the children's clothing business for over three decades, spanning the entire spectrum of kids' apparel, from casual play wear to black tie formal wear. In the early nineties, in response to very high customer demand for formal wear, we shifted our focus to the special occasions market. A decade later, we are now an industry leader in both girl dresses and boy's formal wear, with flower girl and pageant dresses amongst our biggest sellers. Naturally, with the establishment of Web commerce, we took our business online, where we now share our beautiful little girl dresses and little boy suits with the entire world.



Buy!
You can purchase the adorable and affordable children's clothing by visiting Pink Princess online at http://www.pinkprincess.com/
Disclosure:
I was sent a dress to review. These are my own honest opinions, thanks!