*I participated in an Influencer Activation on behalf of Influence Central for Scrubbing Bubbles®. I received product samples and a promotional item to thank me for participating

What goes on behind closed doors, does not necessarily mean I cannot share it with you all, too. Bathrooms are meant to be private and provide you with a sanitary place to dispose of your wastes, right? It is also a place to wash your hands and clean yourself. So why on earth would you want your bathroom to be anything but, spotless and clean?
Nope, I am certainly not perfect and my bathrooms are at times, horrendous! But, I do try to keep it sanitary. Meaning the toilet, sinks and bathtub/shower. Of course I have stuff like dirty clothes and toys on the bathroom floors, but as long as the places we use to clean ourselves (and relieve ourselves) are clean, I am good. Right?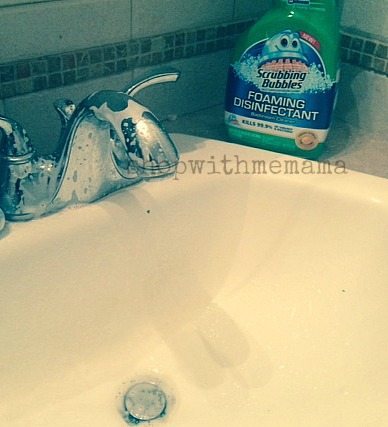 Scrubbing Bubbles® has been a big part of our family, for some time now. I use it all over my bathrooms and when I do, I feel confident knowing that our bathrooms are in fact, CLEAN. Recently I had to use it to clean up after my daughter and her friend had a (messy!) makeup party without my permission. Oh my goodness, the mess that they left behind made me sweat bullets!
There was makeup on EVERYTHING, including the floor, walls, bathroom counters, mirror and sink! It was not a happy moment for me. I grabbed what I could for rags and then reached for the Scrubbing Bubbles® Foaming Disinfectant and cleaned away. I was surprised that it did not take much time at all to clean up the mess and soon my bathroom was back to normal, phew!
The Scrubbing Bubbles® Multi Surface Bathroom Cleaner actually expands into hard-to-reach places to kill 99.9% of viruses and bacteria. I love that, because in our bathrooms, like many other bathrooms, there is ALWAYS that ONE spot that I feel I just cannot get to and clean. With Scrubbing Bubbles® Multi Surface Bathroom Cleaner, I KNOW I am getting those hard to reach spots! Yay! This cleaner will also clean up soap scum, hard water stains, dirt and more. It is also available in two scents—Fresh and Lemon.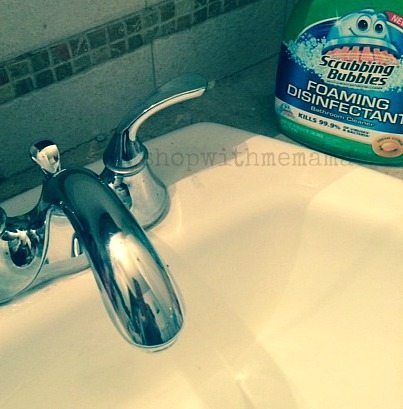 The Scrubbing Bubbles® Multi Surface Bathroom Cleaner is super-fast acting and also penetrates and lifts dirt away, killing 99.9% of viruses and bacteria! Awesome! It also cleans up the soap scum in the tub and showers, dirt and other yucky stuff, in an instant, leaving my bathroom smelling nice and clean!
Scrubbing Bubbles® has been around for a while (more than 40 years!), so I trust the products, because they do clean well! I do not like to spend hours cleaning my bathrooms (who has that kind of time??), so knowing I can get the job done right the first time and getting my bathroom super clean in no time, means a lot to this busy mama!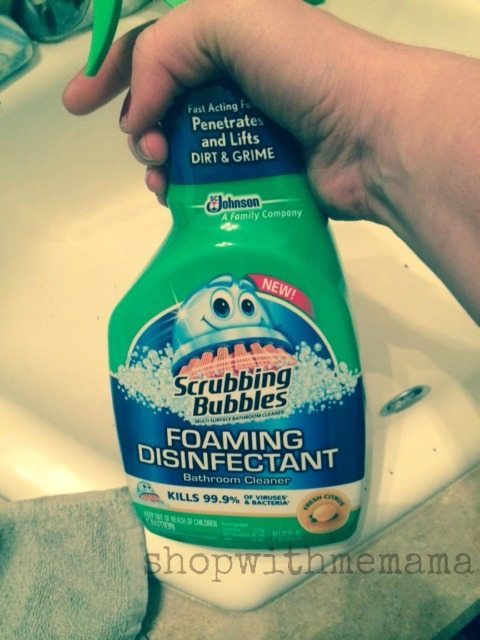 Did You Know???
I had a hard time with some of these, but did you know that according to the Scrubbing Bubbles® survey, The Dirty Work Index, sixty percent of people flush the toilet with the seat up, allowing toilet bacteria to spray out and cover everything in a fine layer of filth? I seriously do not know how many times I have caught myself doing this! Now I KNOW not too! Yuck!
Another one was that two out of every five men who takes a shower admits to peeing in it too! Eww! Right? That is a place to get yourself CLEAN, not to pee in! Blah.
Also, about 23% of people do not wash their hands after using the bathroom. I can honestly say, visiting a public restroom and coming out of the stall to wash MY hands, I see SO many women leaving the restroom WITHOUT washing their hands! So disgusting :/ And I am SURE it also happens in my home!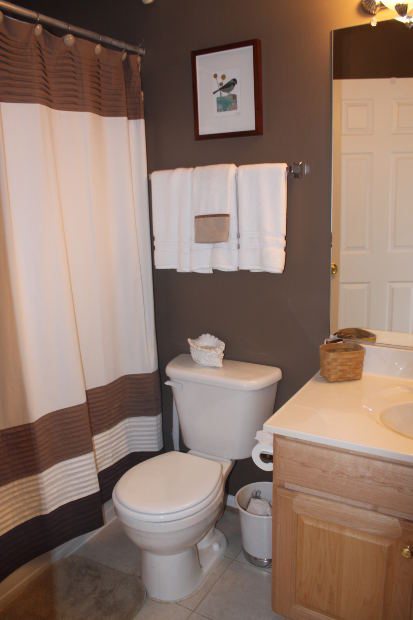 Knowing those fun facts above, makes me want to clean EVERYTHING in my home, twice! But, with the Scrubbing Bubbles® products, I just have to clean my bathrooms a few times a week and it takes no time at all. I love knowing MY bathrooms are completely clean!
 How Often Do You Clean Your Bathroom?