*Sponsored Post. Opinions Are My Own. This Post Includes My Refer Link.
Do you enjoy being rewarded for finding and sharing deals, promo codes, discounts and more? I know I would love being rewarded for that! Now you can be, by signing up with Dealspotr (it is free to sign up!) and Share Great Deals And Earn Amazon Gift Cards!
With the holidays coming, this is going to be HUGE. Dealspotr already has a ton of users and you should be one of them! All you do is sign up at Dealspotr.com for free and then you can 'design your feed' by clicking 5 or more stores (you can search for stores in the browser or select what they show you) so you can get the store deals in your feed. You can follow additional stores at any time.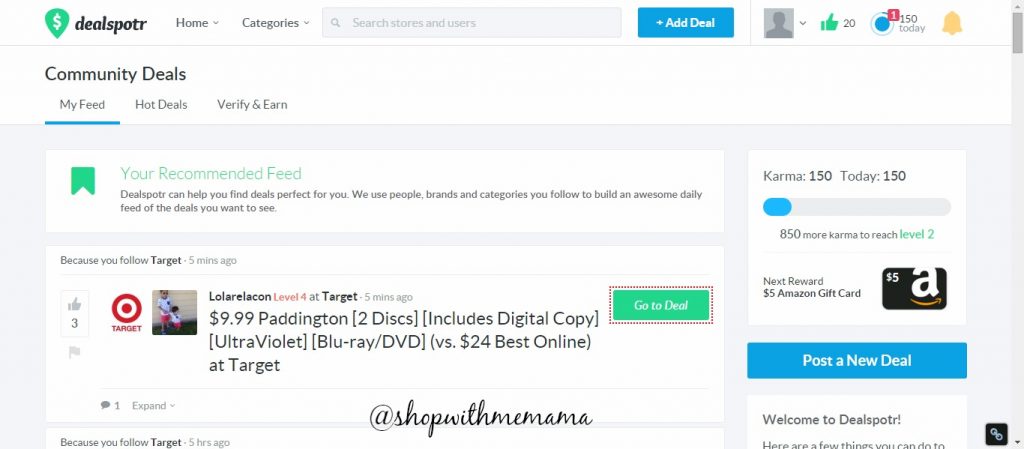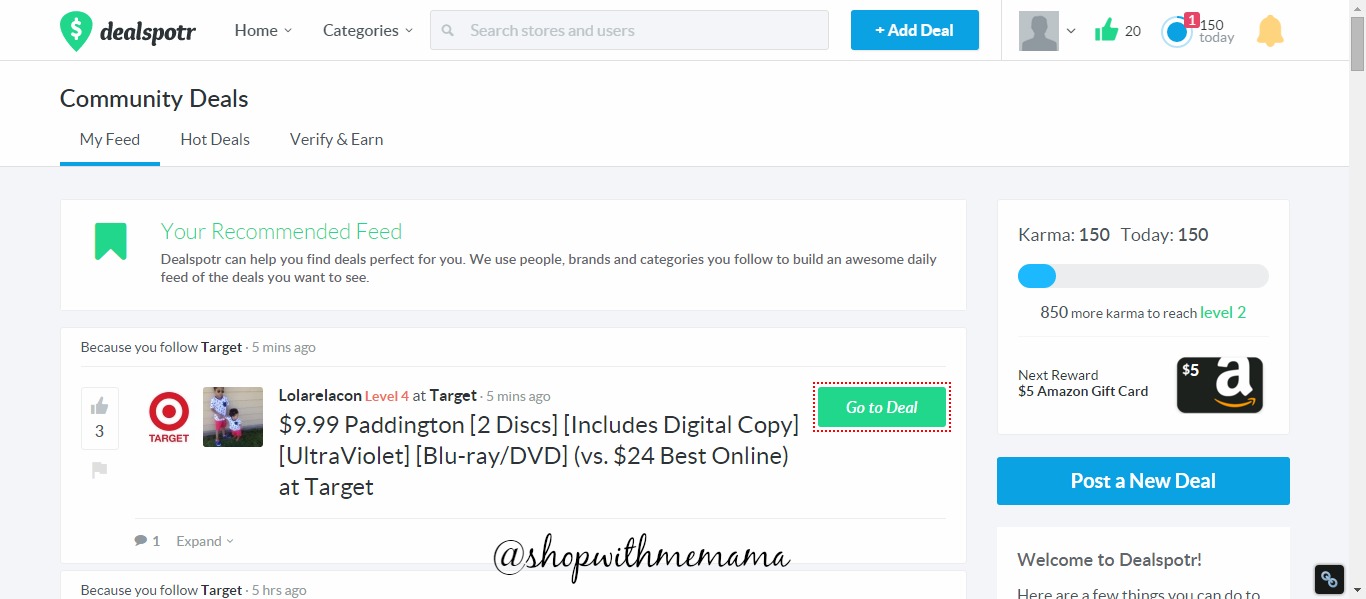 Once you do that, you can then can view your feed. Your feed will be full of deals and promo codes that are perfect for YOU.  Dealspotr uses people, brands and categories you follow to build an awesome daily feed of the deals you want to see, nothing you don't!
Right away in my feed, I see some great deals at Target (one of my favorite stores!). I also see some awesome Best Buy promo codes and coupons that I know I will be using! So far, this site is pretty cool!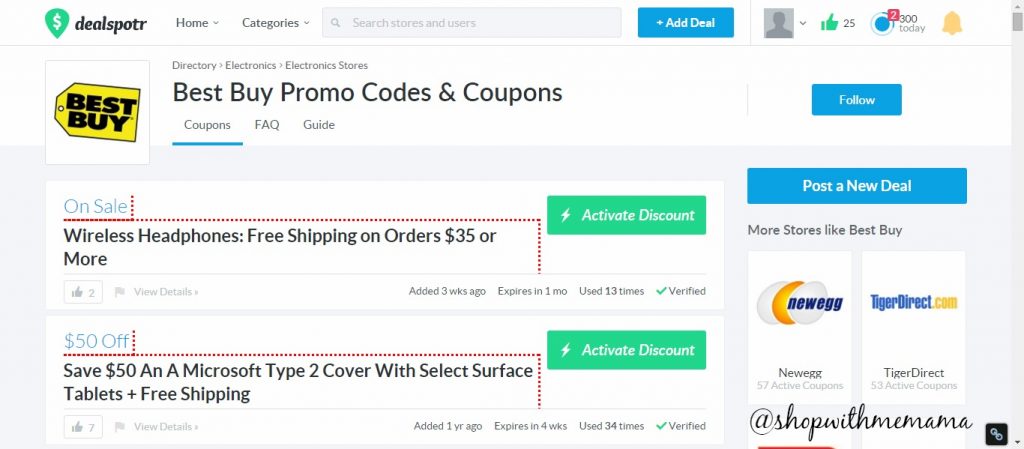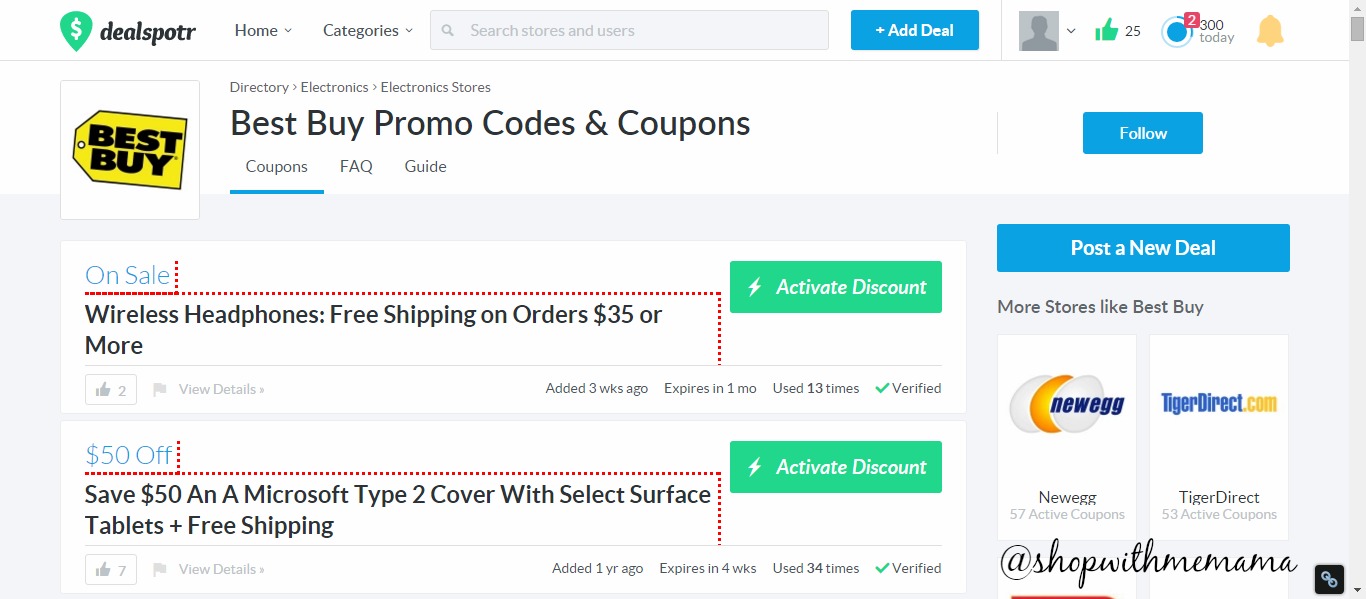 At the top of your feed, you can click on 'Hot Deals' and by clicking that, you are then brought to another page where it has the hot deals of the day! There are some pretty good ones there right now! When you find a deal you want to grab, you just click on the green button to the far right of the deal that says 'Go To Deal' and it will bring you to that deal! Easy!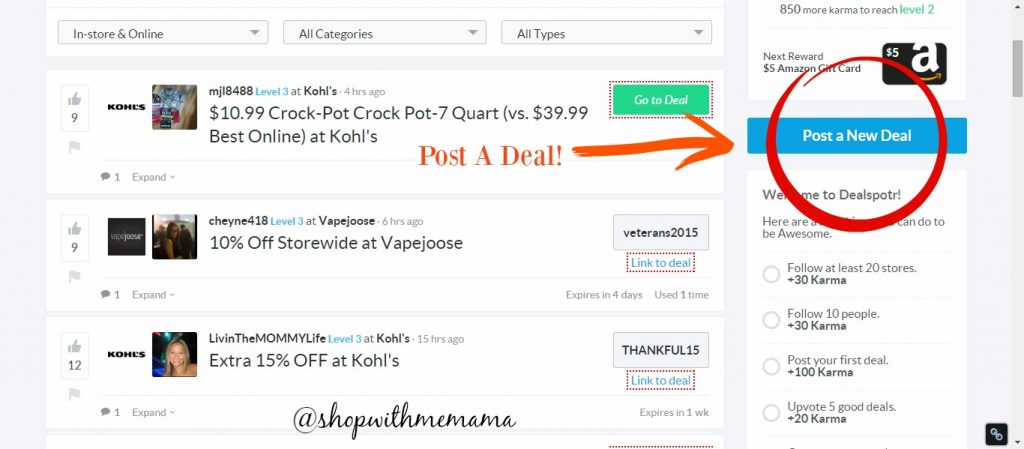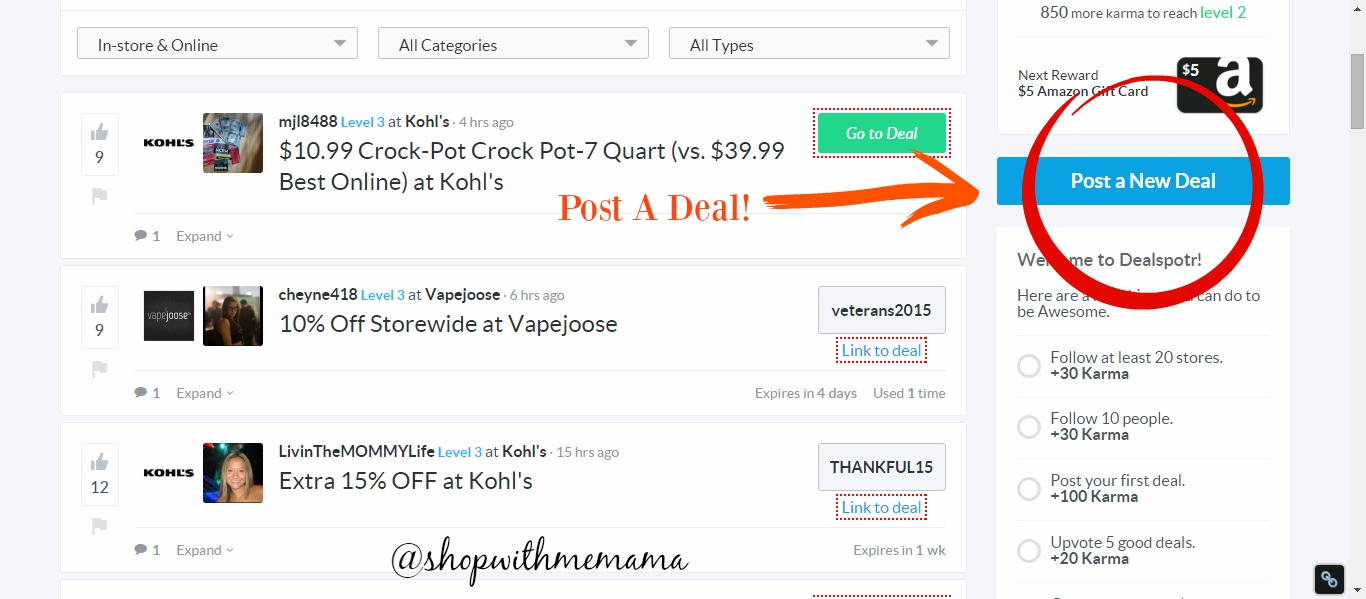 Okay, But What About Being Rewarded?
Okay! I hear you! You want to know how you can be rewarded by sharing deals, am I right? Of course I am!
To share deals, you go to the far right side of your feed and click on the 'Post A New Deal' button. You will be brought to a page where it says 'I am posting a single product deal or I am posting a store-wide deal or sale'. Click which one you are posting. It will ask you questions about the sale/promo code etc., and then you provide a link to that sale page. Then press continue.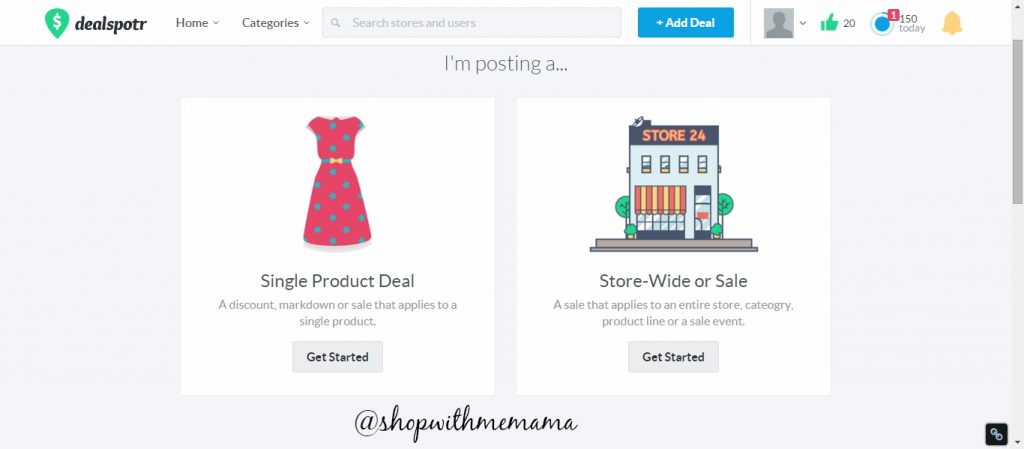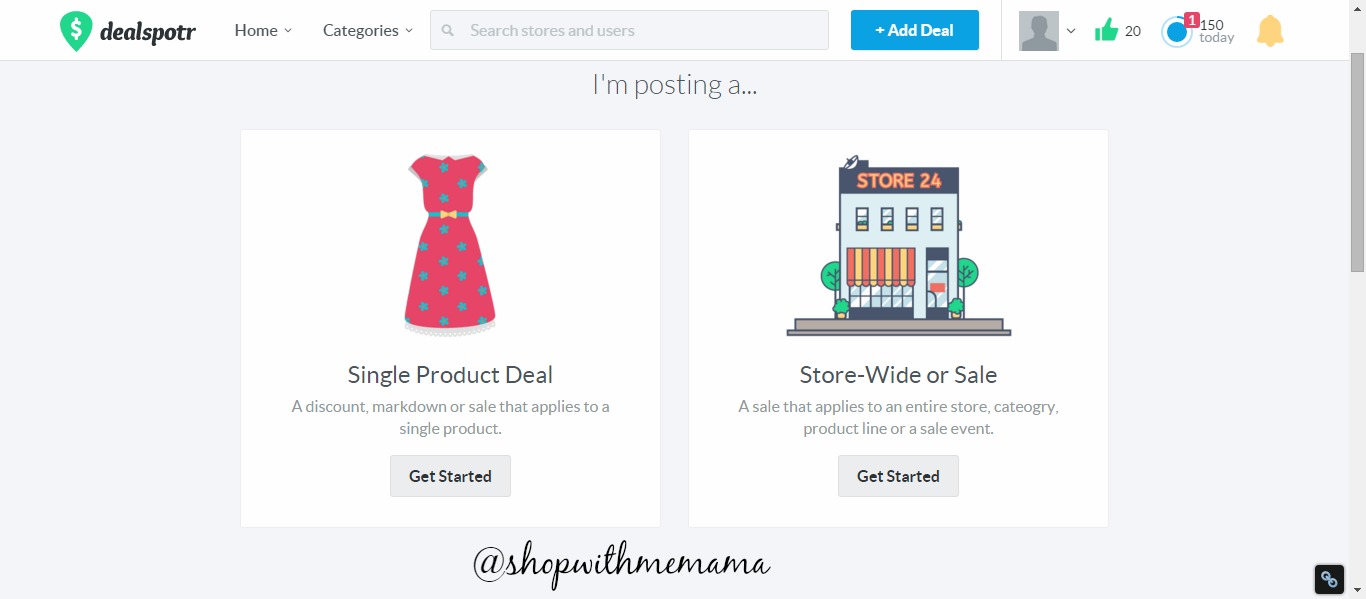 Then it will ask you a few more questions which are more in-depth (but still pretty easy to figure out/answer) and then hit submit deal. By submitting my first deal, I received Karma points towards my first reward. By signing up for Dealspotr you also will receive Karma points! In fact, for every task you do on Dealspotr (like follow 20 stores, etc..) you receive Karma points! You can see how to get more Karma Points and how many Karma points you can get for each task, in your right sidebar.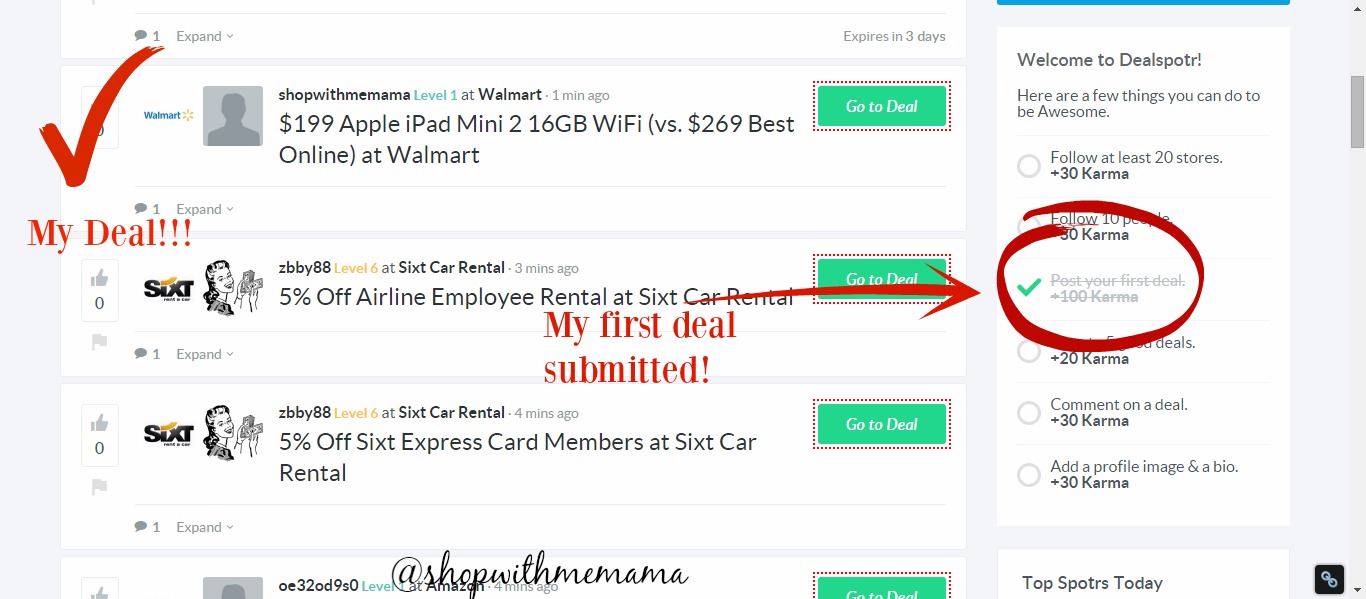 By accumulating Karma points (they add up pretty quickly!), you can then redeem those points for Amazon gift cards! Who doesn't LOVE Amazon.com?? I am on my way to my first reward, which is a $5 Amazon gift card, then $10 Amazon gift card and so on! Can't wait!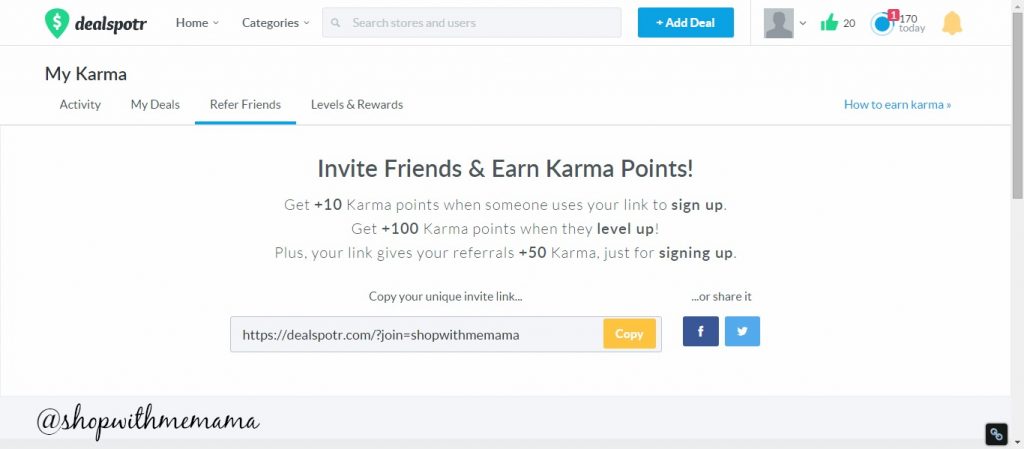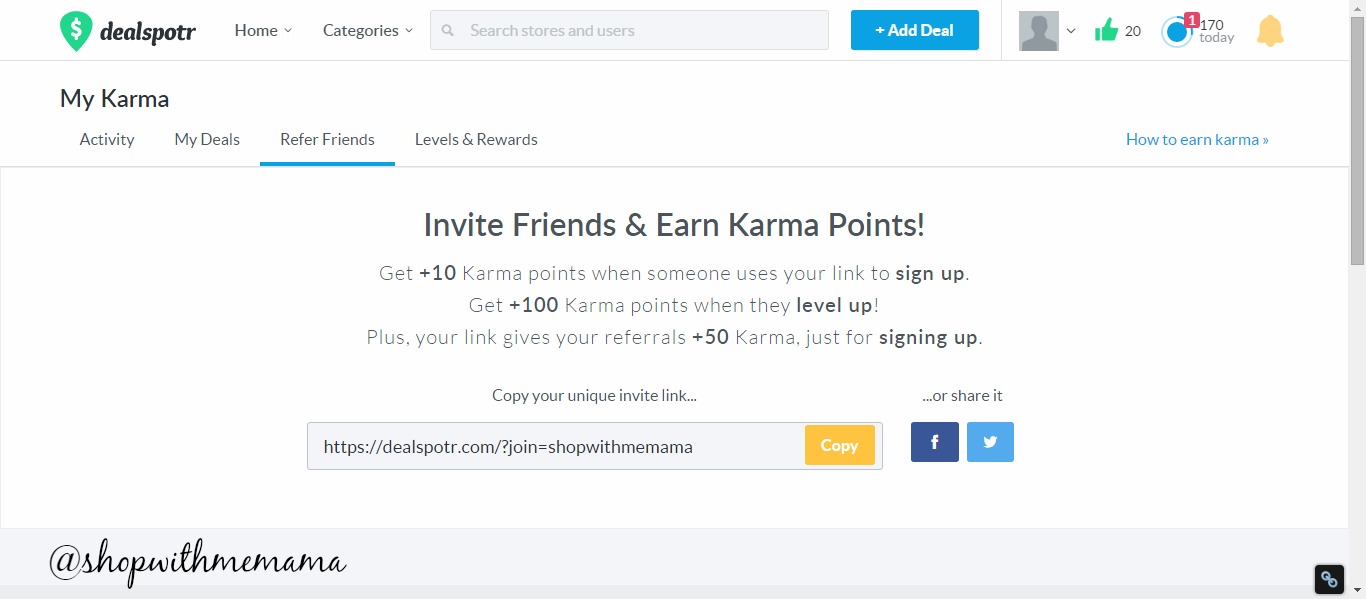 You can also refer your friends for Karma points! You get Karma points when someone uses your link to sign up. Get Karma points when your friend levels up, plus, your link gives your referrals Karma, just for signing up! See, points add up quickly!!
Earn MORE Karma Points!
Verify deals that work and earn karma. Browse the "needs verification" tab to find deals that need to be tested.
You get a fresh set of verifications in 3 hrs. Level up to increase your daily verification limit and earn more karma!
This is a great site to find awesome deals and to earn Amazon gift cards! I can't wait to share this with my friends/family and am so happy I can share this with all of you! Sign up today, earn those Amazon gift cards and get ready for the holidays!
Get Social!
Connect with Dealspotr on Twitter, Facebook, Instagram and Google+.
What Do You Think Of Dealspotr? Will You Sign Up?