Shea Butter is very good for you skin and knowing this I was very intrigued with the Raw Shea Butter products that I was introduced to a little bit ago.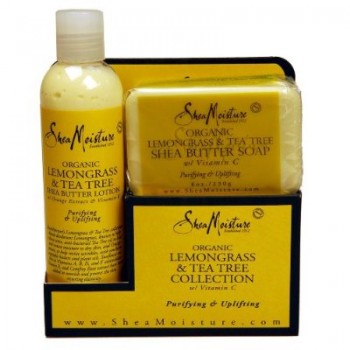 SheaMoistures Raw Shea Butter skincare products contains shea butter in its most natural and effective state, raw. I received the Organic Raw Shea Butter Moisture Retention Shampoo, Organic Raw Shea Butter Body Lotion and the Organic Raw Shea Butter Wash.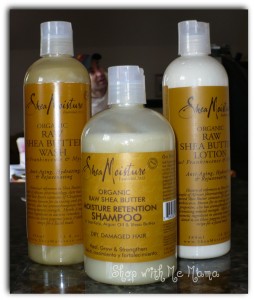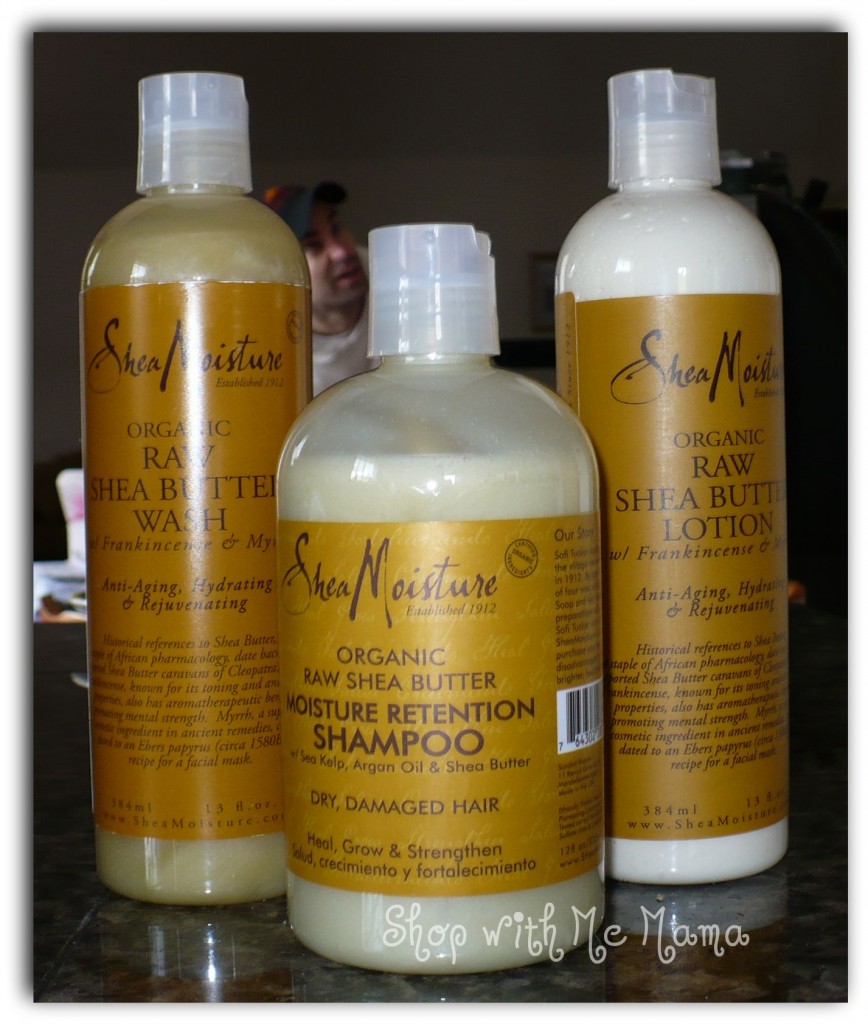 The shampoo is extremely moisturizing. It is absolutely perfect for my dehydrated strands and brings them back to life almost instantly. I will lather this shampoo up and leave on my hair for about 5 minutes (while I shave or soap up) and then rinse and condition as usual. This shampoo feels like it has healed my hair and my hair has never been so manageable! I really like this stuff. I will also use it on my children.
The Organic Raw Shea Butter body lotion is really nice on dry, winter skin. It sinks into my skin leaving it silky soft and nice feeling. I especially like to use it on my legs, as they always seem to be really dry on my knees and shins for some reason, and this lotion helps make them less dry and itchy. Shea butter is renowned as one of the most effective natural skin healers and moisturizers.  Rich in vitamins and essential fatty acids, it treats a host of skin conditions including eczema, psoriasis and stretch marks.
The Organic Raw Shea Butter Wash is very moisturizing too. Using this and the body lotion has drastically improved my skins feel and it seems to be more healthy and vibrant. Wish I could put it on my face! It rinsed off well and does not feel like there is a film of soap on my skin afterwards.
About SheaMoisture
Since 1912, SheaMoisture has been committed to making the highest quality natural skin care products, which are safe, therapeutic and results-oriented. All SheaMoisture products are cruelty-free and never contain parabens, phthalates, paraffin, formaldehyde, mineral oil, animal ingredients or synthetic fragrance. Committed to giving back to the people who are integral to our success, Shea Moisture proudly partners with organizations around the world ranging from international development groups, charitable organizations and local communities. Please visit www.sheamoisture.comfor more information.
Buy It!
You can purchase the SheaMoisture products by visiting http://www.sheamoisture.com/stores and locating a store nearest you.
Connect!
Like SheaMoisture on Facebook or share tweets on Twitter!
Disclosure:
I was sent product to review. These are my own honest opinions, thanks!